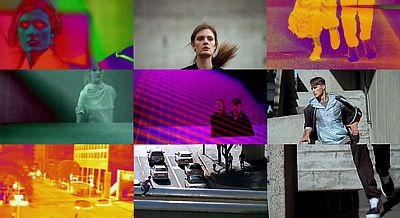 http://vimeo.com/moogaloop.swf?clip_id=3281231&server=vimeo.com&show_title=1&show_byline=1&show_portrait=0&color=&fullscreen=1
Season:

Spring Summer 2009
Creative Director:
Doug Lloyd, Lloyd & Co.
Art Director:
Martin Sandberg, Lloyd & Co.
Director of Cinematography:
Darren Lew
Models:
Oliver Edwards/VNY Model Management and Constance Jablonski/Marilyn Agency
Set Design:
Stefan Beckman
Y-3's campaign for Spring/Summer 2009 disregards convention in favor of a fresh perspective on the world. It is a look at a synthetic reality, an exploration of people's lives seen as a glimpse through the lens of omnipresent surveillance cameras. The accompanying Y-3 movie captures a mood of undiluted elegance, vibrancy and sophistication – the mood of Y-3. Filmed by Darren Lew with the creative direction of Doug Lloyd, it reveals the verve of the Y-3 lifestyle where high performance meets high fashion. Courtesy of Adidas.