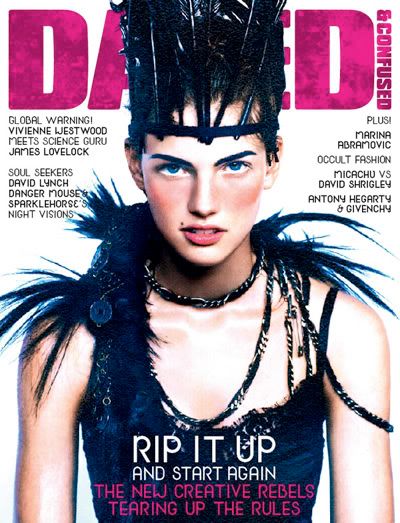 Magazine:
Dazed & Confused
Covergirl:
Kendra Spears |Next Models NY|
Digital Artist:

Chris Roome |Happy Finish|
Photography by
Mariano Vivanco
Dazed & Confused "Rip It Up and Start Again" with the new young creative rebels tearing up the rules. Plus Vivienne Westwood meets James Lovelock, David Lynch exclusive and more, Dazed & Confused issue description under the cut:
This month, expect green shoots from scorched earth as Dazed & Confused goes against the grain with its favourite DIY rebels. At the centre of the issue is a special portfolio of 35 of today's hottest young creative entrepreneurs who are refusing to let their dreams getting credit crunched – from art collectives to party promoters, young designers and zine publishers, this is today's new creative underground.
And if any of that lot are in need of role models, we've brought together renowned designer and activist Vivienne Westwood with 90-year-old environmentalist and Gaia Theory inventor James Lovelock for an exclusive conversation about changing the world.
Also in this issue, we speak exclusively to David Lynch, Sparklehorse and Dangermouse about their eerie audio-visual collaboration; swap doodles with David Shrigley and Micachu; travel back to the birth of performance art with Marina Abramovic; meet 14-year-old R&B; genius MNEK; and an exclusive look at Antony Hegarty's dress collaboration with Givenchy's Riccardo Tisci.
– from Dazed & Confused
*Photo credit | Dazed & Confused