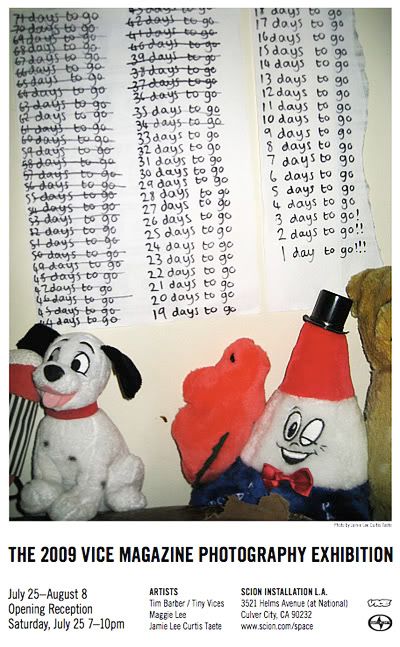 Scion Presents: The 2009 Vice Magazine Photography Exhibition
Vice, the international arts and culture magazine distributed and published in more than 22 countries, comes to Scion's Installation L.A. Gallery on July 25 for the ninth annual Vice Photo Show.
Best known for documenting youthful excess, questionable street fashion and powerful scenes of political unrest around the world, Vice enlisted curator and magazine contributor Amy Kellner to present this exhibition in conjunction with "The 2009 Vice Magazine Photo Issue." The acclaimed annual edition has previously featured works from Terry Richardson, Ryan McGinley, Richard Kern, Jerry Hsu, Rennie Ellis and many others.
This year's exhibition features Vice contributors Jamie Lee Curtis Taete, Maggie Lee, and former Vice photo editor, Tim Barber.
The exhibit will run until August 8, 2009.
http://vimeo.com/moogaloop.swf?clip_id=5544484&server=vimeo.com&show_title=1&show_byline=1&show_portrait=0&color=&fullscreen=1
Jamie Lee Curtis Taete is a 24-year-old English photographer whose candid images provoke intense reactions, often ranging from awe to disgust. His work has been featured in Vice, Chief, PerezHilton.com, and The Guardian, and has been shown in Mexico, France, Britain, North America, and Japan as part of the Tiny Vices traveling exhibition. Taete is a Vice UK staff photographer and maintains a photo blog at
www.jamietaete.com
.
Maggie Lee is a zine-maker, Pratt graduate, and Vice staff photographer who has developed a chronological archive of her 21 years through captured light and photocopies. Lee has shown her work in New York, New Zealand, and Australia and recently exhibited her Frenching zine at the New Museum's "Younger Than Jesus" show.
Tim Barber, a photographer, curator, publisher, designer and former Vice magazine photo editor runs the online gallery TinyVices.com. Founded in 2005, the site reflects various approaches to photography and allows emerging and underexposed artists to upload their work onto the influential platform.
The opening reception takes place on July 25, 7 p.m. – 10 p.m. at the Scion Installation L.A. Space, 3521 Helms Ave. (at National), Culver City, CA 90232. The reception is free with complimentary valet parking and an open bar. All artists will be in attendance and Vice Photo Issues will be available at the event. The exhibit will run until August 8, 2009.
Dedicated to fostering independent artistic expression, Scion Installation L.A. is a space that allows artists to explore their creative visions. The Scion Installation L.A. Space hosts art shows and art-related events for cutting-edge contemporary artists from across the globe. Gallery hours are Wednesday through Saturday 11:00 AM – 6:00 PM and by appointment – 310.815.8840.
About Scion
Scion, from Toyota Motor Sales (TMS), U.S.A., Inc., was developed with a new generation of youthful buyers in mind. Scion's mission is to provide distinctive products, the opportunity to personalize, and an innovative, consumer-driven process at the retail level. The Scion brand features three ground-breaking models with a wide array of standard features: the xD urban subcompact five-door, the iconic xB urban utility vehicle, and the tC sports coupe. The brand often applies new practices in all aspects of its business and pushes the creativity envelope with non-traditional advertising and marketing to engage young consumers. Scion also supports originality through its programs in the artistic community. For more information, visit
www.scion.com
.