Project: MahaNakhon
Location: Bangkok, Thailand
Designed by Office for Metropolitan Architecture (OMA)
In Fall 2009 construction will begin on MahaNakhon, a residential and hotel tower designed by internationally celebrated German architect Ole Scheeren, partner of the Office for Metropolitan Architecture (OMA). With MahaNakhon, Scheeren, whose many landmark projects include the CCTV Tower in Beijing, has crafted a gleaming 310-metre, 77-storey skyscraper that will be the tallest building in Thailand's capital. Completion is scheduled for 2012. More images and info under the cut: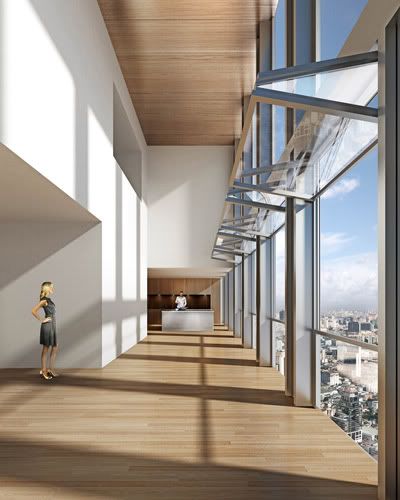 The design moves beyond the traditional formula of a seamless, inert, glossy totem, and instead actively engages the city: MahaNakhon's pixelated and carved presence embraces and connects to the surrounding urban fabric rather than overpowering it. Its glittering stacked surfaces, terraces and protrusions will simultaneously create the impression of digital pixelation and echo the irregularity of ancient mountain topography. This architectural geography is conceived to convey the energy, intensity and inclusiveness of Thai society and celebrate Bangkok's emergence as a true global capital, fitting the Thai meaning of the name MahaNakhon, translated as 'great metropolis'.
MahaNakhon is developed by PACE Development Co., Ltd. of Bangkok with joint venture partner Industrial Buildings Corporation Public Company Ltd (IBC). The complex, at 150,000 square meters (approximately 1.6 million square feet) seeks to communicate intimately with Bangkok from the ground up: its series of components comprise MahaNakhon Square, a landscaped outdoor public plaza intended as a new public destination within the city; MahaNakhon Terraces, 10,000 square meters (nearly 110,000 square feet) of luxury retail space with lush gardens and terraces spread over multiple levels for restaurants, cafes and a 24 hour marketplace; The Ritz-Carlton Residences, Bangkok with 200 highly-customized single-level and duplex homes, each offering the atmosphere of a skybox penthouse, managed by The Ritz-Carlton with five-star amenities for all residents; The Bangkok Edition, a signature boutique hotel with 150 rooms, a collaboration between Marriott International and renowned hotelier Ian Schrager; and a multi-level roof-top Sky Bar and restaurant.
With its distinctive sculptural appearance, MahaNakhon has been carefully carved to introduce a three-dimensional ribbon of architectural 'pixels' that circle the tower's full height, as if excavating portions of the elegant glass curtain wall to reveal the inner life of the building – metaphorically and actually an architecture that encloses and protects its inhabitants while revealing the inner life of their city. The pixelation gives MahaNakhon an arresting profile on the skyline while generating a set of very special features to house the diverse functions of the building complex in an intelligently strategic way.
Ole Scheeren's design for MahaNakhon dismantles the typical tower and podium typology to render not a tower in isolation but instead a skyscraper that melds with the city by gradually 'dissolving' the mass as it moves vertically between ground and sky. This effect begins with a series of generous, cascading indoor/outdoor terraces at The Hill – the seven-storey base area of the tower, accommodating luxury retail and dining. The plan also includes an adjacent freestanding seven-storey building called The Cube, with multi-level indoor/outdoor terraces corresponding to those of The Hill across the expanse of an outdoor atrium. The outdoor atrium forms a natural valley, offering a network of social spaces with an extensive and carefully selected mix of dining and leisure facilities that serve the general public via a direct above-ground pedestrian link to the main CBD Skytrain station and plaza-level access, The Ritz-Carlton Residences in the main tower of MahaNakhon, as well as guests of The Bangkok Edition Hotel. –
from OMA
*Photo by By O
MA© All rights reserved