Project: Rashid Cancer Center
Location: Dubai, United Arab Emirates
Designed by Perkins Eastman
As part of an invited international design competition, Perkins Eastman's unique vision for a new 250-bed cancer hospital on the Rashid Hospital campus in Dubai, UAE is a striking design that combines the latest philosophies in healing environments with functional flexibility. While the front facade is gracefully screened for privacy, a dramatic light atrium cuts through and anchors the main entrance, providing for the visitor and patient experience. A soothing, calm water atrium runs the length of the building, joining the two distinct forms of the building. More info and images under the cut: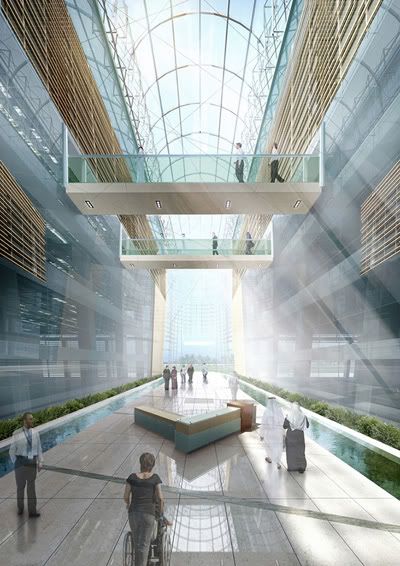 Facing renowned Creekside Park, the diagnostic and treatment functions are grouped in a flexible, modular building oriented so that the all-private patient rooms and small nursing units have Creek views. Ambulatory care and cancer screening services are located near the lobby while the upper floors house surgery, recovery, imaging, and infusion therapy; radiation oncology on the lower level.
Nursing units are grouped into three low oval towers with healing gardens cradled in between. The distinct shape of the patient towers differentiates them from the more rectilinear diagnostic areas. The patient towers are shaded by an undulating elevated floating roof that incorporates an energy efficient cooling system.