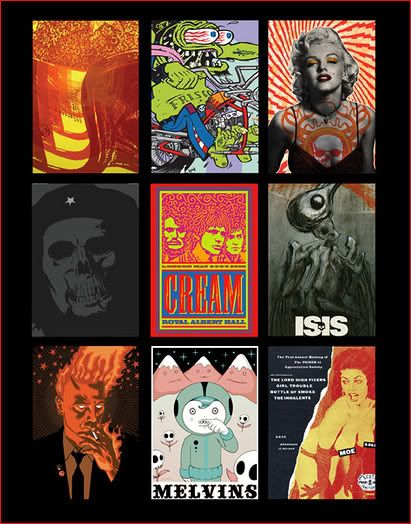 HARLEY-DAVIDSON PRESENTS: ART OF REBELLION
New York Art Show, One Night Only – Saturday October 17
LA.Venue In Chelsea, NYC
Website:
www.rebelartshow.com
Harley-Davidson's 'Art of Rebellion', one-night only show takes place this weekend – Oct 17th in NYC, click HERE to find more details in our previous post bout the event. Each artist has customized a tank and will also display & sell their own poster art. Proceeds go to CUE art foundation. Tara McPherson discusses her involvement with the Harley-Davidson 'Art of Rebellion' event and her plans for painting her tank:
http://vimeo.com/moogaloop.swf?clip_id=6983985&server=vimeo.com&show_title=1&show_byline=1&show_portrait=0&color=&fullscreen=1
If you are from North America or Canada, we have one

limited edition

, signed

Frank Kozik

custom-designed poster (the image above) to giveaway. E-mail us at

giveaway@designscene.net

, on October 16th we'll email back the randomly chosen owner of signed Frank Kozik poster. Please include your name and mailing address in the message.

Only one more day!