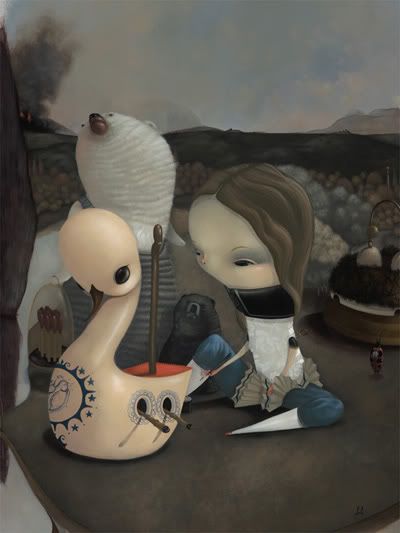 Exhibition:

Ipsum Factum
Artist:

Lola
Opening Reception:

Saturday, March 27, 2010 from 8‑11pm
On View:

March 27 – April 14, 2010
Website:
coreyhelfordgallery.com
This March Los Angeles artist Lola unveils her magic at Corey Helford Gallery with a new collection of works entitled

"Ipsum Factum"

. Lola's second solo exhibition at the gallery is her most highly anticipated to date. Through the artist's unique process of visual storytelling, Lola explores catalysts for new beginnings as well as the forward momentum of positive change to be the best that one can be. Lola's enchanting mini-vignettes blossom from the vibrant challenge of discovering newness and liberation of finding one's authentic voice. "

Every day is a lesson and a challenge, with noticeable evolution and growth

" adds Lola, and for her upcoming show, she finds inspiration in being "pulled along by the moon as the unexpected guest, mesmerized by its significance for the love of a story". Continue for more info after the jump:
For "Ipsum Factum", Lola creates narratives that are more metaphorical than before, illustrating harmonious relationships between humans and animals. Her palette takes a softer direction, adopting soothing neutral, earthy tones, and her work increases both in scale and content. Each piece originates from her personal selection of signature antique frames. Open to the public, the reception for "Ipsum Factum" will take place on Saturday, March 27 from 8 to 11pm, and the show will be exhibited until April 14, 2010.
Lola was born and raised in Riverside California. Growing up with an artistic father helped sparked Lola's interest in art at an early age, and she began developing her creative and technical skills more diligently when she reached her teens. A self-taught painter, Lola takes great care in the unique details of each piece, with a distinct visual evolution from each new body of work she exhibits, displaying them in handpicked antique frames she finds at flea markets. Featured in renowned collections worldwide, her work has been exhibited in prestigious galleries and museums including Yves LaRoche, Robert Berman Gallery, Jonathan LeVine Gallery, Dorothy Circus, and Riverside Art Museum. For more information about Lola, please visit www.lolafineart.com .
Located in the Culver City Art District, Corey Helford Gallery was established in April 2006 by Jan Corey Helford and her husband, television producer and creator, Bruce Helford (The Drew Carey Show, George Lopez, The Oblongs). Passionate art collectors, the Helfords are producers on the art documentary The Treasures of Long Gone John and have partnered to open their first gallery. Corey Helford Gallery presents a wide range of artists, from members of the new fine art movement, such as Gary Baseman, Andrew Brandou, Coop, Natalia Fabia, Korin Faught, Sylvia Ji, Eric Joyner, and award-winning photographer Chris Anthony, to early Modernist William S. Schwartz. Notable shows include "Charity By Numbers", which was co-curated by Gary Baseman and featured an unprecedented lineup of artists including Mark Ryden, Marion Peck, Shepard Fairey, Todd and Kathy Schorr, Camille Rose Garcia, and Michael Hussar. Corey Helford Gallery presents new exhibitions approximately every four weeks. For more information and an upcoming exhibition schedule, please visit coreyhelfordgallery.com