Magazine:
Vogue Turkey

Published: March 2010

Editorial: Disa Vu Rum



Model:

Alana Zimmer |Storm, Women, Louisa|
Photographer:
Arthur Elgort
Website:
www.voguemag.com.tr

Top model Alana Zimmer stars in a shoot by fashion photographer Arthur Elgort for the premier issue of Vogue Turkey. Behind any issue of Vogue there's a tremendous amount of work, in charge of newly founded Vogue Turkeys art direction is London based design agency Foxall Associates, after the jump is their story on Vogue Turkeys

design concept

, along with few more images from Arthur Elgorts shoot: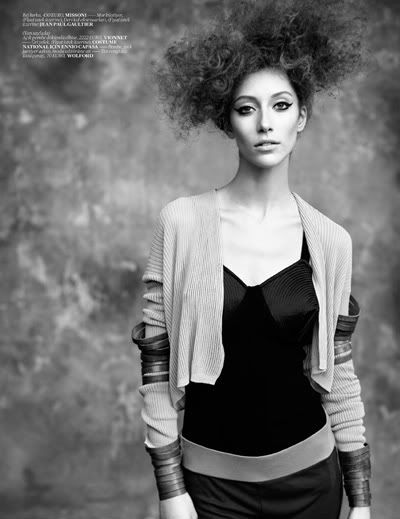 "The design was the result of six months of research and development. It's been a great experience working between Conde Nast in London and the Vogue office in Istanbul, and we're all very happy with the first issue.
It sets out everything that we wanted to do: Maintain the architype of Vogue, whilst creating our own confident local edition that competes and compliments the magazine's family look around the world.
The creative industry is not that deeply rooted in Istanbul so it has been hard for Turkey to visualise herself. The typical arabesque swirls or motifs are what stops Turkey having its own modern visual identity, so they were out from the beginning.
However, the Mediterranean influence is everywhere: It's a very positive culture, and so we wanted the content to jump off the pages in a celebratory manner.
Way back in the beginning, Iain said that he wanted someone in Brazil to be able to read the magazine and have a feeling of contemporary life and style in Turkey.
Iain split his time between Foxall Associates' main studio in east London and Vogue's Istanbul office. Working partly from London helped give a perspective on the design: We were primarily designing for the Turkish public, of course, but we also wanted the magazine's design to make sense globally. We think we've succeeded where the magazine definitely has a Turkish feel to it, but is not pushed to the point of becoming decorative – it retains a seriousness, which is essential.
The photography also reflects the same boldness. We commission a mix of new blood and old hats, from Turkey and around the world." – from Foxall Associates