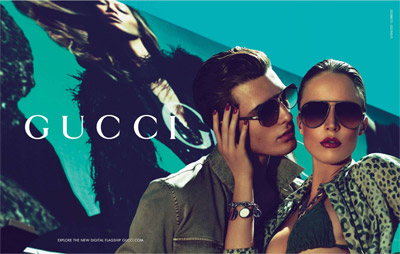 Ad Campaign: Gucci
Season: Cruise 2011
Models: Raquel Zimmermann |DNA,VIVA, Why Not| and Nikola Jovanovic|VIVA, Ford|
Photographed by Mert Alas and Marcus Piggott
Website: www.gucci.com
Second eyewear advertising image coming from the fantastic new Gucci Cruise 2011 shoot by Mert Alas and Marcus Piggott featuring Nikola Jovanovic alongside supermodel Raquel Zimmermann. Campaign was photographed under the famed Gucci billboard at L.A.'s infamous Chateau Marmont hotel on Sunset Boulevard.
Click on the photo above to enlarge, and HERE to see the previously featured part of this campaign.