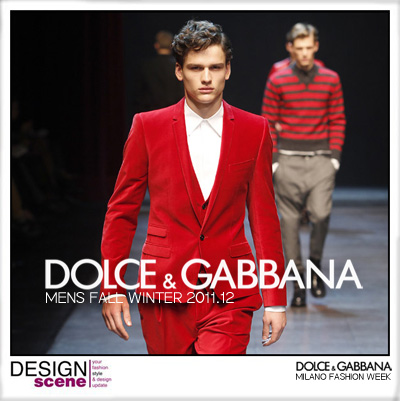 Collection: Dolce & Gabbana Menswear
Season: Fall Winter 2011.12
Designers: Domenico Dolce and Stefano Gabbana
Website: www.dolcegabbana.com
The thrill of Dolce & Gabbana instantly always comes from seeing their favorite perfectly clad models, once again the duo has picked up the most wanted from the male modeling scene to present their Fall Winter 2011.12 collection. The massive collection has given quite a variety, in fact it looked like Domenico and Stefano are actually giving us 3 collections in one, certainly doesn't hurt to have a wider range to choose from. From standing out red hot jackets to the new step in the evolution of the fur jacket Dolce & Gabbana are still in the hotspot of coveted trends and it is a very warm Winter of 2011.12.
After the jump view the runway video and our favorite looks from the new collection modeled by the likes of Arthur Sales, Francisco Lachowski, David Gandi and Noah Mills among other:
View images of all 85 looks sent down the runway over at brands official website.
Runway Photo | Monica Feudi