Collection: Prada Menswear
Season: Fall Winter 2012.13
Designer: Miuccia Prada
Website: www.prada.com
Your first Prada show is no doubt something unforgettable but at the same time something you talk about so much you are lucky to have any of your fashion and non-fashion friends still left around you. Among all that excitement feel free to throw into the mix the star defile at the Fall Winter 2012.13 men's runway presentation in Milan.
It is not ever so often you hear the fashion crowds cheer as much and as loud as they did at this Milan show, however besides the carefully selected top model faces the reason were the already mentioned stars joining the runway. Audience had the chance to see in their model roles names such as Gary Oldman, Willem Dafoe, Adrien Brody, Garrett Hedlund, Emile Hirsch, Tim Roth and Jamie Bell!
View the finale video above and some more of our Prada experience after the jump: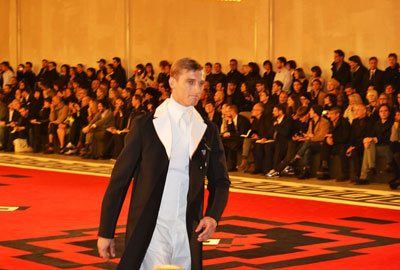 Photos: © Zarko Davinic at Design Scene