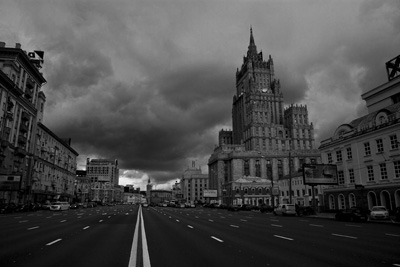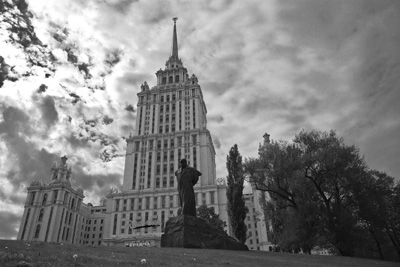 Moscow Portfolio by Martin Bing
Website: www.martinbing.com
Photographer Martin Bing for a moment turns his lens from fashion to the outstanding Moscow, sharing with us his splendid photos of some of the landmarks shaping this famed metropolis.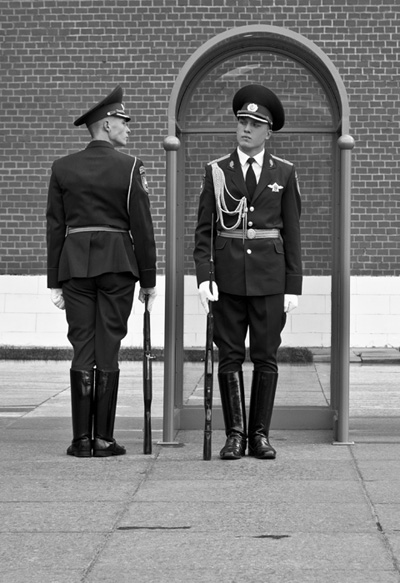 Change of Soldiers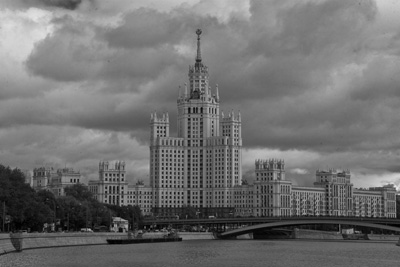 Kotelnicheskaya Embankment Building
Kotelnicheskaya Embankment Building is one of seven stalinist skyscrapers laid down in September, 1947 and completed in 1952, designed by Dmitry Chechylin (then Chief Architect of Moscow) and Andrei Rostkovsky. Main tower has 32 levels (including mechanical floors) and is 176 meters tall. Kotelnicheskaya Embankment (Russian: Котельническая набережная) is a street on the northern bank of Moskva River in central Tagansky District of Moscow, Russia. It spans from the mouth of Yauza River (west) to the point one block west from Bolshoy Krashokholmsky Bridge (east), where it changes name to Goncharnaya Embankment. SOURCE Wiki.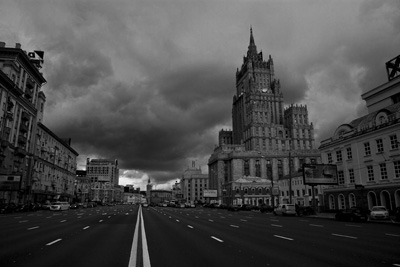 Ministery of Foreign Affairs
This 172 meter, 27 story building was built between 1948 and 1953 and overseen by V. G. Gelfreikh and M. A. Minkus. Currently, it houses the offices for the Ministry of Foreign Affairs for the Russian Federation. The Ministry is covered by a light external stone wall with projecting pilasters and pylons. Its interior is splendidly decorated with stones and metals. According to the 1982 biography of Minkus, draft plans were first drawn up in 1946 and ranged from 9 to 40 stories. In 1947 two designs were proposed: one utilized layered setbacks while the other called for a more streamlined construction which culminated into a blunt rectangular top. The second proposal was accepted but as the Ministry's completion neared, a metal spire, dyed to match the building's exterior (and presumably ordered by Joseph Stalin), was hastily added to tower's roof, assimilating its silhouette with those of the other. SOURCE WIKI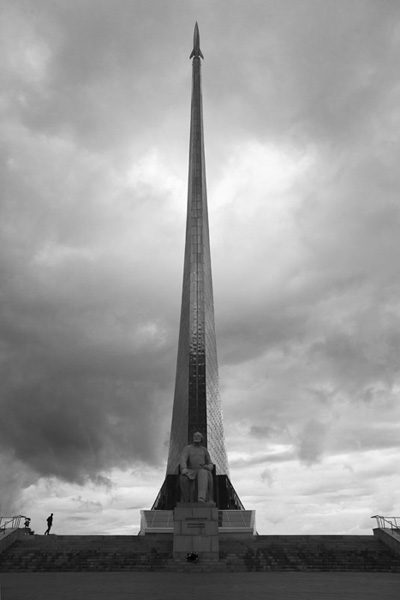 Monument to the Conquerors of Space
The Monument to the Conquerors of Space (Russian: Монумент «Покорителям космоса») was erected in Moscow in 1964 to celebrate achievements of the Soviet people in space exploration. It depicts a starting rocket that rises on its contrail. The monument is 110 m tall, has 77° incline, and is made of titanium[1]. The Memorial Museum of Cosmonautics is located inside the base of the monument. SOURCE Wiki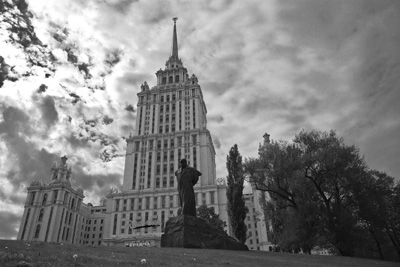 Radisson Hotel
Hotel Ukraina – Radisson Royal Hotel by Arkady Mordvinov and Vyacheslav Oltarzhevsky (leading Soviet expert on steel-framed highrise construction) is the second tallest of the "sisters" (198 meters, 34 levels). It was the tallest hotel in the world from the time of its construction until the Peachtree Plaza Hotel opened in Atlanta, Georgia in 1975. Construction on the low river bank meant that the builders had to dig well below the water level. This was solved by an ingenious water retention system, using a perimeter of needle pumps driven deep into ground. The hotel reopened its doors again after a 3-year-renovation on April 28, 2010, now called Radisson Royal Hotel, Moscow, with 505 bedrooms and 38 apartments. ('Friedrich Engels' is in front of the building) SOURCE Wiki
Worker and Kolkhoz Woman
Worker and Kolkhoz Woman (Russian: Рабо́чий и колхо́зница Rabochiy i Kolkhoznitsa) is a 24.5 meter (78 feet) high sculpture made from stainless steel by Vera Mukhina for the 1937 World's Fair in Paris,[1] and subsequently moved to Moscow. The sculpture is an example of the socialist realistic style, as well as Art Deco style. The worker holds aloft a hammer and the kolkhoz woman a sickle to form the hammer and sickle symbol. The sculpture was originally created to crown the Soviet pavilion (architect: Boris Iofan) of the World's Fair.[1] The organizers had sited the Soviet and German pavilions facing each other across the main pedestrian boulevard at the Trocadéro on the north bank of the Seine. SOURCE Wiki
University Lomonosov
The main tower, which consumed over 40,000 metric tons of steel, was inaugurated September 1, 1953. At 787.4 feet or 240 metres tall, it was the tallest building in Europe from its completion until 1990. It is still the tallest educational building in the world. Wiki: (seven sisters, scroll down) SOURCE wiki