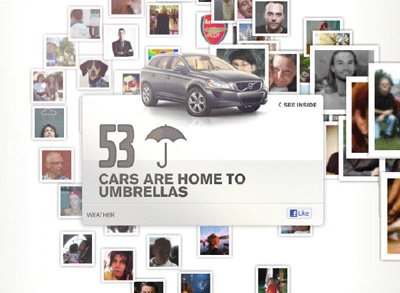 Aren't we all just a little bit interested what other people carry around all day? So many of us have a secret love for those "What's inside your bag" photos, so what about our cars? If a bag can tell a great deal about us, can't our cars do just the same? The always creative Volvo team has shaped an engaging Volvo You Inside Facebook App, which besides it's undeniably entertaining factor actually comes in handy for the future of car design.
It comes as a special invitation to people around the globe to share images and info about the things they keep in their cars. You'll simply upload a picture of your car's interior and fill in some info, the app will then quickly analyse the data and give you a peek into your personality. At the same time you will help the car revolution in a previously unimaginable way, you will be the one directly influencing the way your future car looks. It can mean more space for your luggage, bigger cup holder, or simply making it a more enjoyable place for your dog.
Most of our cars must be a home to for example an umbrella, right? Well you can discover for yourself, this smart little app will compare your info with the results against other people's profiles around the world. Now it makes us wonder how many of you are storing fashion mags in your car? We are getting pretty curious, feel free to let us know what your car is home to.
This article is sponsored by Volvo.