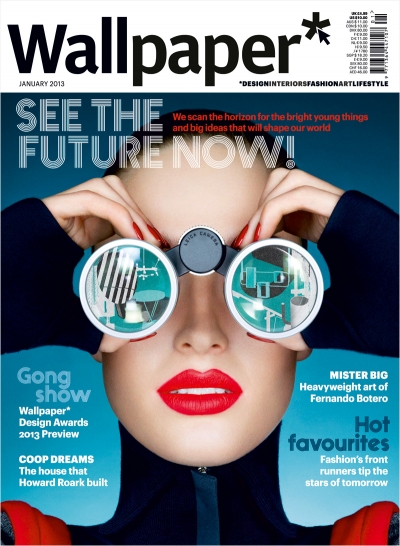 Magazine: Wallpaper*
Published: January 2013
Cover Photographer: Pawel Pysz
Cover Fashion Editor: Mathew Stevenson-Wright
Website: www.wallpaper.com
Wallpaper* magazine's Next Generation issue (out now), marvelously shines a spotlight on the best of the best up and and coming new creatives.
'Our annual recce of colleges around the world has revealed an exceptional pool of talent in design, fashion, architecture, jewellery, transport, photography, visual communication, travel and packaging. Remember these names – you saw them here first.' – Wallpaper* Editor-in-Chief Tony Chambers
January 2013 issue also features legendary artist Fernando Botero, famed twin artists Gert and Uwe Tobias, a sneak preview of the 2013 Design Awards and much more. Cover model wears leotard by Lacoste and binoculars by Leica from Harrods. After the jump we have a better look of the fantastic cover as well as a peak of the design pages and an elegant fashion story by Marton Perlaki.