Pixie Geldof becomes the new covergirl of British Elle, posing for the radiant cover story shot by fashion photographer David Vasiljevic. For the shoot Pixie is clad in pieces from the likes Erdem, Mary Katranzou, Richard Nicoll, Jonathan Saunders and Christopher Kane.
I think this smart 22-year-old is the face of a new generation – she is the woman whose playful attitude is giving London a fresh spirit. When I look at pictures of Pixie, I see a Kate Moss-in-waiting; a stunning cover girl whose personality shines through everything she does. Which is why I chose her for this shoot celebrating British fashion – and her first ELLE cover. She's spirited and strong, a role model in the making. I predict big things for her. – ELLE UK Editor-in-Chief Lorraine Candy
For more images and highlights from her interview continue below: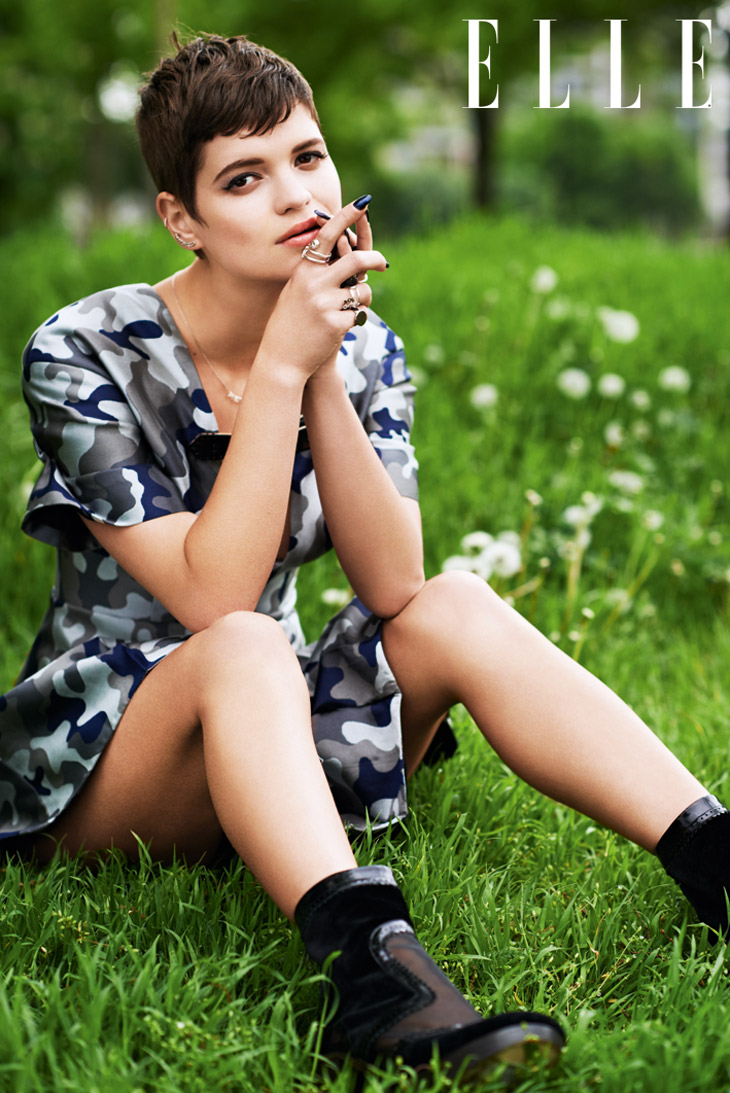 Interview highlights:
On her image: 'When I saw myself at the Met Ball I did think, my god, a grown-up! I was embarrassed by how womanly I looked. Ifind it hard to take myself seriously – and if I was in a magazine posing in a sexy way, my friends wouldn't let me hear the end of it.'

On the death of her mother Paula Yates: 'Yes, our mother's death was a terrible thing to happen to four young girls. We're not ashamed of it, but everyone's fine. It happened more than half my lifetime ago.

On her father, Bob Geldof: I'm proud of my dad – he kept everyone on board while working his ass off. He's outstanding. Our family has been through… stuff. Like everyone's. But we've come out of it in a good way – that strength of character is testimony to him.'
On her style: 'My friends Ashley [Williams, the designer] and stylist Fran Burns and I have a style that we call funky offish. You know, something a bit official, but also funky – like how people say smart casual.'
On her music: 'It's easy for me to write dark lyrics,' … 'I find it easier to be more expressive when I'm sad.'
On her boyfriend George Barnett: 'We went to karaoke and he sang Backstreet Boys. I was like, you're the one for me! That was about three years ago. He's wonderful. He's the best. I wasn't interested in boyfriends, I had [my best friend] Ashley, she was like my boyfriend, but he's so great.'
Full interview appears in the August issue of ELLE UK, on sale Wednesday 3 July 2013. Also available as a digital edition.
Photos David Vasiljevic, images courtesy of ELLE UK.