A fitted kitchen is one of the best ways to add value to your home, so it is worth investing in one that ticks all the necessary boxes. Here's how to go about turning that scruffy scullery or lowbrow larder into a kitchen to die for.
Layout
The kitchen layout you choose will ultimately depend on the amount of space that's available. Assess and measure the existing space and draw up a floor plan. Decide whether you can change the current layout or if you're going to need to work with what you've got. Make a note of the location of windows and doors, existing power points and pipes, sketching out roughly where you imagine units and appliances like ideal gas grill, all in one microwave oven, big refrigerator will will be positioned – but do bear in mind that radical shifts in structural features will add to the overall cost. Consider using an interactive online planner; you should find that it is a simple and user-friendly way of planning your new kitchen.
Practicalities
Consider the crucial functions you want your kitchen to fulfil. At the least, you should plan for zones that lend themselves to food preparation, cooking, serving and washing up. Well-designed kitchens tend to be based on a concept called the work triangle, which dictates that the sink, cooker and fridge should form a working triangle to maximise available space and ensure that you don't spend ages traipsing around the kitchen to complete different tasks. Ideally the features that form the triangle should be positioned 1.5m to 2.4m apart. Aside from the basics, take time to consider radiators and storage options, including wall and floor cupboards. Also, if space allows, think about whether to include an island, table and chairs, soft seating or a workstation.
A key part of planning your new kitchen is establishing a budget and sticking to it. Sit down with a pad, pencil and calculator and do your sums, or make use of an online budget-planning calculator. You should factor in the cost of the kitchen design, units and materials, labour (installation, plumbing and electrics), appliances and accessories, wall and floor treatments and aim to set aside an additional 20 per cent as a contingency fund.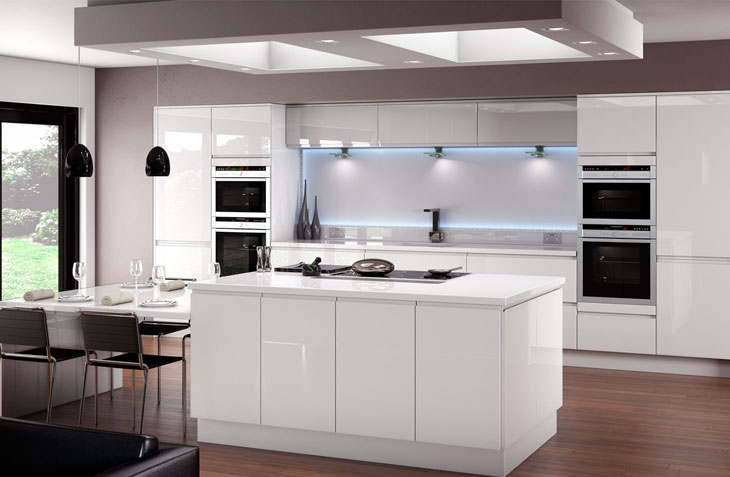 Enlist the help of a kitchen designer
Book a free appointment with a kitchen design consultant from one of the country's leading home improvement specialists. Choose a company with a proven track record for combining superior service, top quality and value, who can send one of their experts over for a no-obligation home visit. Take a look online at some of the kitchens designed by My Fitted Kitchen for inspiration on bespoke fitted kitchens, or should you need bedroom, look at their My Fitted Bedroom. Once you have discussed your plans for your dream kitchen, your consultant will draw up a tailored personal design proposal and provide you with samples and advice.
Style
Think about your style – is it trad or rad? Opt for a design and colour scheme that complements the rest of your home. Beware of adding permanent features that are too Avant-garde or personal – you don't want to deter future buyers. It is wise to make any individual features ones that are easy to change, such as paint and accessories.
Units and worktops
In terms of units, coloured, gloss and reflective finishes are currently very popular. Reflective surfaces are particularly good at maximising the light. Dark wood units cleverly create an impact in large rooms or knocked-through spaces, while darker floor cupboards and pale-door wall units enhance the feeling of space and add a contemporary touch. Worktops should be both functional and attractive and can include laminate, solid wood, granite and quartz.
Appliances
From Hotpoint to Hoover, Smeg to Samsung, there is a bewildering range of state-of-the-art appliances to choose from. If space is tight, think about slim-line options or counter-top models or look at dual purpose appliances such as washer-dryers, fridge-freezers and ovens with microwaves. You should be able to integrate most appliances into the scheme you choose. Consider mixing and matching, for instance a built-in electric oven with gas hobs and swanky hood. With a multitude of dishwasher designs on the market – full-size, slim-line and counter-top models abound – there's no excuse not to include one in even the smallest of kitchens.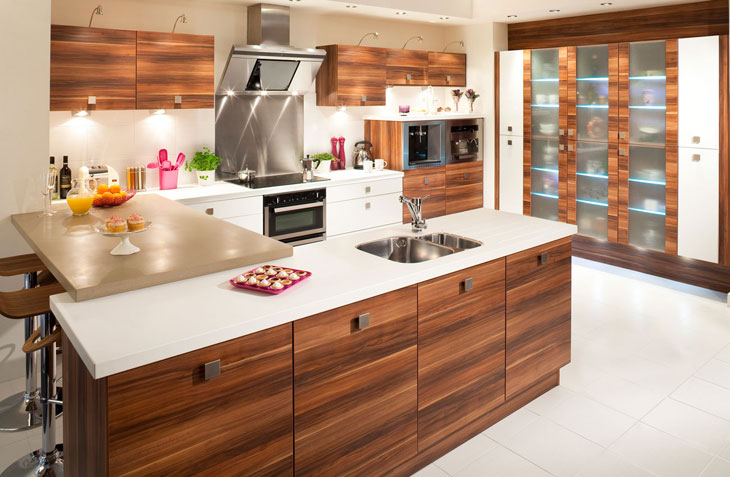 Accessories
Your kitchen sink can be more than just a bog-standard stainless steel job, although these remain undeniably durable. Choose a sink that is both functional and easy on the eye – sparkly white ceramic is easy to clean, while granite is the kitchen fashion statement of the moment. Sinks and taps now come in a vast range of sizes and shapes. Also – did you know that you can kiss goodbye to the kettle forever by replacing it with a boiling-hot water tap which dispenses on demand? Deck out your new kitchen with a range of extras such as cupboard and drawer handles, stools, cabinet lights and legs and splash-backs to ensure you put your own stamp on the space.
On the way to your dream kitchen
If possible, try and get assigned a dedicated account manager who will oversee your kitchen redesign project. Go over the detailed technical drawings with a fine-toothed comb and propose changes where necessary. Once you're satisfied, experienced craftsmen can begin building your new kitchen and installers will be then sent to fit it.
And finally . . .
Here are a few ways of improving your kitchen even further:
• A lick of paint can work wonders on dull walls and it's a great way to add colour. Always use oil- or water-based paints and prepare the surfaces as instructed.
• A feature wall adds character and personality to a kitchen – use bold patterned wallpaper, tiles or a splash-back to create a focal point.
• Lighting – changing the lighting in a kitchen can transform the feel of the space, especially if it's small. You can't go wrong with ceiling-mounted or under-cupboard, over-the-worktop spotlights.
• Flooring – rip out that sad, grubby lino and replace with new, contemporary flooring. Vinyl is the cheapest option, natural materials such as stone and wood are more expensive but are an excellent investment if you have the budget.
All in all, there's a world of design classics and up-to-the-minute accessories and utilities out there to make your new kitchen both a thing of the moment and of the future.