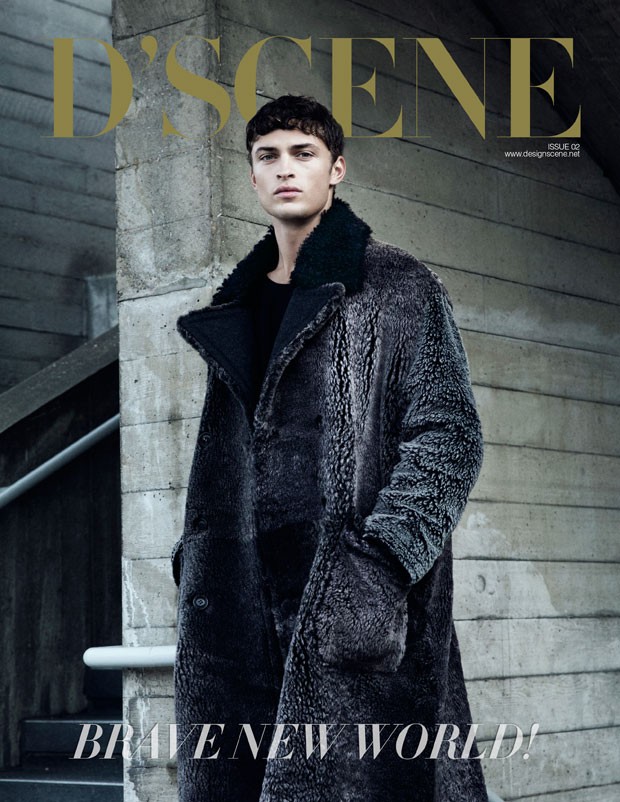 Welcome to the new issue of D'SCENE! After more than seven years of existing as an online magazine Design Scene's transition into its print domain D'SCENE with all its challenges seems to be complete. When it comes to top model names D'SCENE magazine's latest edition is our strongest yet. However in the process Brave New World came up on its own as the theme of the issue for many reasons.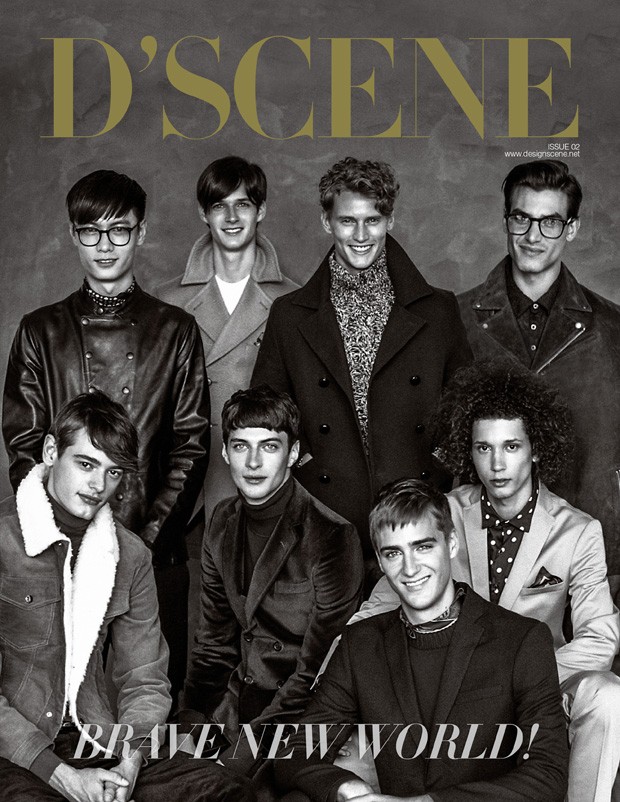 The latest issue features two covers, one starring supermodel Harvey Newton-Heydon (Next London) photographed in London by Sevda Albers with styling from our Fashion Editor Christopher Maul. The other was captured in New York with a team of top model boys lensed by Jared Bautista with styling from Rima Chahine.
For us it was a different kind of adventure to organize womenswear editorials for print. The girls are now not only making an appearance in a men's story, instead three of the sessions are dedicated to womenswear only and are headlined by some of the most sought after faces on the scene.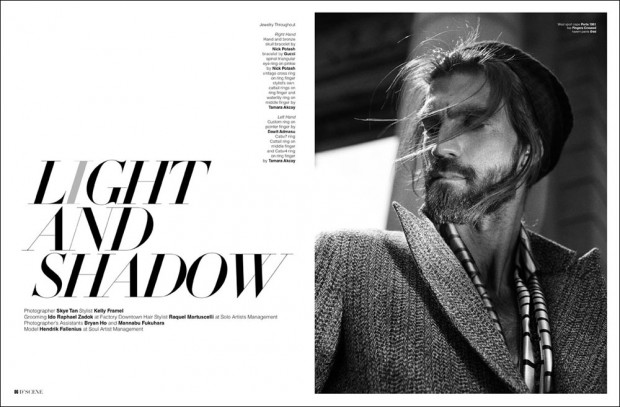 At the same time, the rise of the fashion industry on the Far East as well as the often neglected Berlin scene additionally changed the root of our voyage. Keeping in line with our intention to always create a truly international collection of editorials – this time we invited our contributors to work on locations in New York, London, Berlin, Belgrade, Warsaw, Sydney, Los Angeles, Dubai, and of course Milan.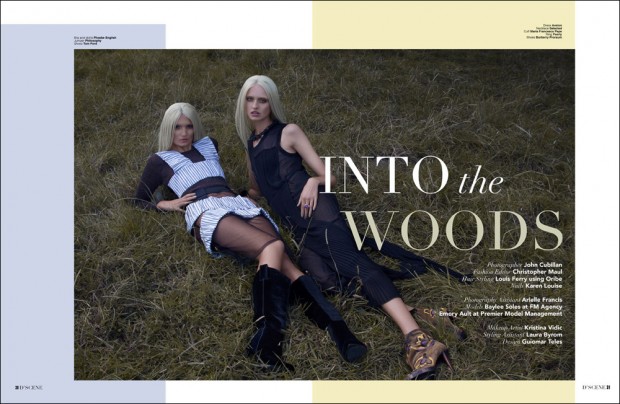 With D'SCENE emerging from web pages where a model always takes the spotlight, we allowed the faces of a future generation of fashion models to take the lead. Some may already hold the title of a top model, while other are here to reform the ranks of the modeling industry.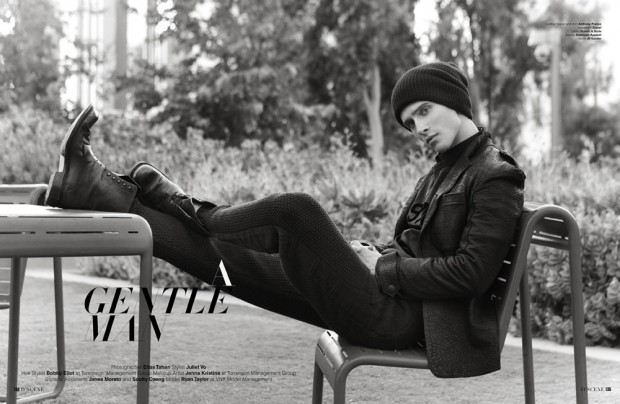 Furthermore winter collections are rightfully shaping our imagery, therefore outdoors was an important element of the new stories. The urban sentiment reflects on the talented models posing for our photographers, as well as the styling selected for them. However two of the stories are shot in untouched urban getaways, the grand parks of Milan and London. The featured breathtaking great outdoors in those photographs showcased the inspiration of nature itself in the featured garments.
This time we worked with our regular as well as few new photographic contributors – Christoph Musiol, Elias Tahan, Greg Adamski, Horacio Hamlet,  Igor Cvoro, Jared Bautista, John Cubillan, Marcin Kepmski, Maud Maillard,  Michelangelo L. Cecilia, Pat Supsiri, Sinem Yazici, Sevda Albers, Skye Tan, Thang LV.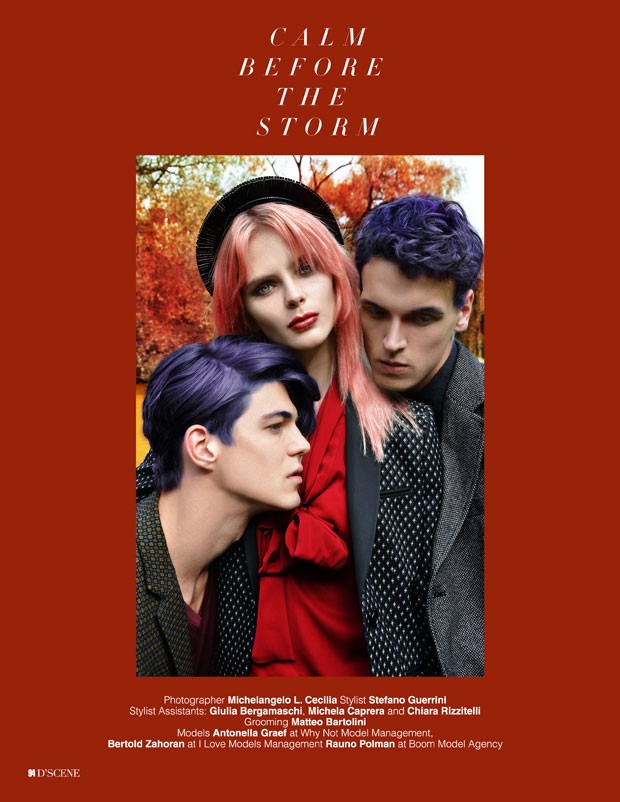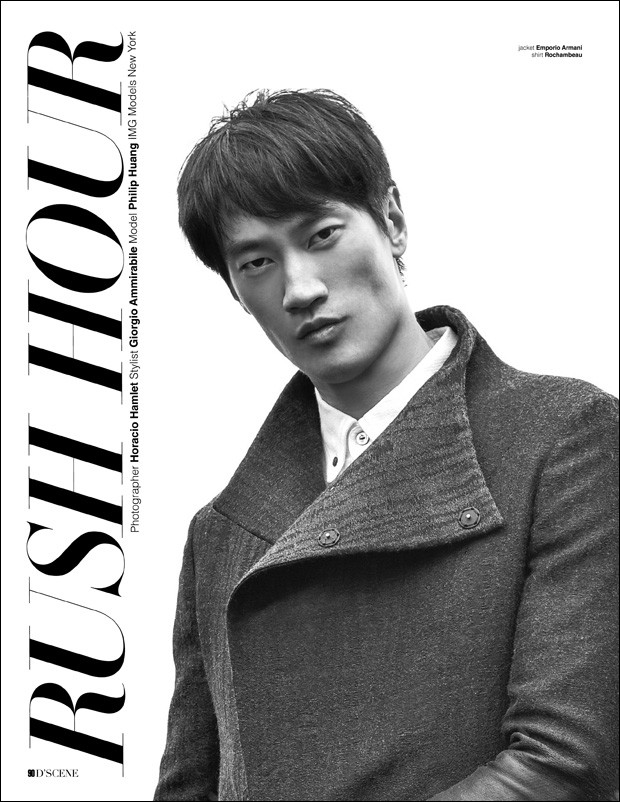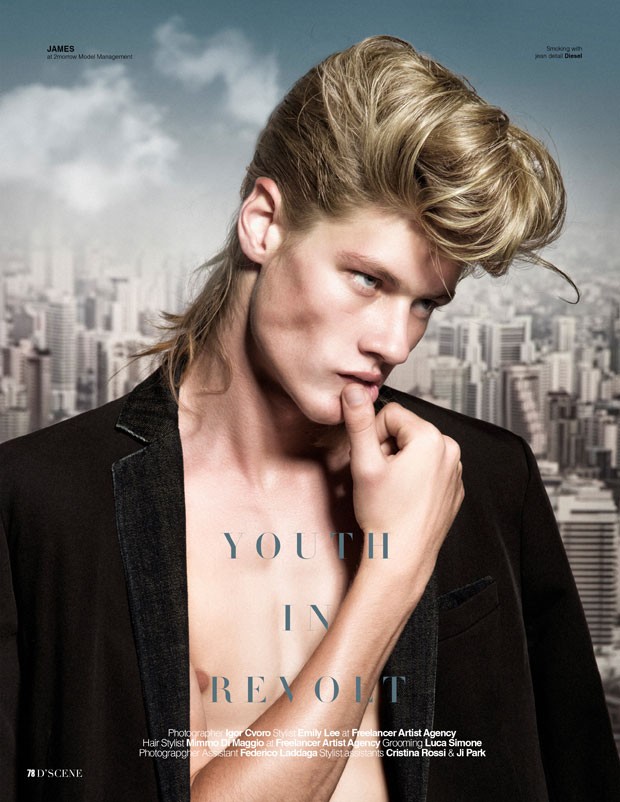 Styling was handled by Andrew Hainsworth , Anna Castan Thomas, Anna Poniewierska, Giorgio Ammirabile, Bodo Ernle, Kelly Framel, Nicoleta Iliescu, Emily Lee, Nicoleta Iliesecu, Rudy Reed, Rima Chahine, Stefano Guerrini.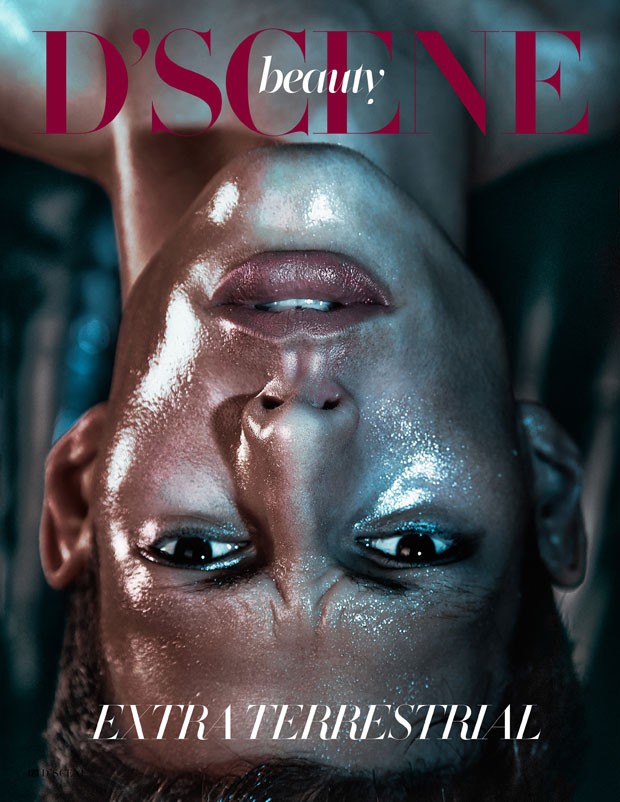 These new faces and inspiring designers featured on the following pages are for us indeed building the Brave New World.
D'SCENE once again dedicates a whole segment to Beauty, creating beauty supplement pages closely connected to our Beauty Scene. This time our beauty cover star is top model Nemanja Maksic from FOX Models Belgrade / DNA Models NYC photographed by Igor Cvoro with makeup by makeup artist Marko Nikolic at FOX Belgrade.
D'SCENE magazine is Design Scene's quarterly print edition brought to you Editor-in-Chief Zarko Davinic, Fashion Editor Christopher Maul, Assistant to Editor-in-Chief Ana Markovic, Editor at Large Igor Cvoro.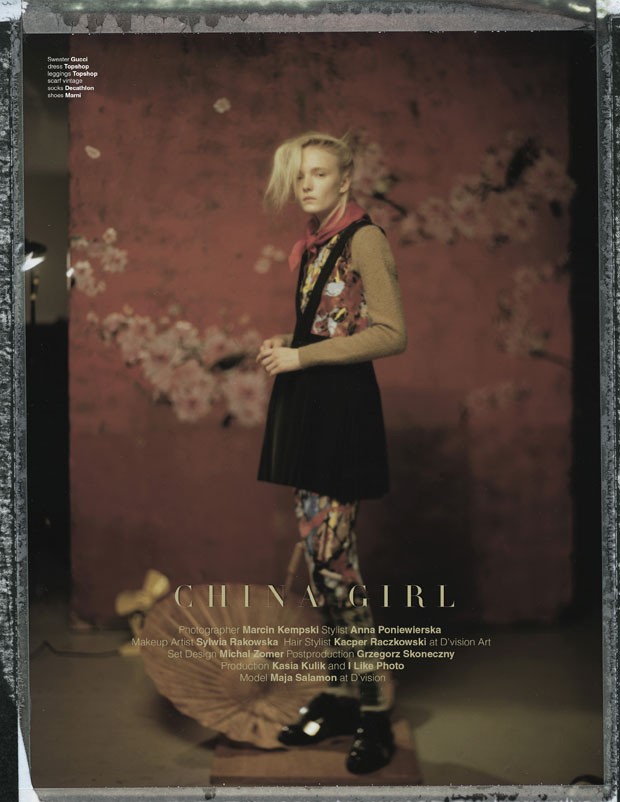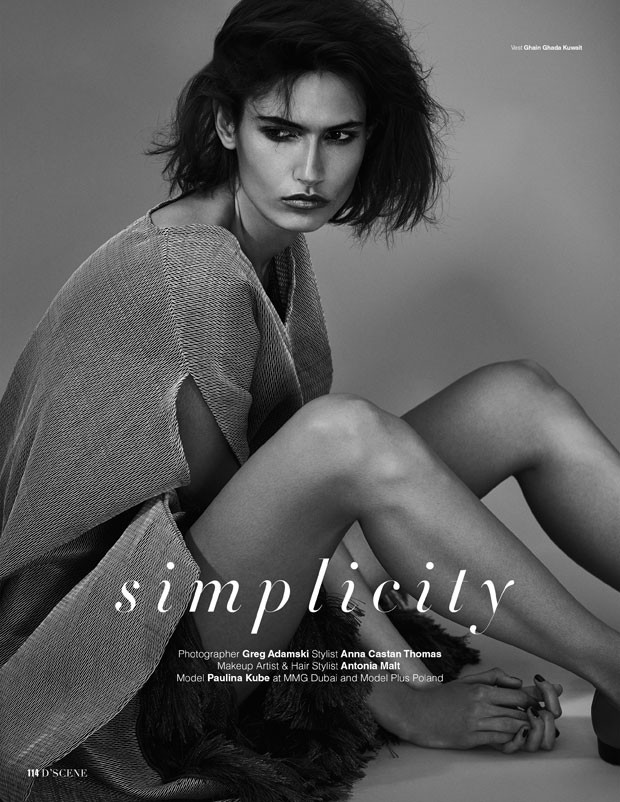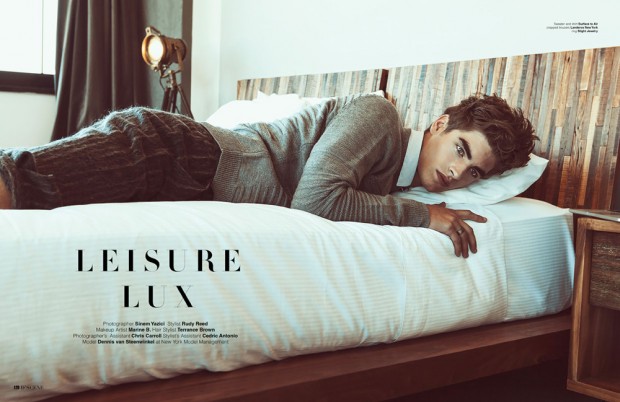 Models featured in the new issue are Harvey Newton-Haydon (cover), Hendrik Fallenius, Fred at 2morrow, Fede Lopez, Alexander Johansson, Jacob Morton, Abiah Hostvedt, Samuel Roberts, Phillip Witts and Matthew Bell (NYC cover boys), Baylee Soles and Emory Ault, Linus Wordemann, Raphael Balzer, Justus Eisfeld, Justin Sterlin, Stefan Pollmann, Maximilian von Scotti, John Schwenzer and Lenz von Johnston, Nathaniel Visser, Henry Watkins, Filip Timotijevic, Joseph Dolce, Bruno, Andre Bona, Adam Sordes, Kurt Herbst, Harvey James, Lucas Kittel, Frederik Meijnen, Sam Harwood, Philip Huang, Maja Salamon, Cindy Stella Nguyen, Dennis van Steenwinkel, Paulina Kube, Antonella Graef, Bertold Zahoran, Rauno Polman, Nemanja Maksic, Ivana Momirov, and our Fresh Face Farewell Sven de Vries.
The new issue of D'SCENE has 144 pages.