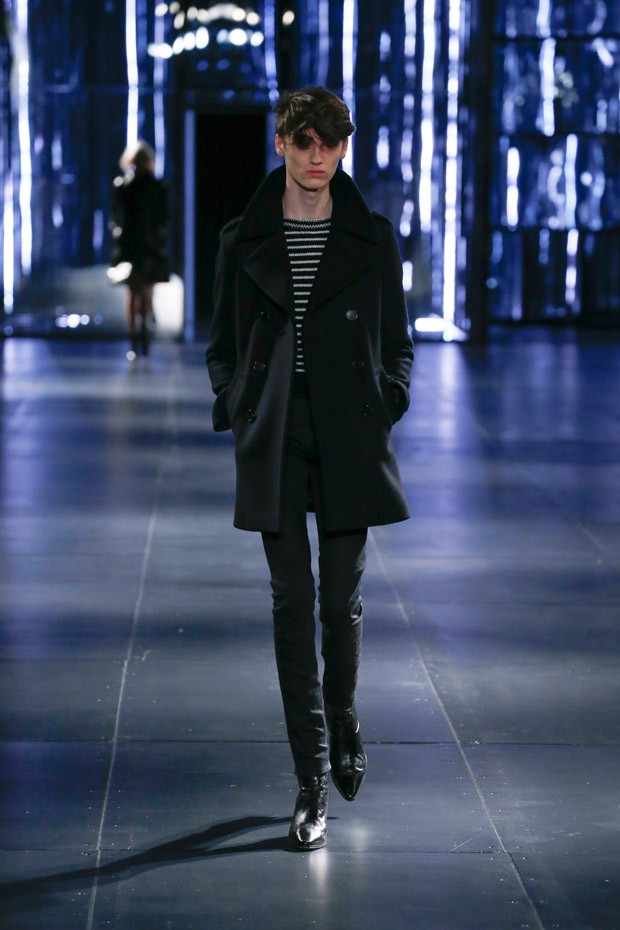 Hedi Slimane with Saint Laurent fall winter 2015 runway show masterfully connected Paris and Music as the focal point of his latest designs. The Paris Sessions collection gives the upcoming season's designs an undeniable rock edge. The same comes with an instantaneously timeless vibe. The fashion houses have long seized the use of 'investment piece' term in their collection notes, pretending the recession days are long gone. However many of the luxury fashion names are still standing thanks to that exact terminology. You know a piece like a leather jacket from Saint Laurent collection is there to stand more than a season. Reasonably enough it is the right investment for your wardrobe.
With the Saint Laurent style ultimately changing under the stamp of Hedi Slimane, the designer morphed his signature pieces into the new season as well. A showstopping leather jacket, and a pair of tight black (leather) trousers are a must. While the rock sentiment of the show immediately implied evening-wear, in addition to girls joining the runway making it a night-out occassion, decomposing the styling can bring different results. Zipper taken leather pants might not be the best office outfit, however an elegant beige or black coat is certainly ready for a formal and many other outings.
Womenswear sharing the spotlight during Paris Fashion Week's menswear ready to wear time slot, certainly emphasizes the androgynous aspect of the line. Moreso connected with the men's pieces sent down the catwalk. At the same time it leaves us wondering where will the full runway presentation of the women's show take us by the days of the upcoming PFW.
After the video above discover more than sixty new Saint Laurent looks: