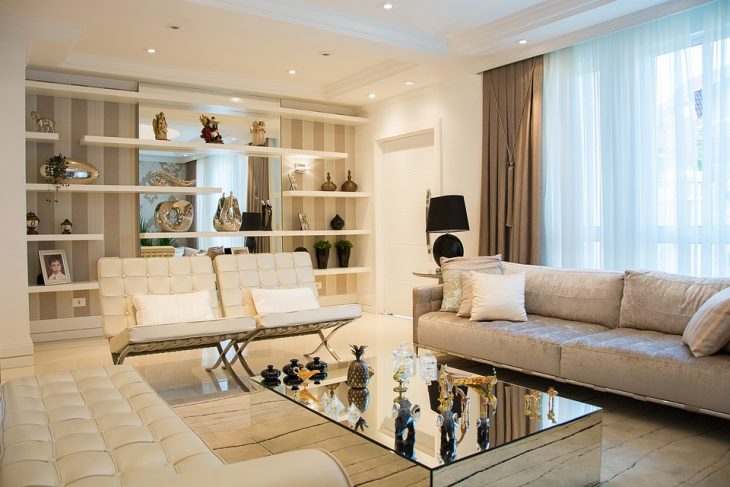 If you're looking for some decoration inspiration, a great place to start is looking at this year's design trends. This is where design professionals give us an insight into what's hot, and for 2015 there's a huge range of colours and styles, from natural, leafy looks, to metallic mixes of coppers, bronzes and silvers.
Here are some ideas for different rooms around the house.
The Living Room
Getting in touch with nature is definitely in this year. Designers are looking to inspiration from plants, leaves and wildlife. Green is a great colour for the lounge as it gives a sense of calm, so you can have the perfect place to relax. Even just by incorporating a few potted plants into the room, you can create that contemporary, nature feel. Greens and browns go great together, so be sure to add in some wooden or leather elements. A few botanical patterned cushions and pillows can go a long way if you're not willing to make any huge transformations.

The Bathroom
As well as green, blue is also taking the spotlight in this year's design trends. As another cool colour, it too has calm and tranquil properties. Bright, bold hues such as cobalt are a must according to designers and are perfect for the bathroom. Freestanding bathtubs are also making an appearance, and can make a room look a hundred times more stylish. If you're more of a shower person, designers are suggesting bigger spaces for showers to give a sense of freedom and serenity.

The Bedroom
Monochrome bedrooms are a common sight in 2015's trends. Black and white are great for any room because of the freedom you have to add pops of colour wherever you wish. This is great for decorating with photos and paintings. You also have the opportunity to add in the touches of metal that designers are raging about. Silver would be a great matchup in a black and white room. A silver band around a black dresser or nightstand, or a silver lampshade, would give a perfect, sophisticated look. You could even add to the luxury with a king-size bed. If you're on a budget, Bedstar offer cheap options for big beds that you can decorate with plenty of pillows and covers.
The Kitchen
Kitchens are one of the best rooms for diverse designs and endless possibilities. Designers have plenty to say about lighting in kitchens this year. Coloured LED lighting is being used in a lot of designs, creating a studio-type look. It's perfect for setting a mood and bringing the room to life. Black and white is a popular choice for kitchens, but metallic tints make another appearance. Warm tones such as copper and rose gold are common, such as on surfaces, taps and lights.