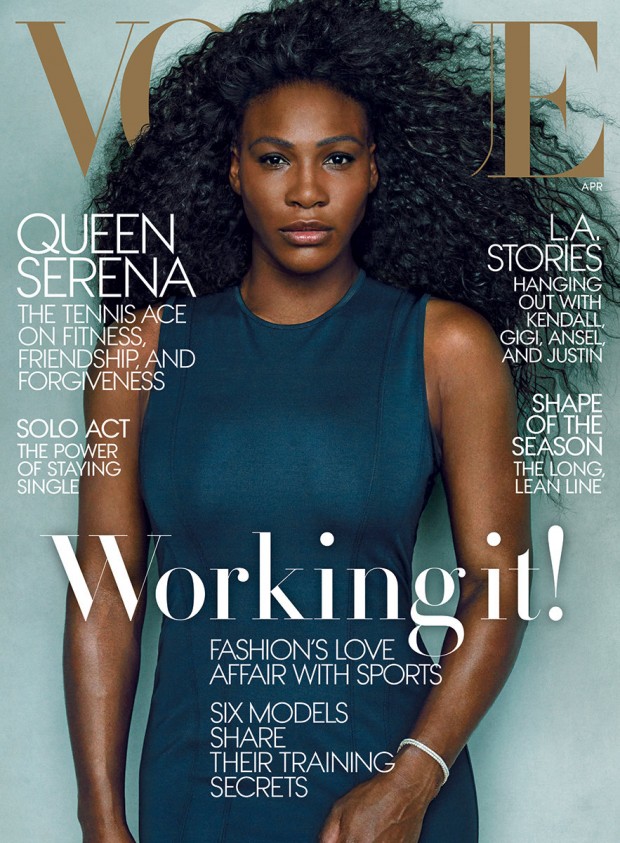 Tennis superstar Serena Willaims returns to the cover of American Vogue with a shoot by the legendary Annie Leibovitz. The sports champion is joined for the corresponding story by Caroline Wozniacki, a fellow Tennis player. Styling for the sports taken shoot is courtesy of Sara Moonves. For the cover Serena wears a Rag & Bone dress. and Tate diamond bracelets.
Makeup courtesy of Francelle, hair styling by hair stylist Holli Smith.
"We all get that off season," Wozniacki reassures her. I'm not sure what they were talking about. Both look magnificently fit. Earlier that month Wozniacki had even run the New York City Marathon, a project she undertook to help her forget that November was the month she was to have been married. And Williams has long been among the most powerful players on the tour, thanks, initially, to Venus, who insisted they hire a physiotherapist when they were still teenagers. "Nowadays everybody goes to the gym," Serena says. "But when I won my first Grand Slam, I had never been." Even then, however, she was ambivalent about her naturally muscular physique, refusing to lift weights lest her arms get bigger. "I hated my arms," she remembers. "I wanted them to look soft." To this day, she uses TheraBands instead of weights to avoid overdeveloping her muscles. – from American Vogue
There's more after the jump (below Wozniacki wearing a Michael Kors swimsuit):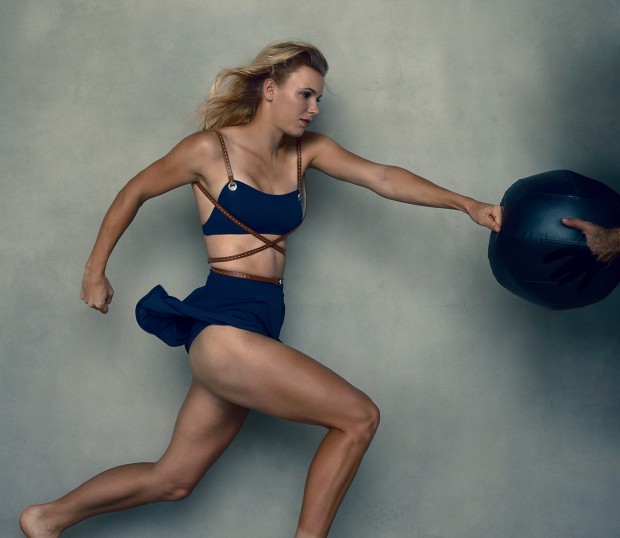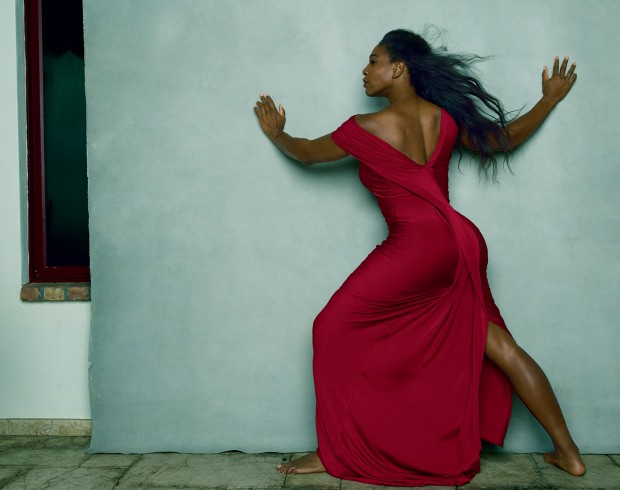 "Let's just put an end to this myth that women players cannot be friends," Williams says. "We can!" But traditionally, they haven't been. Steffi Graf, Monica Seles, Maria Sharapova—champions all, but none noted for her cuddliness on, or off, the court. Roger Federer might have dinner with Stan Wawrinka after a match, but among the women, it's mostly cold shoulders. "It's something players cultivate to keep their edge," explains Mary Joe Fernandez, a former top-ten player who is now the captain of the American Fed Cup team. Having her sister Venus with her on tour may have made Serena Williams even more insular. When your best friend is with you day in and day out, why risk becoming vulnerable to another person? Especially if that person might someday stand between you and a $3 million prize. – from American Vogue
Above – Serena in a Donna Karan dress.
FOR MORE OF THE NEW ISSUE LOG ON TO AMERICANVOGUE.COM