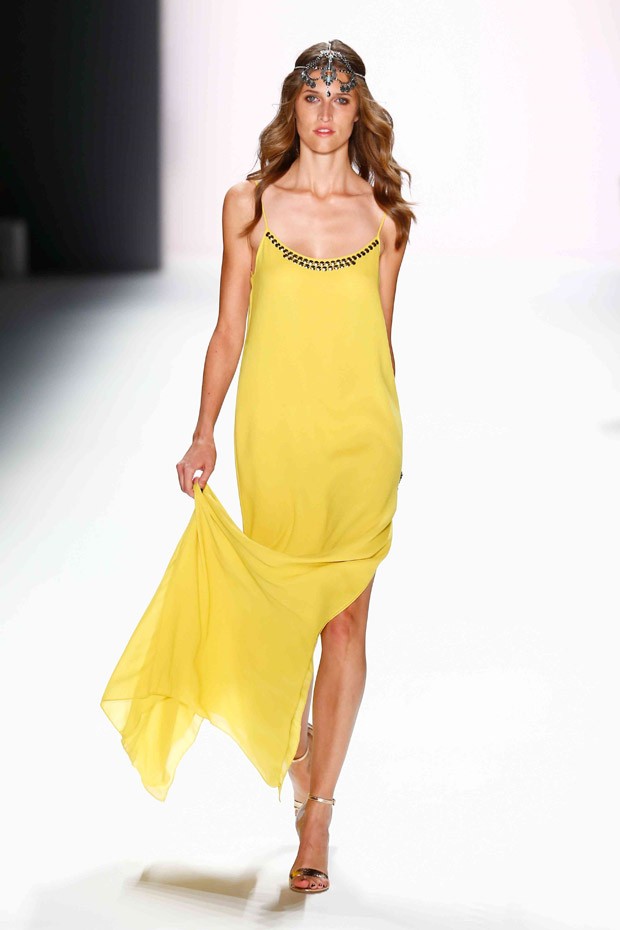 Dimitri Panagiotopoulos presented his S/S 2016 collection on the 09th of July 2015, the third show day during Mercedes- Benz Fashion Week Berlin. Having chosen an utterly creative invitation card showing multi- coloured Moroccan tiles, we were eagerly awaiting to experience his new collection. It was highly sophisticated, glamorous and bright, let's just say: it felt so right. The collection was a pure jollification and expressed pure joie de vivre. His floor- length, floating dresses seemed to be made for Artemis, the greek goddess of hunting and daughter of Zeus and Leto.
For coming season, Dimitri prefers bright statement colours. Those pieces seem to be made for the confident and cosmopolitan woman who dares to dress in daring hues. Albeit also rocking elements could be found in this collection, especially shape- wise as seen in his dresses and trousers. Dimitris' Mediterranean influences clearly shine through. Cut- wise, the collection takes its inspiration from the '70s. The use of elements that were present in this decade underlines this character: folds, fringes and highest quality fabrics from India and Morrocco. His favorite material choice consists of leather, silk and embroideries. His pieces obviously can be characterized as Italian Chic. His silhouettes, sharp as knifes, underline the feminine silhouette, and so do the strong colours, the elaborate applications and sheer garments.
It is a collection that makes you dream of wandering around Fontana di Trevi and enjoy summer in Italy. Worth of mentioning is also Dimitris' very special detail- awareness, which is clearly visible in his coin belts, bags and striking jewellery.
The hair of the models was kept slightly wavy, with middle parting and smokey eyes. Jewellery worn in hair embellished the look.
The show ended with the presentation of his beachwear collection  "Oriental Beach Dreams" which emerged as a collaboration with Munich- based label UHLALÀ beachwear. This collection takes its influences from both India and the Orient. When the show ended, we left into the balmy summer night dreaming of 1001 night.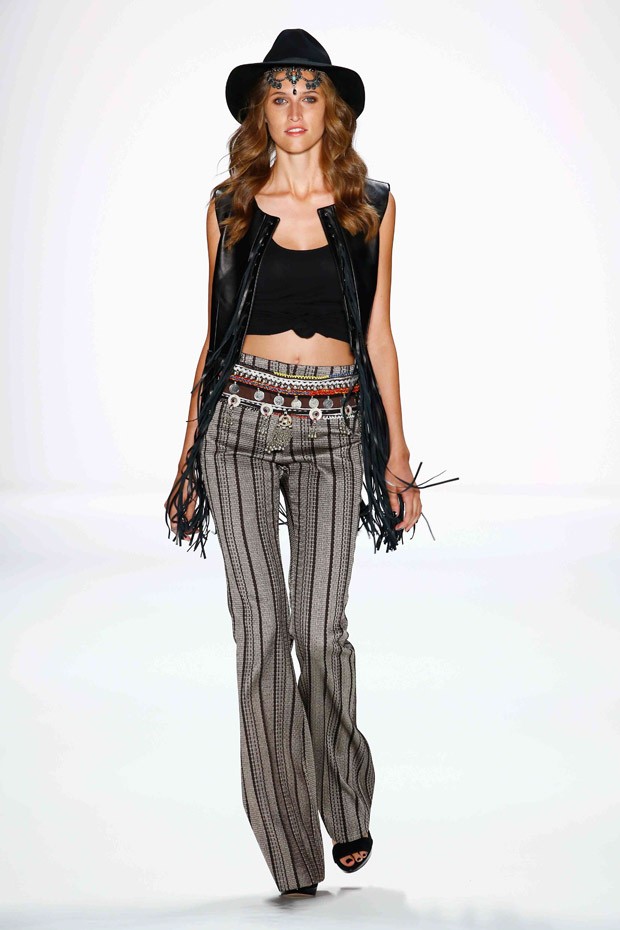 Review by Sussan Zeck for D'SCENE Magazine || Picture Credit: Getty
Official Website: www.bydimitri.com