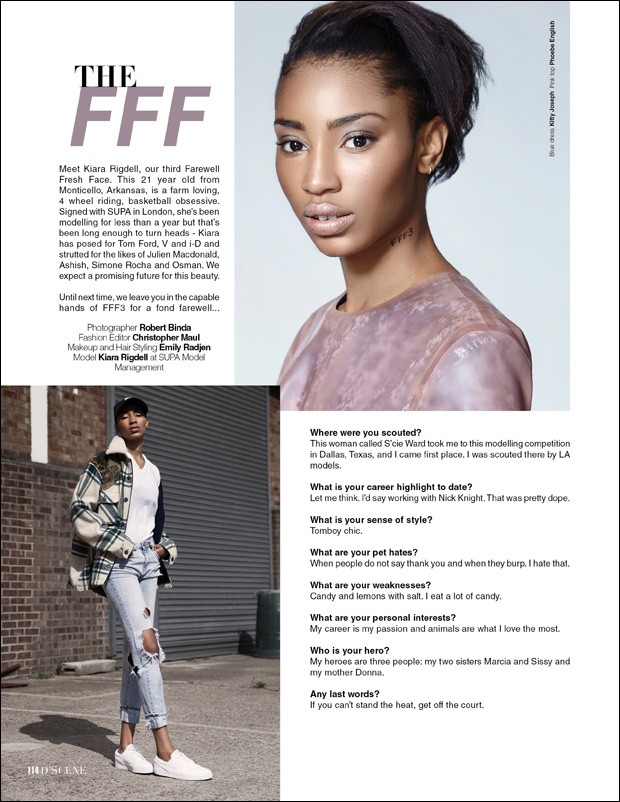 Meet Kiara Rigdell, our third Farewell Fresh Face. This 21 year old from Monticello, Arkansas, is a farm loving, 4 wheel riding, basketball obsessive. Signed with SUPA in London, she's been modelling for less than a year but that's been long enough to turn heads – Kiara has posed for Tom Ford, V and i-D and strutted for the likes of Julien Macdonald, Ashish, Simone Rocha and Osman. We expect a promising future for this beauty.
Until next time, we leave you in the capable hands of D'SCENE Magazine's FFF3 for a fond farewell…
Choker necklace Juicy Couture, Chain necklace Stylist's own, Top Nicopanda, Jacket and skirt Roberto Cavalli

Where were you scouted?
This woman called S'cie Ward took me to this modelling competition in Dallas, Texas, and I came first place. I was scouted there by LA models.
What is your career highlight to date?
Let me think. I'd say working with Nick Knight. That was pretty dope.
What is your sense of style?
Tomboy chic.
Necklace Kitty Joseph, Jacket Just Cavalli, Ring Jiwinaia, Skirts Phoebe English, Shoes Roberto Cavall

What are your pet hates?
When people do not say thank you and when they burp. I hate that.
What are your weaknesses?
Candy and lemons with salt. I eat a lot of candy.
Hat Mich Dulce, Necklace and shorts Moschino, Bracelets O-Thongthai, Top Phoebe English

What are your personal interests?
My career is my passion and animals are what I love the most.
Who is your hero?
My heroes are three people: my two sisters Marcia and Sissy and my mother Donna.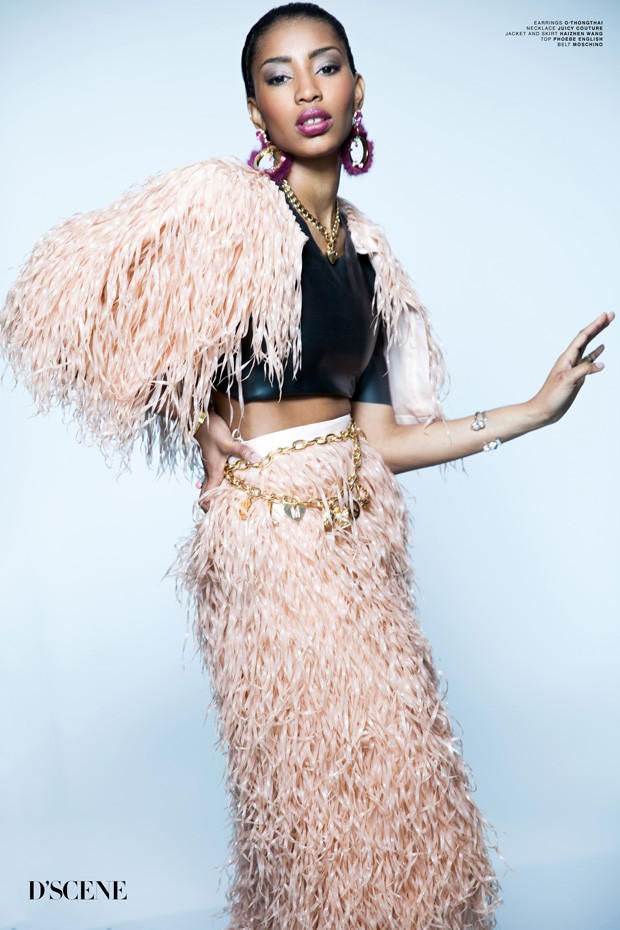 Earrings O-Thongthai, Necklace Juicy Couture, Jacket and skirt Haizhen Wang, Top Phoebe English, Belt Moschino
Jacket, belt and shoes Moschino, Jumper and skirt Roberto CavalliAny last words?
If you can't stand the heat, get off the court.
Photographer: Robert Binda
Fashion Editor: Christopher Maul @styleofmaul
Makeup and Hair Styling: Emily Radjen
Model: Kiara Rigdell at SUPA MODEL Management in London