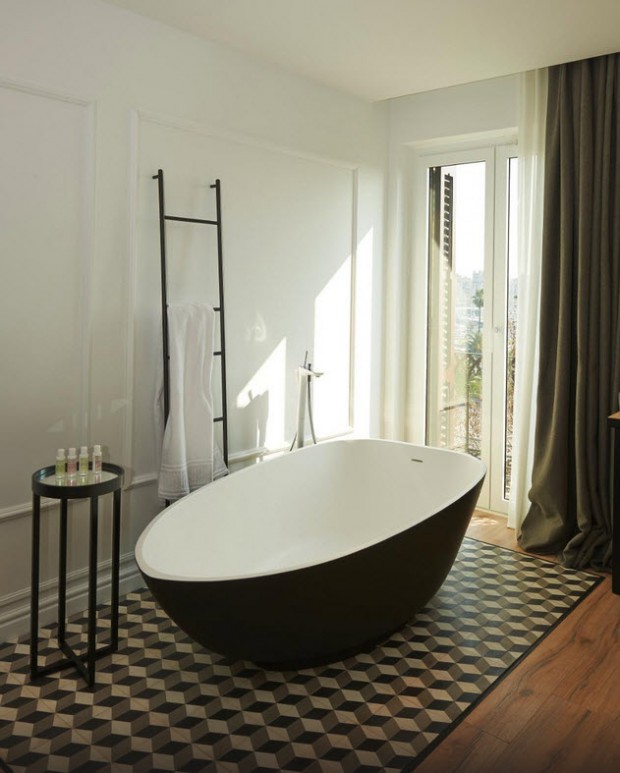 Bathrooms are arguably one of the most important rooms in any home. Not just for their practical purpose and ability to uphold the mantra that 'cleanliness is next to godliness' but as places that allow us to relax and truly switch off for a few minutes at least. Image above ©The Serras Hotel in Barcelona
When it comes to renovating your property, the bathroom can often get left behind places we spend more time in, such as the kitchen.It's a room in your home frequently visited by guests though and a clean, comfortable bathroom can create a positive effect upon all its users. There are a few ways to guarantee this.


Install the Basics
Hygiene is probably the most important aspect of any bathroom, whether at home or work. Depending on the size of your property there may be a limited amount you can achieve, but every room should have space for at least a bath/shower combination, toilet, sink and adequate floor area. A cramped room can make using the bathroom stressful.
Install a mirror or two to create the illusion of more space and choose a fairly transparent shower curtain to let light through. Modern sinks with automatic sensors are a hygienic option if they fit within your budget but not a necessity. Having plenty of soap, cleaning products and towels on hand ensures a pleasant experience every time too.
Redecorate the Room
Light colours always work best for bathrooms as they purvey a sense of cleanliness, mainly because any dirt will show up easily and can be cleaned quickly. Large mirrors create an increased sense of space and if possible having a window is a good idea to keep things as fresh as possible. Image above Ibiza House by ©TG Studio
Installing new toilets, sinks and generally renovating a bathroom can be expensive yet necessary. Using a secured loan from a company like Nemo is one way to get the work done quickly. A Nemo loan is secured against your home so you must make sure you can afford the repayments or your home may be repossessed. There are other options available such as savings, credit card and a personal loan.
Create a Cultural Experience
With all the essentials now in your bathroom it's time to add the finishing touches that will really impress guests and make using the room enjoyable. Put a few plants around the sink and window areas to elevate the room. Image above Brooklyn home by ©Ensemble Architecture.
Insert a chest of drawers for towel storage and place a couple of magazines and books on top or on the windowsill. This can make users' experiences more enjoyable. An appealing bathroom can really put you in a positive mood and create a relaxing experience so you feel thoroughly refreshed afterwards.
Find more interior design ideas on DESIGN SCENE.