D'SCENE Magazine Deputy Editor ANA MARKOVIC talks with ATTILIO GIUSTI LEOMBRUNI sisters, the driving force behind the AGL shoe legacy. The three sisters took over the family business making their shoe brand a coveted item.  Meet Vera, Sara and Marianna.
"We arrived to join the family business through 3 different ways" – Vera tells us.  Sara who was born in 1978 is the eldest of the Giusti sisters. Holding a Degree in Business Administration, now she has been the head of Attilio Giusti Leombruni's sales department since 2001. Vera who is the 2nd Giusti sister was born in 1980, she graduated in Communication Sciences and joined the company in 2003. Today she is the company's Creative Director and Communications Manager.  While the youngest Mariana is perhaps the most creative of the Giusti sisters (according to Vera and Sara). She was born in 1982 and has shoes in her blood, designing shoes since childhood. She is the AGL designer since 2009.
"Despite of our precise roles in the company, as fashion is our passion, we do together the creative process of the collection building" – Marianna explains. "We are used to be in the factory since we were children, for us it's natural to work here and we love it!" – Vera adds. "There is no other place where I feel more like myself" Mariana continues.


What was the most important advice you got from your family?
Sara: "The most important advice we received from our grand-father who was the founder of AGL was ''maintain the tradition''.
We asked all three sisters how did AGL evolve since you took over the company, and how do you see it evolving in the future?

Vera: "The company was managed by my father until 2005.The entry of three women into the company management was a great change, probably the biggest the company has faced so far, because it involves every aspect of decision-making within Leombruni Attilio Giusti."
Sara: "Of course we have retained the quality-based production know-how that characterizes us and thanks to which customers have been choosing our products for the last 50 years."
Marianna: "Attilio Giusti Leombruni, despite its name, has now a female heart and this affects every company decision, from the selection of team members, to client relationships and, of course, design choices. Female team has focused better on female needs."
We don't know how our story will evolve but for sure we really hope that AGL will have a long story!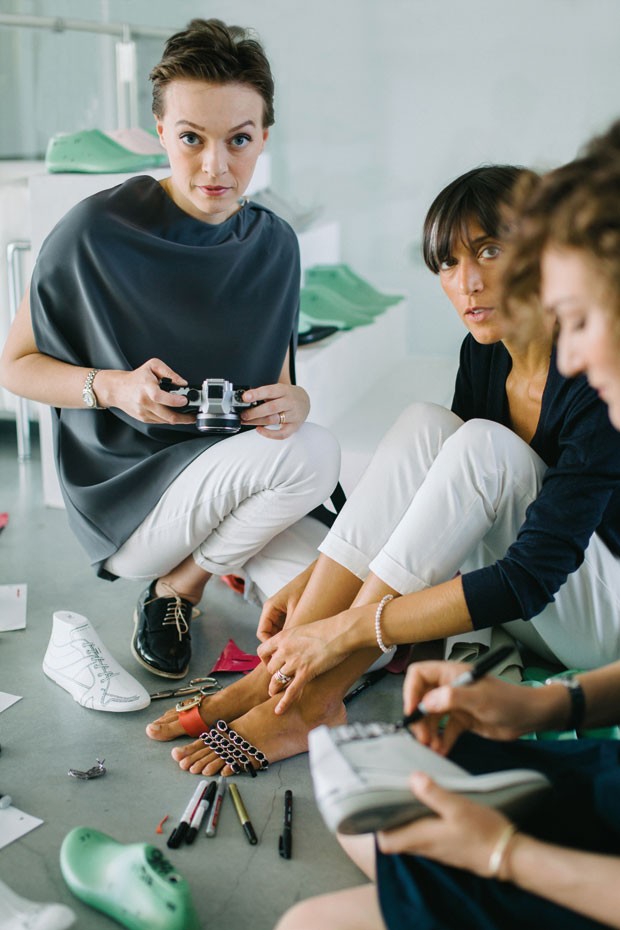 When it came to inspiration behind their much talked about collections the sisters explained:  "Our inspiration comes from people, fashion people that you can see in The Sartorialist, or people attending weddings, or people in the airports, or in a Parisienne coffee shops. Our mother, even Stella Tennant [who was the face of AGL for more than one season], and young girl playing dressing up mixing outfits and bijoux. Each collection is different therefore starting to design a new collection is always a surprising experience – choosing new colors, creating new shapes. Sometimes our design process is about changing a small detail on a shoe and sometimes it is the complete revolution of silhouette and proportion. It is creative and fun and the best part is that we do it together."
How does your design process work? Do you have specific costumers/women in mind while designing?
"Designing is alaways work in progress, it never stops and it doesn't finish with the conclusion of a collection. It's a steady flux but our ideal woman is always the same. The AGL woman is dynamic and glamorous, with a rock and roll soul, and loves chic but wearable shoes.
We try to design flats that communicate this sense of freedom and energy, playing with tradition in a contemporary way."  – Vera explains.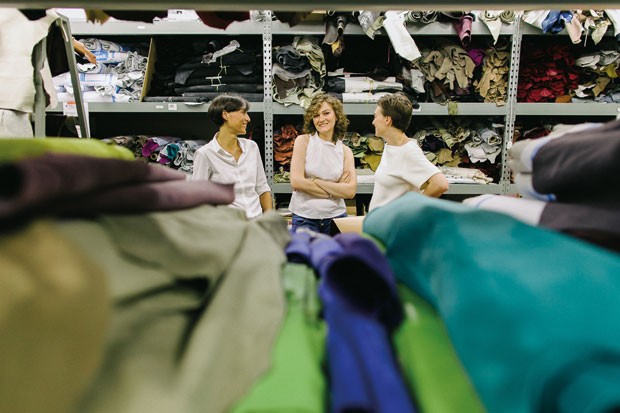 What inspired spring summer 2015 collection and are you pleased with feedback you received so far?
"The key element of the AGL Spring Summer Collection 2015 is lace. Traditional Italian lace is a uniquely alluring material, and making shoes with this artisanal, romantic fabric embodies the AGL spirit: refined, with an unexpected touch. The feedback was unexpected and our creations conquest also American celebrities as Jessica Alba, Rebecca Hall and many others…"
What can you reveal to our readers about the fall winter collection?
"The mood is luxuriously feminine, with a touch of androgynous tomboy style. The collection includes sandals, loafers, platforms and lace-up oxfords, with incredible handmade details and created with the best Italian materials like glossy calf leather, patent leather, cork, and traditional lace. The sisters' style is reflected in the unusual color combinations, and the mix of both mixing both matte and metallic finishing, like electric blue suede trimmed with gold calf leather, taupe and pearl white patent leather, and daring black and aqua."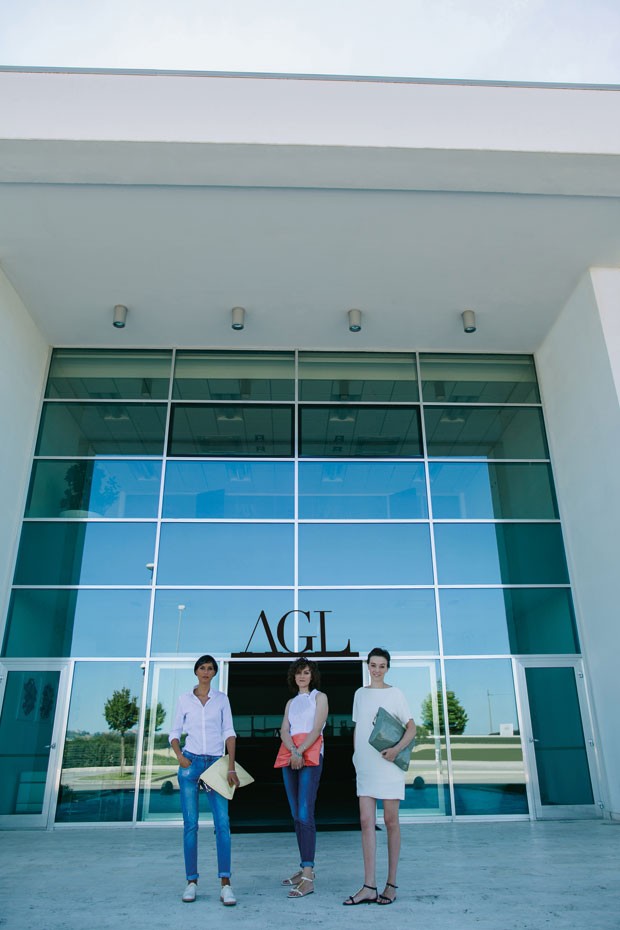 Why did you choose Stella and Dakota as faces of AGL campaigns?
"Even if of different age, different country of origin, they are the perfect ambassadors of AGL, the represent the same kind of woman: authentic, conceptual and original. Both of them they are professional and fantastic women, working with them it has been a real pleasure."
If you ever decide to collaborate with someone who would that to be?
"We can say that our favorite fashion designer is Dries Van Noten."
How do you see footwear market today?
"Despite the economical and geo-political difficulties all over the world we think that where is always some place for honest and good quality products."
As accomplished women in every field, what message would you like to send to young female footwear designers?
"Respect your taste, your personality and tradition know how.'
 Our interview with the AGL Sisters was released in our D'SCENE Magazine Edition #03 – available in our shop in print & digital.