Meet The Four New Faces of MIU MIU
|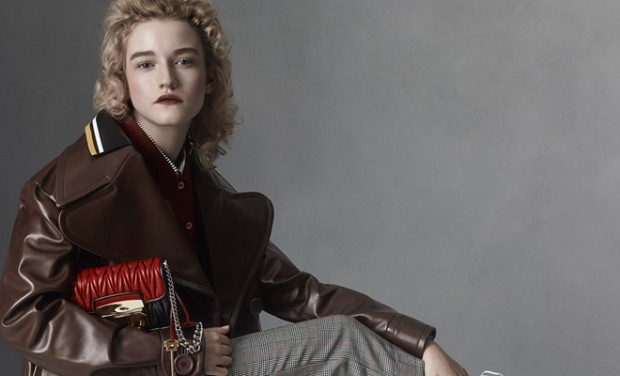 Miu Miu is the latest to reveal its Spring Summer 2016 campaign, posing for sublime portraits the label presented its four new faces masterfully lensed by the legendary Steven Meisel. In front of his camera were up and coming actresses Millie Brady, Julia Garner, Matilda Lutz and India Salvor Menuez.
The Miu Miu woman possesses a creative intelligence and an overtly rebellious sense of fashion, perfect for a label that defies any preconceived category or aesthetic. It is fitting then that the seasonal advertising campaigns have often featured emerging actors: Miu Miu celebrates the outsider, the iconoclast, and the risk-taker. Always the consummate craftsman, Meisel presents his impeccable images in a frank, straightforward manner. Tightly cropped, asymmetric, and shot against a neutral grey backdrop, the actors directly confront the camera in a manner that highlights their expressive range and luminous beauty. The neutrality of the approach reveals the richness of the eclectic looks coupled with the palpable intelligence of the women. – from Miu Miu
RELATED: SEE MIU MIU SPRING SUMMER 2016 RUNWAY
British girl Millie Brady is known for her role on ITV's Mr. Selfirdge and is to star in the upcoming Knights of The Round Table by Guy Ritchie, while Italian actress Matilda Lutz placed the lead role in soon to be released The Ring. Coming from Julia Garner is to have the taste of the Netflix fame mixed with the magic of Baz Luhrmann taking part in the now filming The Get Down, she's also starring in the Smokefall with Zachary Quinto and not to forget she is VOGUE Itialia's January cover girl! And last but not least performance artist and actress India Salvor Menuez is starring in the much talked about film White Girl, set to debut at the upcoming Sundance Film Festival.
Have a better look of the Miu Miu Spring Summer 2016 campaign after the jump: