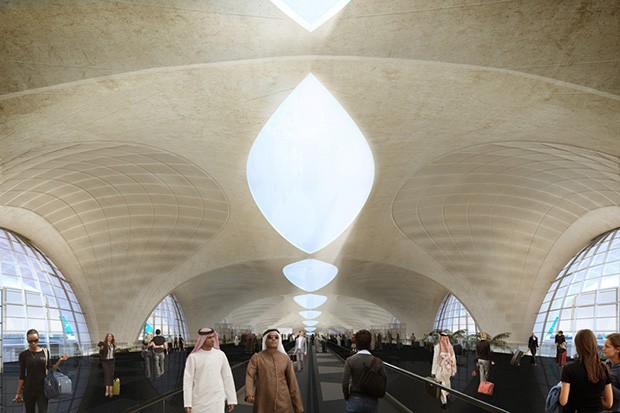 Middle Eastern architecture has a distinct design identity that sets it apart from other styles. The demands of creating buildings in sun-baked environments means the rules of engagement vary compared to cooler climes. Wide open, breezy spaces, shaded corners and cleverly screened features all combine to produce a unique architectural delight.
Places to watch
Much of modern architecture in the Middle East draws inspiration from the past, but interprets ancient silhouettes and templates in fresh ways, relevant to modern living. Look at destinations such as Dubai that in recent years has become known for its modern and groundbreaking architecture. As a region, the Middle East – particularly places like Kuwait, Jeddah and Doha – have become synonymous with luxury real estate and development projects built along high concept visions.
RELATED: Discover More Design Stories on DESIGN SCENE
Executives such as Fahad Alrajaan of the Kuwait Real Estate Investment Consortium are leading the way in the luxury interiors and architectural design fields, catering to the tastes of a demanding and artistically sophisticated clientele. Keeping up to date with the trends and interior fashion desires at the top end of the market is key to gaining an edge in this competitive field.
Magical materials
The materials employed in modern Middle Eastern architecture are cutting-edge, luxurious and frequently naturally sourced – marble, limestone, hardwood and glass all being regular leading role-players in construction projects. Sumptuous pale interiors fitted out with luminous floors in quality stone, silky cream plasterwork and with generous dimensions incorporating inner courtyards, palatial high ceilings and double doorways, are a key signature look in Middle Eastern residences.
Family matters
Family rooms are important in Middle Eastern homes and they share common characteristics. Low, comfortable seating strewn with bright colourful cushions and throws make frequent appearances. Suspended lanterns with delicate pierced ironwork lend an exotic and traditional flavour to spaces, combined with intricately carved dark-wood screens and brightly coloured handmade rugs. In modern interiors, traditional Arabic motifs are often abstracted to suggest Eastern flavour in a subtle way and this is augmented with contemporary colour palettes, such as whites, creams and gold, which work well in hot climates.
Get the look
This type of interior scheme translates well to non Middle Eastern homes. If you are seeking a warm and hospitable ambiance in a family room or bedroom focus on introducing richly coloured textiles, sumptuous upholstery, magical lanterns, carved wooden furniture and black wrought iron detailing for an unmistakably Middle Eastern stamp. Accessorising with traditional silver and brass coffee pots, copper jugs, salvers, figurines and candlesticks adds sparkle and life to the room. Arabic calligraphy in wall art, stencils or fabrics underlines the exotic and mysterious thread running through the scheme. Ottomans and beds layered with blankets, throws and rugs in super-charged colours with geometric designs, serve as a vivid focal point in any Eastern influenced room. Remember that luxury is the over-arching style cue in Middle Eastern interiors, so push the budget and quality to the limit.
Modern architecture and design in the Middle East combines a sophisticated contemporary approach, whilst remaining faithful to certain traditional themes. For those seeking comfort, luxury and classic modern style under one roof, the Middle East makes the perfect place to start looking…