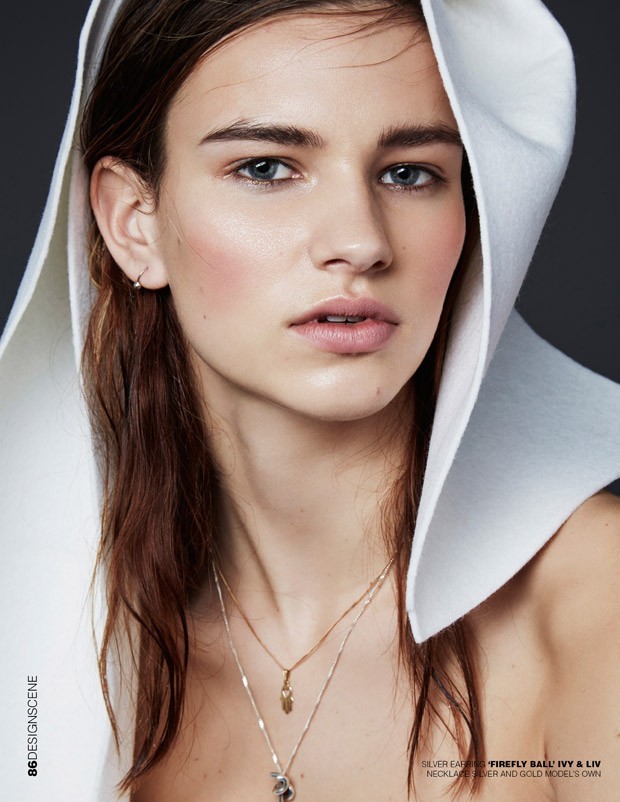 Accessories and jewelry are a huge part of fashion, and each year jewelry trends change along with the different trends and looks in fashion. If you like to keep up with the latest trends in fashion and accessories, you're probably eager to find out which trends are making it big on the runways for summer 2016 so that you can go out and make sure that you add all the essential new pieces to your summer jewelry collection.
This year, tiaras are making a huge comeback, with unique, vintage pieces also set to be the must-have accessories to complement your beach outfits during the summer months. Let's have a look at all of the main trends gracing the runways for this summer season. (Image: Esmee Vermolen for Design SCENE Magazine by Nicky Onderwater)
Tiaras
They might not be your choice of accessory for day-to-day work, but tiaras can be a really cute and pretty accessory for many summer events such as music festivals or even special nights out. Definitely one of the more girly trends for this summer, tiaras have made a huge comeback when it comes to jewelry trends for summer 2016. Choose from the regal, crown-like designs or play it down with a subtle, diamante headband-style tiara that can be the perfect addition to any outfit whether causal or black tie. The Tiara trend was brought centre stage by Hedi Slimane, the now departed Creative Director of Saint Laurent, seen in the image above from the label's Spring Summer 2016 campaign.
Marlou Van Oss for Design SCENE Magazine by Domen / Van De Velde
Tribal Chic
African tribal-style jewelry is set to be a massive hit this year, with tribal-inspired pieces taking center stage on runways from Derek Lam and Valentino amongst other big names. Bright colors, rope jewelry, statement distressed charms and intricate patterns are all looking huge for what's set to be a colorful, travel-inspired summer. Chloe and Tommy Hilfiger had some tropical-inspired pieces, with colorful bracelets, bangles and arm cuffs taking all the attention on the runway.
Body Chains
Body chain jewelry made a brief appearance last year, mainly as a beach accessory to pair with a bikini when soaking up the sun on vacation. This year, however, they're returning bigger and better than ever before, with steel chains shown paired with various outfits to show just how good they can look both on and off the beach. A great alternative to a statement necklace if you want to do something different and don a new look for a night out, body chains come in all different types and designs and are perfectly matched with a simple dress to add a touch of glamour.
RertoGrade by Sanne Grasdijk for Design SCENE
Vintage Jewelry
Vintage and vintage inspired fashions have been gradually making a huge comeback, and naturally, vintage jewelry is following. In recent years, many newly-engaged couples have been ditching the traditional diamond ring in favor of vintage rings in order to have something that is completely unique to them both, as well as making a stand against the ethical issues related to diamond sourcing. Vintage jewelry, such as these vintage diamond earrings, is becoming more and more of a popular choice in a trend that doesn't seem set to slow down any soon. Vintage and antique jewelry pieces make for great investment pieces thanks to their often timeless, classic and one-of-a-kind designs.
Pop Art Earrings
Big, bold earrings are back in play for this summer 2016 – and it's all about the pop art. Expect to find bright colors, funky designs and even retro pieces when it comes to earrings this year, and the bigger the better. Whether you prefer studs, drop earrings, large or small, there's definitely going to be a pop-art inspired pair that'll suit you somewhere with this trend that is expected to take off well on the high street.
Over-the-Top Chokers
Last year we saw a blast from the past with the return of 90's tattoo chokers, but this year it's all about the extravagant. When it comes to a choker necklace for this summer, the more it stands out, the better. The catwalks this season saw a whole range of stand-out designs from simple thick black chockers to choker-scarf hybrids with bright colors and patterns. Or, for those who prefer their jewelry to look more like well, jewelry – there were chunky, chain-like choker styles.
Timeless Pearls
Pearls just never go out of fashion, having been a timeless choice of classy accessory for any lady throughout the centuries. But, pearl popularity has seen many ups and downs – some years everybody's wearing them, and other times they are barely ever seen. But, this year, the timeless pearl is definitely going to be a huge hit – styled into statement chokers and intricately included in earrings and ear cuffs.
Which jewelry trends are you going to wear this summer? Let us know in the comments.