Since 39 years, HALLHUBER GmbH is a german label that is located in Munich. Susanne Hallhubers' design team creates 25 collections yearly which are characterized by its timeless, contemporary yet utterly wearable approach. They can be worn at any age and for any occasion. Additionally, HALLHUBER and HALLHUBER DONNA are supplemented by a delicate choice of accessories including shoes. Every two weeks, HALLHUBER presents its customers new collections that tell unique stories. Furthermore each collections' pieces are interchangeable and therefore highly practical. What characterizes the collections are its perfect fits plus its highest- quality workmanship. Worth of mentioning is also the fact the prices of the labels' creations are always affordable.
For Spring/ Summer 2017, we were introduced sundry of the labels' collections: "Keep it simple", "Mademoiselle Coco", "Urban Flower", "Summer- Sur- Mer", "New Marine", "Charme D'Or", "The Heat of Silence" and, last but not least, "Tropical Vibes".
Read more after the jump: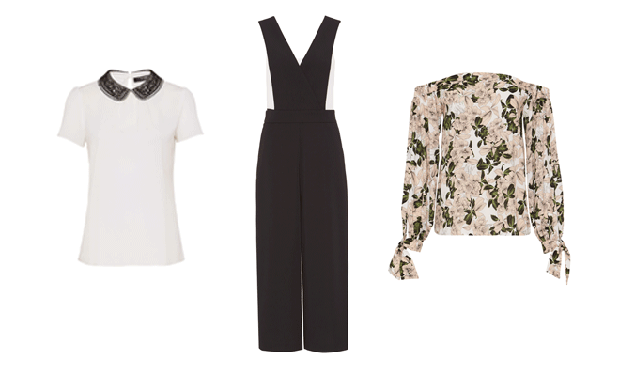 As you may assume by its title, "Keep it simple" is characterized by minimalism and therefore embodies a clear message: Less is more. It is dominated by a rather restrained, clean colour palette that contains snow white, emerald green, chartreuse, sapphire and diamond black. Simply sophisticated! Due to this colour choice, the fresh and puristic character of this collection clearly shines through. The materials are vividly mixed and matched: satin and silk are contrasting with delicate lace and ringed ripwear. Our favourite pieces of this collection? A two- toned jacquard jacket and a shift dress in compelling chartreuse!
"Mademoiselle Coco" is inspired by legendary designer Coco Chanel. Her preferred colour and shape choice is interpreted in innovative, refreshing ways. The character of this line is endlessly elegant and timeless. Most of the looks are kept in monochrome tones and are combined in variant types. Key pieces of this collection are Peter Pan collars that appear in various fabrics throughout the collection. Charming flower prints give the looks their playful, blithe character.
"Urban Flower" is a rather romantic, urban- chic collection that can be seen as an ode to femininity. The colour palette is kept delicate and includes off white, vanilla, strawberry, leaf and night black. Black is often mellowed by brighter hues, such as vanilla. In addition to that, fresh colour tones, such as strawberry or chartreuse give the looks their vibrant, refreshing character. Being significant for "Urban Flower" are its floating silhouettes that are underlined by their delicate material choice, e.g. satin, crépe and silk chiffon. Our favourite look of this collection is an overall that is provided with flowers.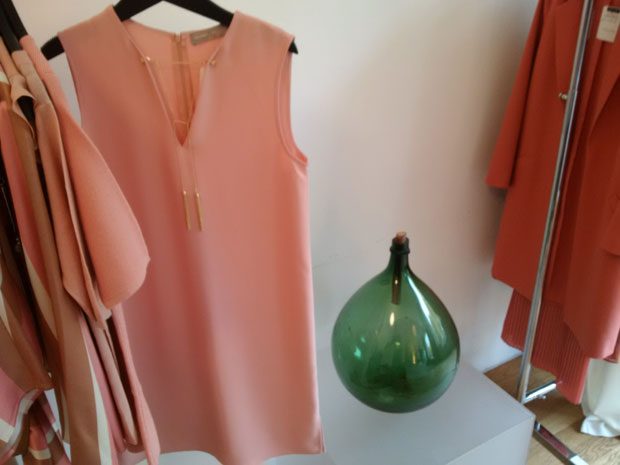 "Summer- Sur- Mer" is characterized by its very special detail- awareness paired with its feminine, playful yet optimistic flair. As you may assume by its title, this collection is inspired by summer at the French Riviera. Maritime topics were present in various collections and they are still on the radar. Therefore the colour palette is a rather maritime one that is dominated by snow white, tomato and navy. The collections' bouclé jackets, its skirts made of pleated fabrics seem to be the perfect addition for our next summers' travel wardrobe. Summer time, and the living is easy…
"New Marine" is a rather maritime, casual collection that contains sporty elements. Nevertheless denim plays an important part in this collection. It is combined in various, refreshing ways, for instance with striped shirts or blouses. The range of colours comprehends off white, light blue, beige plus navy.
"Charme D'Or" is characterized by its opulent, endlessly elegant and timeless character. Expect the unexpected! The woman dressed in "Charme D' Or" wants to sparkle and shine. Therefore the colour choice is kept luxurious as well, it contains of rich gold, snow white, vanilla and diamond black. Key pieces of this glamorous collection are jacket, top and coat in the style of Coco Chanel.
"The Heat of Silence" is a subtle play with contrary elements: clear cuts are paired with playful details. Incredibly interesting! Filigree embroideries, volants and pleats express pure joie de vivre, whereas sharp shapes underline the strong contour of those looks. Key piece of this collection is a delicate dress in dusky pink and soft rose, shaded in mocca and black. "The Heat of Silence" is a simply sensual, seductive collection.
"Tropical Vibes" can be interpreted as an ode to tropical destinations. It makes us dream of the sound of the sea, exotic flowers and breakfast on banana leaves. The eye- catcher colours fuchsia and dark lime are nonchalantly paired with reed green, stone and coconut. Worth of mentioning is the very special detail- awareness in this collection that can be seen in its use of volants and lace. Our favourite piece of this collection is a two- toned jacquard with bamboo leaf print.
We will definitely keep an eye on HALLHUBER and on all upcoming collections!

Review by Sussan Zeck for D'SCENE Magazine