CAN A YOUNG FASHION DESIGNER STAND OUT?
|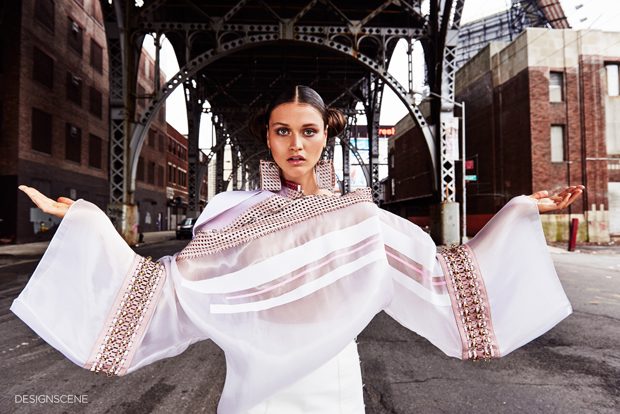 When In 1977 Fashion Designer Michael Kors enrolled at the Fashion Institute of Technology in New York City, little did he know what a powerhouse his name was to become. The story of Dawn Mello, the fashion director at Bergdorf, finding his designs in a small window shop is now a legendary tale. Kors founded his New York-based luxury company in 1981, his goal was to develop a high-quality product that was both practical and sexy. What he didn't expect, especially in the post-recession fashion industry, was that sales would rise so quickly. (image: Top Han Wen; Trousers Han Wen)
Revenues at Michael Kors Holdings Limited jumped to 4.71 billion (USD) in 2016 from 1.3 billion in 2012, according to the Market Watch Organization, which ranked Michael Kors as one of the Top 50 Fastest-Growing Companies in the United States. American market and starting an eponymous label were not always the sole objective of Mr. Kors, at one point he was the artistic director at the famed french fashion house Celine. While taking away important lessons at such a major house the designer left the maison in the late 90s. That experience allowed the designer to acquire an international sentiment for his own label. Earlier this year in an interview for Numero magazine he notes, 'I don't think there's a nationality anymore. Style is more democratic, too. Before, you had to live in a big city and have money, but now I see teenagers and people in small villages who are sophisticated and knowledgeable. While I like it when the rules change, I don't like a revolution. I prefer an evolution'.
While the story and the path of Michael Kors is an important lesson, it is a fact we haven't seen the birth of any great new designer houses for almost half a century. Which begs the question if developing a sizable luxury fashion business just like Kors did on his own is even possible nowadays?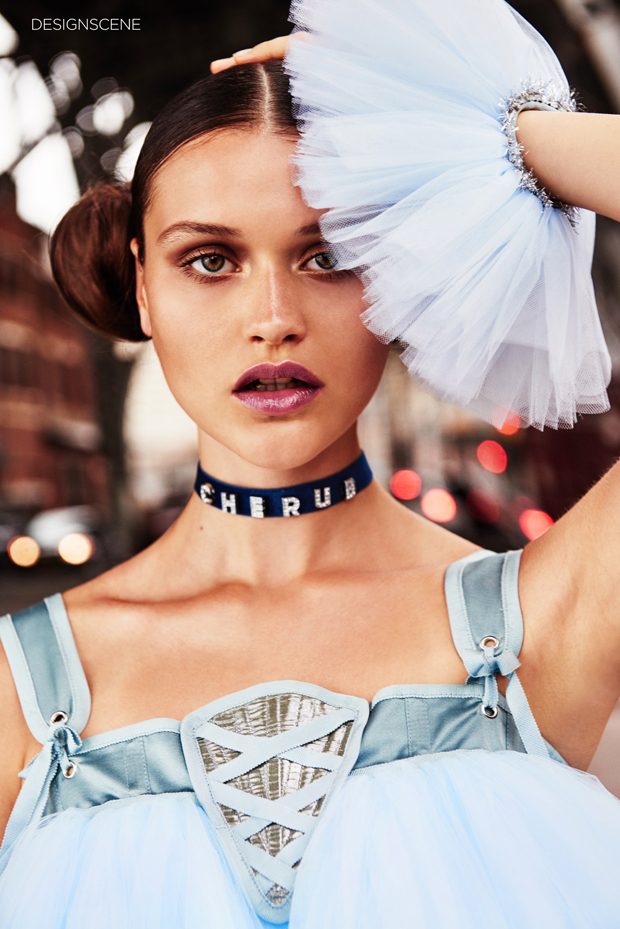 Dress Jackson Wiederhoeft
Choker Jackson Wiederhoeft
American market is a good example, where from the mid 60s to the mid 80s the industry saw the rise of brands such as Ralph Lauren, Calvin Klein, Donna Karan and Tommy Hilfiger. The period saw a few labels in Europe flourish as well, especially on the Italian market, where powerhouses such as Versace, Giorgio Armani and Dolce & Gabbana established. If you are to believe this was a stroke of luck or the public simply wanted new designers to shop from that is hardly the case. One of the main reasons these brands were able to set up their empires is the rise of the American style department store, both in the states as well as the replica of the same sales pattern in Europe, in fact even the above mentioned Kors started his company due to availability at Bergdorf Goodman.
However, today even in the department store system most of the let's call it 'real estate' is occupied if not it comes at an unfordable price. Still only a decade ago the shoppers developed the taste for designer clothes with an affordable price, this demand launched a myriad of designer collaboration with the practice continuing to this day. Today we have the launch of the latest H&M collaboration this time with the LVMH owned Kenzo, while the renowned fashion designer Jean Paul Gaultier this month announced his collection for the Italian clothing giant Oviesse (following the folding of his ready-to-wear line). This slew of diffusion collections allowed a stream of new designers to enter the game such as Alexander Wang as well as Phillip Lim.
Jacket S'MM
Dress Jenny Seo
Dress Jackson Wiederhoeft
Choker Jackson Wiederhoeft
Still, while we do remember the names such as Versace, Calvin Klein and Ralph Lauren we forget there have been very few who succeeded in the past just as there are as few today. The public simply does not remember those who tried and failed, since focusing only on the big names. Today after so many decades on the market, the fashion industry also responds to a unique incubation of real estate, brands are holding strong to their prized retail locations in major fashion cities while at the same time taking over the new market in rising cities, this is especially key for the Asian market. How important the retail space is, shows in the game-changing rise of the fast fashion.
The high street European labels have in time recognized the consumers first for affordable luxury and fast fashion. Thus these European manufacturers such as Zara, H&M and Mango have overrun the American market as well, capitalizing on the international aspiration to wealth. We are seeing a clash of two dominant forces, the fast fashion industry, and the luxury fashion business. Entirely challenged, the luxury business, is even focusing on changing the fashion week system and with labels such as Burberry even exploring the off the runway purchase options. The mecca of fashion, department store, is failing to keep up with the market as well, thus whipping the space on its racks for new designers. H&M and Inditex are opening hundreds of new stores every year, literally pushing out the established department store model out of their own location. This unparalleled move allowed even Inditex to establish Zara as a leading fashion power-house, without even focusing on print and classical media advertising, instead, the company uses its prime store locations and web domains to advertise its brands.
Jacket S'MM
Skirt S'MM
Shoes Han Wen
Top S'MM
Skirt S'MM
Shoes Jackson Wiederhoeft
What is left for the young designers in such a turmoil of events? Is the digital space still free? The answer is – to an extent. Today luxury houses are fully vertically integrated business, adjusting to the dominant moves of the fast fashion industry. A luxury house today owns the label, they manufacture and design the product and operate their stores independently which still gives them direct access to their customers. This fact means the power brands will continue to play a pivotal role as long as they engage the illusion of desirable. The strongest example of such conduct is Burberry which under the helm of Christopher Bailey has turned into a media house, successfully creating an illusion of luxury mixed with emotions aiming for the hearts of the consumers. Beginning of this month the house has released an inspiration trailer, boiling with emotions, a motion picture never-to-be telling us the tale of its founder Thomas Burberry. Another win for the house capturing the consumer's hearts resulting in more than two million views in the first 24 hours since its launch on YouTube.
Where does the current climate leave space for young designers?  Most likely in capitalizing on the still 'free' web space. Naturally, a young designer has to mix business and creativity. At the same time being unique has switched the spotlight in the recent seasons to labels such as Gosha Rubchinskiy as well as Vetements. However, for many of these coveted new labels, the coming years are to determine their success, as well as the important fact of knowing their price point. Regardless of the industry, customers want a quality product for a great price. Thus, setting the right price for a product or service is crucial.
Top Han Wen
Trousers Han Wen
Earrings Han Wen
Jacket S'MM
And finally, maintaining good relationships is as important. Whether it is your staff members, an intern, or your customers. Today including your team members as well as knowing how to include your shoppers in part of the decision making comes as the crucial part of the success. Whether its hundreds or thousands of social media followers you acquired, connecting with the people interested in your brand willing to share their thoughts is worth a million.
For the shoot coming with our story, we are spotlighting talented young designers Jackson Wiederhoeft, S'MM, Jenny Seo and Han Wen whose work is photographed in New York by Fashion Photographer Elena Kuznetsova.
Photographer Elena Kuznetsova
Fashion Stylist Stefaniya Chekalina
Hair Stylist Franklin Berry
Makeup Artist Hiroto Yamauchi using Nars
Model Chloe Lecareux at Marilyn NY
Words by Zarko Davinic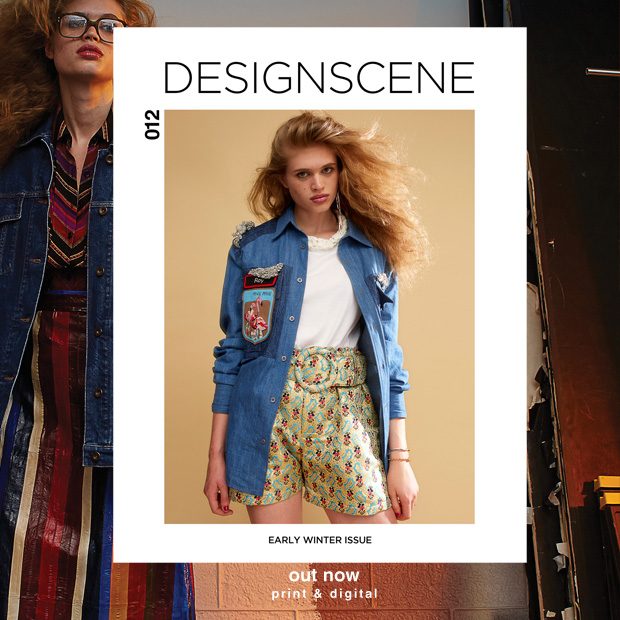 As originally published in DESIGN SCENE Magazine November 2016 print edition.