Masanori Morikawa the Founding designer of the much talk about up and coming Japanese fashion house CHRISTIAN DADA sits down for an exclusive interview with our Fashion Features Editor KATARINA DJORIC to talk about Japan, Dadaism and his latest collection. [Photo Benoit Auguste for MMSCENE March 2017 edition]
Read our exclusive interview from DESIGN SCENE Magazine March 2017 edition after the jump: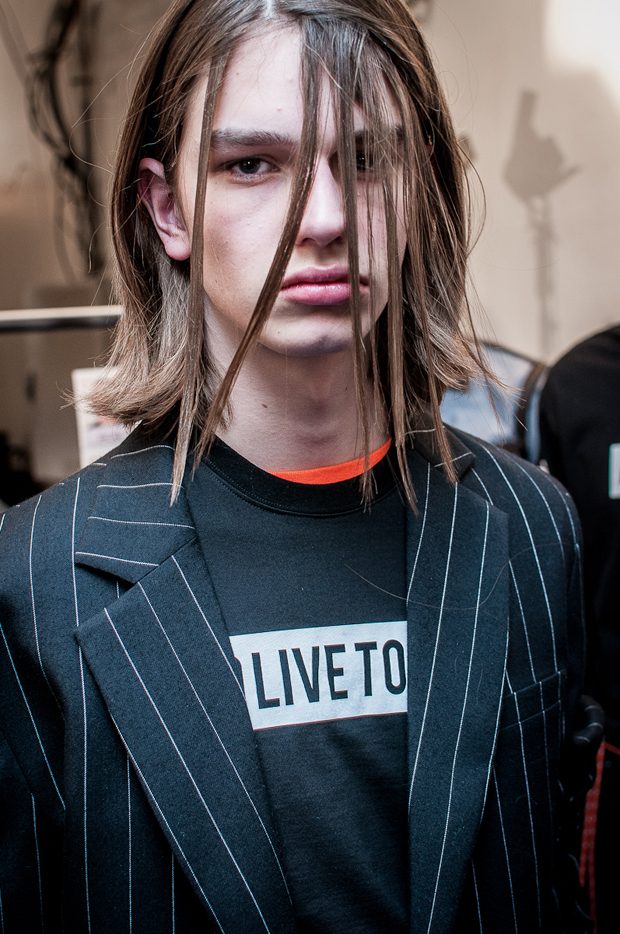 How did growing up in Japan influence your work today?
My design ideas always come from things I actually see and feel around myself. So anything and everything around me influences my work in some ways. Especially where I am from, Kagawa, a country side of Japan, a part of the country famous for its ceramics craftsmanship. I grew my inclination for finding beauty in imperfections in such culture, I believe.
There's an interesting story about your grandfather's embroidery business for biker gangs. Tell me more about that…Do you consider yourself a fashion rebel or a storyteller?
A fashion rebel. My grandfather was a skilled Yokoburi-embroiderer. He was self-taught and very hard worker. Looking back, growing up alongside him is probably how I grew my interests in fashion and began to pursue my career in it. I also have to admit that his attitude towards work and his work ethic had a huge impact on me. I still remember him telling me, "you should never feel satisfied with what you do" while he was working so late.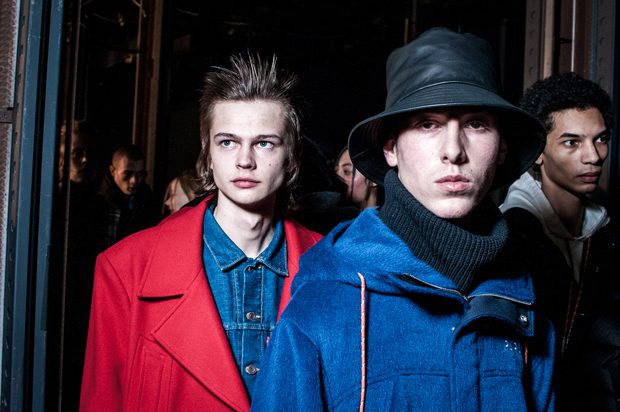 You mostly draw inspiration from world of art, even the label's name Dada is taken from art movement Dadaism. Do you think that art (and fashion) can still impact the society?
I am not sure if art can impact the society. I've been, however, thinking of a way to convert Art/Society into fashion using my own interpretation of Dadaism.
How do you stay relevant when designing your collections?
By trying my best to stay true to myself. Because what current society offers as in how our life should be is fake in my opinion.
What is most important in maintaining your success?
Not to take things for granted and to always stay hungry/humble. And I do believe I still have a lot of work on the road to success.
You decided to present your collections at Paris fashion week. What are the main differences between Paris and Tokyo?
The biggest difference I would say is quality of creations. It's definitely much higher in Paris and I feel like fashion designs I see there are much more free of constraints unlike Japanese fashion, where design today seems like it is suppressed or restrained.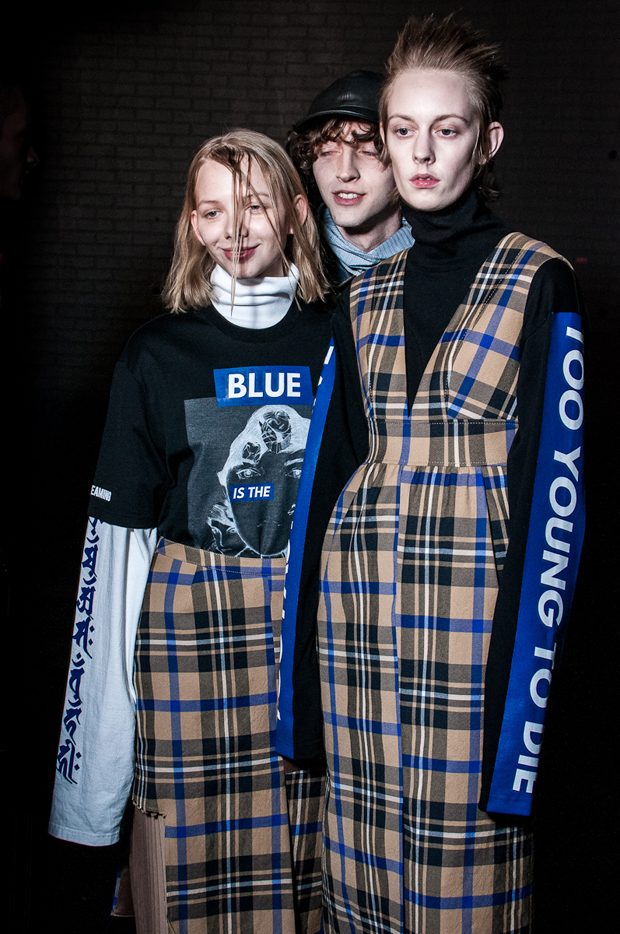 Tell me more about your AW17 "BLUE" collection? What are the key pieces?
The word Blue in Japanese symbolizes troubled state of youth. I wanted to express the frustrations, and Violent attitude of the youth though the collection. Key pieces include; reconstructed pieces where top part of layered fabric has been taken off and inside is exposed, Jackets with side closures such as kimonos to show a twisted and distorted silhouette, as well as the slogan pieces.
We saw "I Don't Like Drugs but Drugs like me" and "Too Fast to Live Too Young to Die" at your AW17 show. What is the message behind those prints?
Originally I was influenced by a Japanese novel. Seeing today's news on drug abuse by young people Japan and how the Japanese social order is also getting disturbed I wanted to use direct and alerting messages.
Do you think there's a special group of people who buy your clothes?
Fashion-forward people tend to like us. I'm not sure how many of them there are, but I heard that some fans are called Dada-maniacs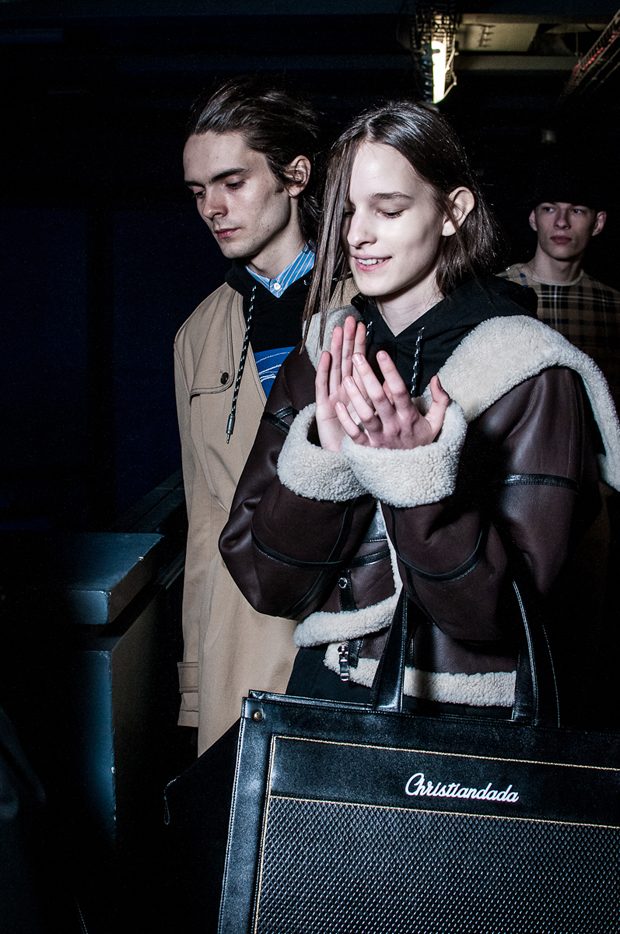 While working on your collections, do you sketch? Could you describe your work in progress?
It depends on each collection but usually I do all sketches. Then I elaborate with my team, selecting fabrics and details.
What do you think of the fashion system today?
I think it is diverse. It is to be even more diverse than it is right now, I think. It is almost like a moment of a cultural revolution. To go along with it or go figure out your own way would be another critical issue to think about.
How does your approach differ when designing menswear compared to womenswear?
I start off the same and apply feminine and masculine details as I finalize production parts.
Masanori Morikawa Portrait Courtesy of Christian Dada
What's the best advice you've ever gotten?
"Never good enough" – such approach makes you continue making the effort towards your goal, it guess I got the attitude from my grandpa who raised me.. the moment of "stay humble, hungry".
As a designer, how do you see yourself growing in the future?
I am not trying to set a specific goal at the moment since fashion industry moves and changes so rapidly and you need to be very attentive to it but not so much affected by it at the same time. For now though, since we are just entering into Paris fashion industry I would like to have CHRISTIAN DADA recognizable more worldwide.
All Photos Benoit Auguste, backstage at Christian Dada Paris Menswear FW17 Show.
Keep up with Christian Dada @christiandada