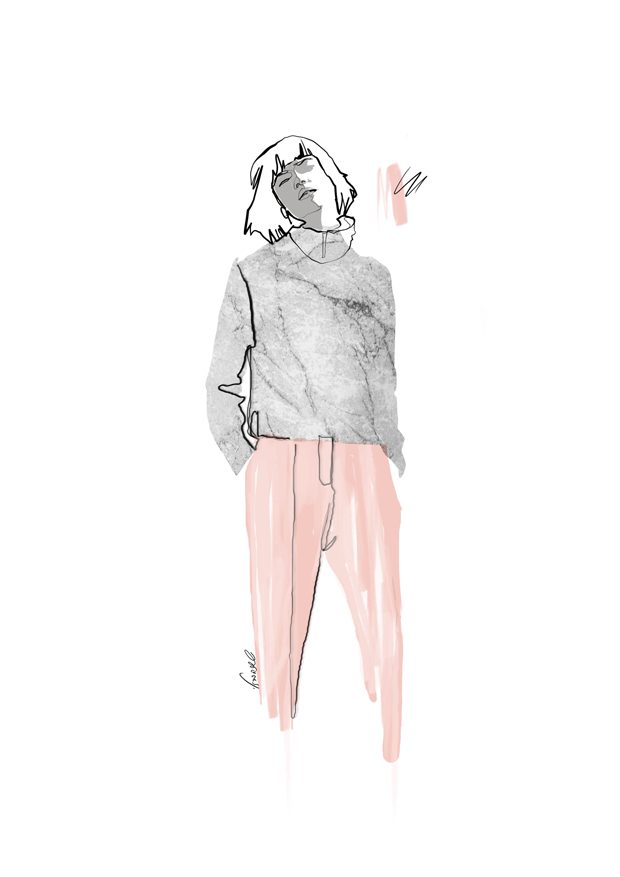 Tel Aviv based Illustrator SHIRA BARZILAY is a true story of success, her love for illustration led to development of KOKETIT her own brand as well as exciting collaborations with brands such as H&M and Roberto Cavalli. The young creative meets with our Deputy Editor ANA MARKOVIC to talk about her first ventures into illustration, creative process and the inevitable social media.

How did you get started as an illustrator?
I studied fashion design in the "Shenkar Institute" in Tel Aviv, where I got my bachelor's degree. After graduation, I went to live abroad, where I decided that I wanted to illustrate fashion rather than make clothes. I had to let go of conforming notions of being a fashion designer and go explore my true passion. It was clear to me that I had to take a new path in uncharted waters. Soon work started coming in, while working as a graphic editor for a fashion magazine called GOstyle – in Israel where I work till this day. That was the beginning of it all.
Read more after the jump: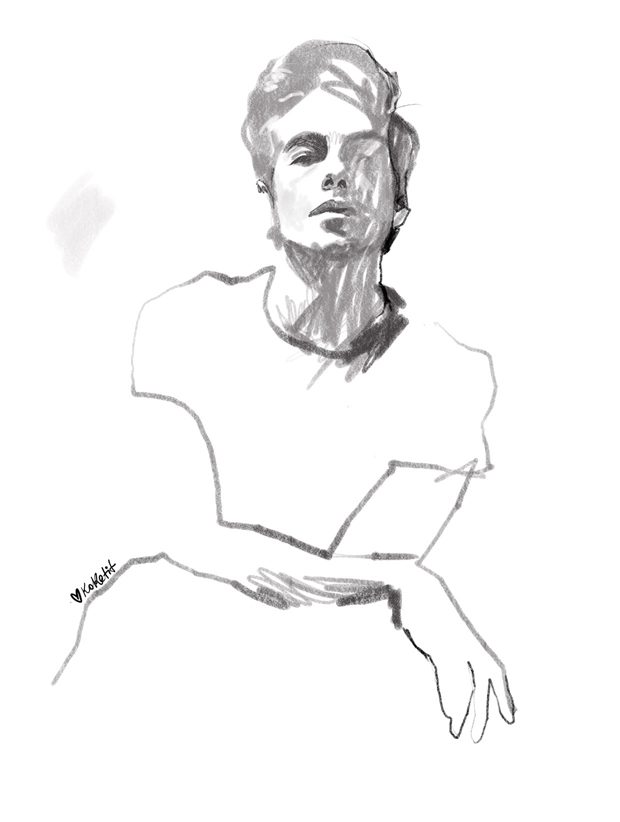 How did you find your style? Has it changed since you started?
I let my hands do all the talking. I've been doodling ever since I can remember myself and there was a moment when subconscious met the conscious – I just needed to pay attention. I always doodle a girl figure with big round eyes and she's sort of corky and weird looking. I decided to name her KOKETIT (which means petite and stylish in Hebrew slang). She became my fashion story through which I blog about outfits she wears, destination she travels to ect…
I also love drawing street style and runway looks. I post these illustrations on Instagram and share them with my subjects and they love it. I mean, who doesn't want to be illustrated?
I think it's important to always improve and mix it up when it comes to personal style.
How do you come up with new ideas? Do you have a process?
Luckily, I'm like a cartoon characters when you see the light bulb flash over their heads. For instance, a couple years ago I was packing children temporary tattoos into my nephews birthday goody bags and as I thought – why aren't they selling beautiful designed tattoos – for adults who love tattoos but never get real ones. That was a true eureka moment. A few months later I had launched my own business of designed temporary tattoos and introduced this product to Israeli audience. It was a sensation. This project led me to collaborate with H&M, Ben Simon shoes and many other brands – creating designy temporary tattoos as well as illustrations and designs. My Koketit had become a brand.
What tools do you use?
I mostly illustrate digitally. I use a wacom cintiq 24HD screen and I draw directly on it. Photoshop is my main boyfriend but I cheat on it sometimes with ARTRAGE. I also love drawing on my ipad – especially at fashion shows. There are terrific illustrations apps such as procreate and ArtRage.
But what about traditional tools?
I always have stocks of white paper on my desk for any minutes use. When I get on the phone, my hand, (as if independent from my body) autonomously reaches for a pen and starts doodling around. My head is totally in the conversation so by the time I'm off the phone, I look down and say to myself – hello what's this. I snap a pic and post it on instagram.
I love using photos as a base for my illustrations – it lets me focus on my techniques without worrying about proportions. I tend to overdue with lines and details so I've been teaching myself to subtract and be more minimal in my lines. It's an autodidactic process that never ends.
What are the most memorable responses you had to your work so far?
Every project I do, every collaboration, has its rewards. This past summer I designed a capsule collection for children's ware – and it was super rewarding to spot a kid walking down the street with my t-shirt. But one of the funnier anecdotes was when I illustrated t-shirts for Roberto Cavalli and later that year found a very convincing knock off at a local bazzar.
What is the most important aspect when you draw a new piece? What is the one thing you care about the most?
I need to have fluidity. I am very intuitively driven and don't like to feel like I'm forcing something. When I'm struggling with an illustration, the end result will always seem tortured to me no matter how well it turned out. So when that happens, I just put that project aside and return to it later.
The process is as important as the result. They say if it comes easily its not worth it – well I completely disagree. Sure, troubled areas need practice to perfect – but in the bigger sense, If something comes easily, it probably means the creative chakras are open and that's' a beautiful feeling.
How do you overcome creative blocks?
If sometimes I get stuck (which happens more times than I'd like) it's mostly due to stress. So I try to relax by doing something that will release tension, like go shopping or get a massage. After I've rejuvenated, I come back to it with a fresh approach. There is no use fighting it. I'm a firm believer in creative muses and am so grateful when they drop in on me from time to time.
Did the social media presence help you find new jobs and do you think it's crucial today for creatives in your field?
I was one of the earlier users of instagram and I remember that pivotal moment I pointed the camera to my drawings and realizing the potential. Putting the commercial advantages aside, I just love how small becomes big – and emphasis on details emerges. I think it made people more susceptible to nuances and encourages creativity. This is an ever growing ever expanding technological industry and not utilizing those tools would be a waste.
At this point in time, for any illustrator trying to breakthrough, I think using social media is as crucial as drinking water.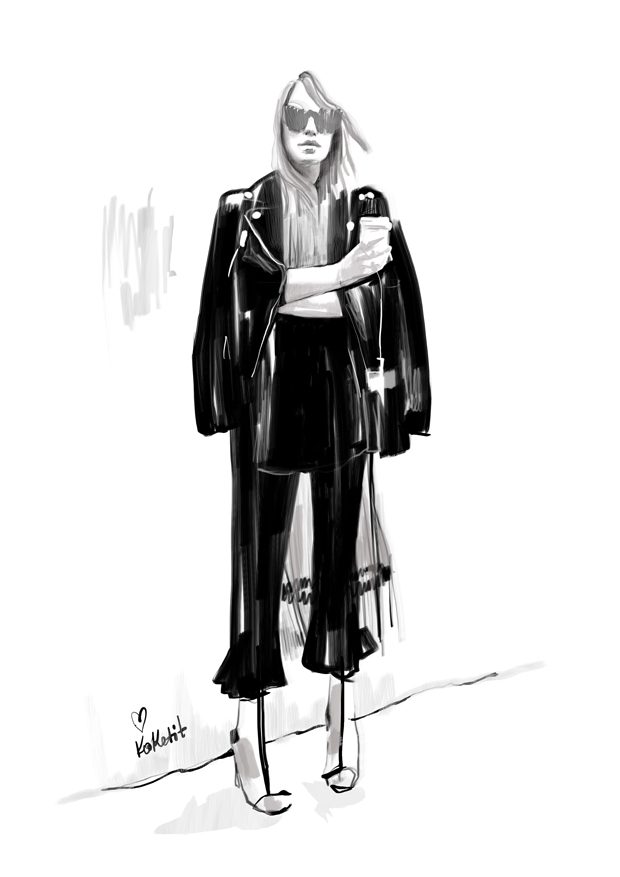 What is your dream project?
Right now, I'm working on my biggest dream project which is building my website/ blog where I can create and feature collaborations, campaigns and editorials with brands and designers – hopefully reaching a worldwide audience.
So, do you have a favourite fashion designer?
I don't have a favorite brand – but rather I get inspired by what I see at a certain moment. Right now I'm really into Pushbutton, Celine and Balenciaga.
Where would you like your work to lead you? Have you any aspirations or plans for the future?
I would love to travel the world, illustrate fashion weeks for fashion magazines, publish a coffee table book of illustrations and feature my work at a fashion illustration exhibition. But mostly I know from experience that life has a funny way of taking you places you never thought of, and looking forward to the unknown is what I am excited about the most.
Interview originally published in March Issue of Design SCENE Magazine
Follow @koketit for more of Shira's work