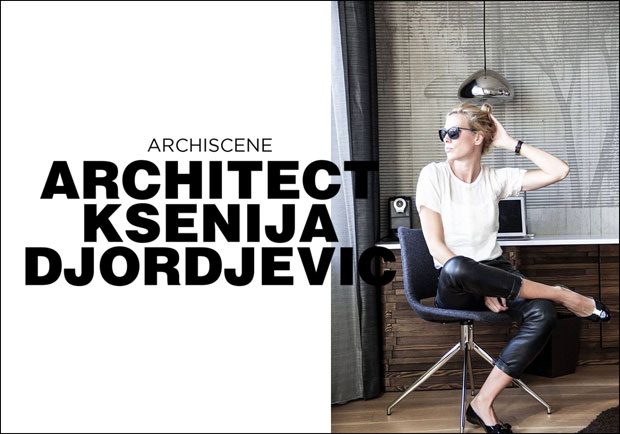 Today the work of Belgrade based architect KSENIJA DJORDJEVIC knows no boundaries, recognized both in her home town and abroad she is at the helm of one of the busiest young architecture practices in South Europe. For DESIGN SCENE MAGAZINE MAY 2017 issue (OUT NOW) Ksenija sits down to talk with us about her beginnings, her design process and future plans.
What originally made you want to go into architecture and design?
I think it was always there. I was growing up surrounded by art. My parents opened the first private ballet school in former Yugoslavia, supervised by Lidija Pilipenko the director of National Ballet at the time. Since the age of five I was surrounded by dancers, choreographers, directors, stage designers, costume designers and actors. I remember they were spending long summer nights in the garden of our family house. Every day I was dancing, singing, playing piano, painting and that period created a special scenography of my life, a platform from which I speak today as a person and as an architect.
I was always inspired by strong, creative, intelligent women like Marija Jankovic and Jelena Santic who were prima ballerinas, also my ballet teachers and my childhood heroes.  Beside arts I was really good at mathematics and architecture was the logical choice. Architecture school was a big and important life decision.
When I finished my studies I was convinced I am going to continue with contemporary dance as a performer and choreographer, start PHD programme and deal only with theory of architecture. Then I was offered a job to create the club of Belgrade Philharmonic. It became the hot spot in Belgrade and that project triggered my future career. New projects kept on coming and five years after, working on the reconstruction of Hotel Moscow with relatively big team I was still wondering how did it all happen. It was not what I planned, but I am really happy where I am at the moment.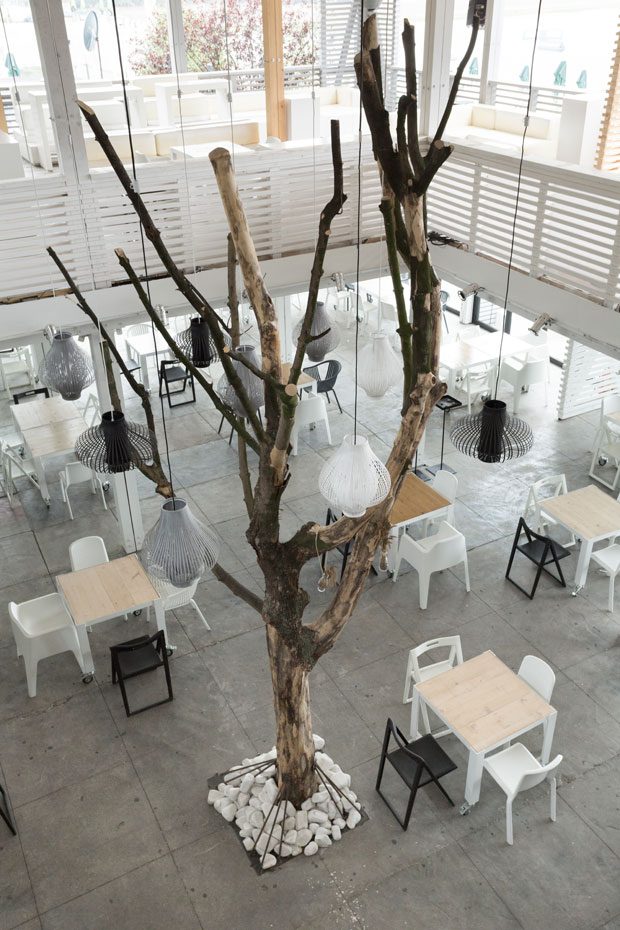 Just Vanilla, Beograd, Srbija, 2008
How would you describe your work? What is your design philosophy?
When I enter the space I am about to start working on I close my eyes and try to imagine what should happen there. It is a choreography, everything else comes as a consequence of that. The architecture is an event. The job of an architects to understand the needs of the people who are going to use the space, ask crucial questions and give answers through the architecture.
So, how do you incorporate your passions for ballet, fashion and art into your design?
As I mentioned, I think of architecture as an event. My experience from the theatre and the stage enabled me to create choreography and different development scenarios of the space I am working on. I am always trying to imagine what is going to happen in a certain space, who are people that are going to use it and how am I going to influence that event by the architecture I create. The other thing is the context. Understanding history, art, politics, culture and tradition of the place is important starting point for an architect. I don't believe good architecture could be created by ignoring the context in which it is materialized. In that sense every project is a new research. Now that we are working in all parts of the world, exploring different cultures, their art and fashion is probably the most exciting part of the job. I am really passionate about what I do. There is a moment when something that wasjust an idea, a drawing, starts being materialized in front of your eyes, one on one. It is so seductive. It is the moment of power and great satisfaction.
You've established your practise in Belgrade, but you have many projects abroad. Where is Belgrade now in relation to the world's architecture scene?
Belgrade is still a source of creativity, but serious and big developments are still not happening here. Working in the region I realized there is still a notion of Belgrade as an example of cosmopolitan way of living, specific style, design and art.We need to reconstruct and reopen our museums, theatres and concert halls in order to create the platform to move forward.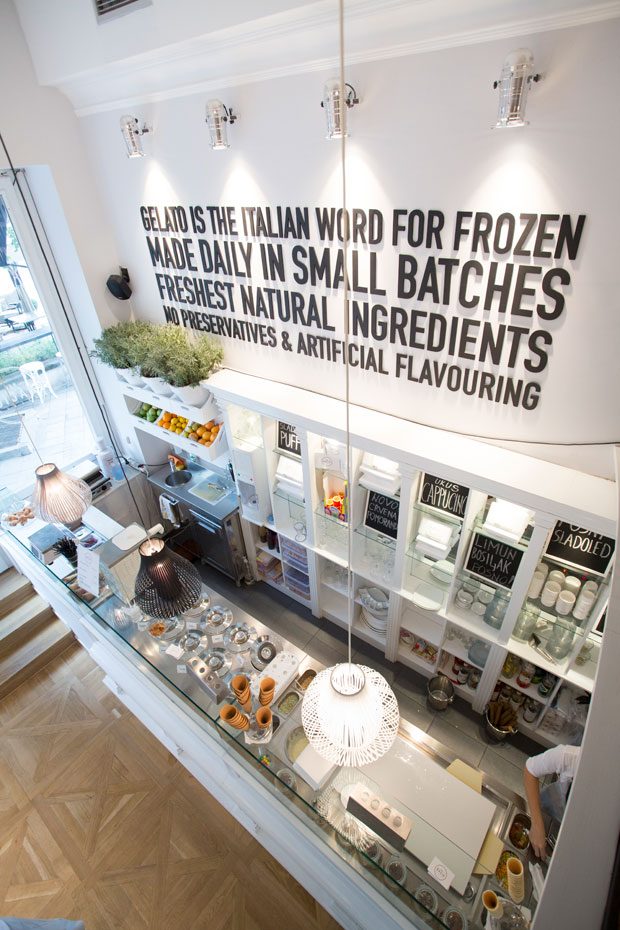 Bacio ice cream, Beograd, Srbija, 2012
How does your typical day look like? How do you balance your career with your personal life?
The borders are elusive there. Of course there is solid structure, otherwise big projects could not be executed. I am waking up really early, and I am in the office an hour before my team. I need that time to reflect and organize things, read what is new in the world of architecture and then the working day starts. We usually finish at 17h00 and every day at 17h30 I am running to the gym, yoga class or classical ballet rehearsal. Having two hours of exercise every day is essential for me. I really need it in order keep myself in a good shape and I think it helps me to balance the stress this job brings on daily basis. I also travel a lot. Two times a week I am flying to different buildings sites, having meetings with clients and contractors. It is really exciting part of the job, but requires a lot of energy. I am spending weekends with my family and friends, still thinking and discussing what is happening in the world of film, theatre, music, fashion, contemporary dance and architecture. I guess I am never really detached from what I do.
How would you describe your style?
Tender minimalism. I am trying to create clean spaces and bring strong visual identity by adding details that are authentic and created just for that particular project. Sculptures, art installations and custom made furniture and lights, all that creates my architecture vocabulary. I am trying to create spaces people can identify with. Also, they need to feel comfortable and welcome. That is essential for projects in hospitality industry. One hotel really needs to meet whole spectre of expectations and needs of really different people. That is a real challenge. On the other hand, once the space is open, it is really rewarding to hear the reactions of people using it and how they all feel they belong there. That is how I measure the success of the project.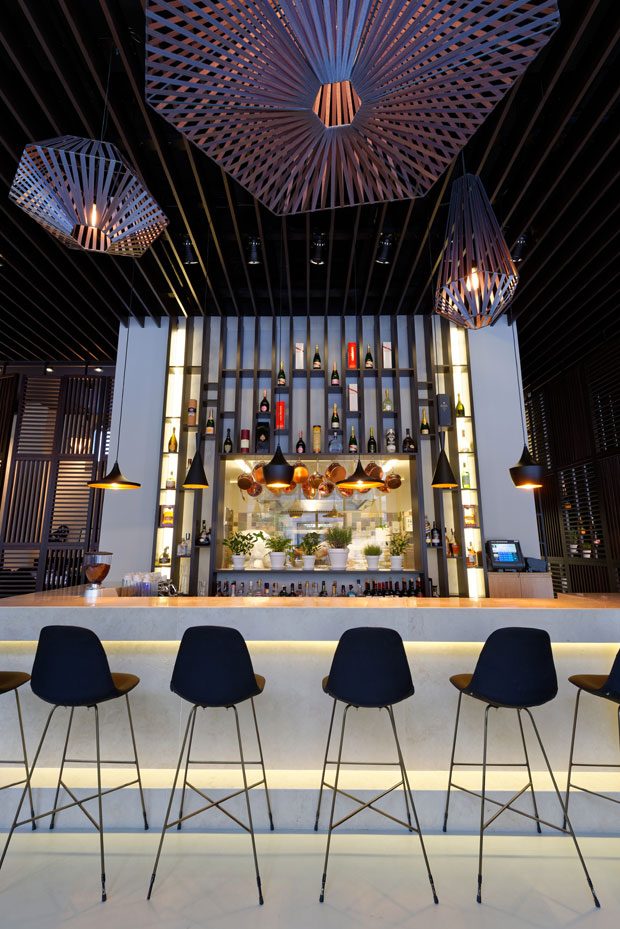 Restoan Slon 1552, Ljubljna, Slovenija, 2016
Who are your favourite designers from fields of fashion, interior, art and architecture?
I love fashion designers like Rei Kawakubo and Comme des Garcons, everything that Alber Elbaz created for Lanvin and contemporary classic of Haider Ackermann. When it comes to architects I was always inspired by simplicity and something ritualistic and primal in the projects of Peter Zumthor. Renzo Piano and his lack of repetition is truly amazing. Every project is a creation for itself. Oscar Niemeyer, an architect who created buildings with such a strong sculptural identity and who was so influential for decades. Among artists I always admired Louise Bourgeois. Her career lasted almost 85 years. She was a contemporary of Marcel Duchamp and Damien Hirst. He work was constantly pushing the boundaries of art.
Are you working on any special projects at the moment, do you have plans to expand your work?
We have around twenty ongoing projects, different in size and type. We are working on a few big projects in hospitality industry. One of them is ongoing reconstruction of the iconic Hotel Slon in Ljubljana (Slovenia). That project is really special to me. There are places that inspire me, and I am constantly focused on. There was a hotel in that particular spot since 1552. It is a great honour to work in such a strong context and reconstruct the building that is a national, cultural heritage. By the end of May 2017 we are opening The Apartment by KDA. It is the apartment completely furnished by elements designed by Ksenija Djordjevic Architects. It is possible to buy a handmade rug, a sofa, a book, a toothbrush, a candle, a bottle of wine in the fridge and walk in wardrobe there. Everything is authentic and for sale. However, it is not a concept store or a shop. One can access the space by making an appointment online or by telephone and spend 60 minutes experiencing the space.
What does the future hold for Ksenija Djordjevic Architects?
The Apartment by KDA is the next step I was planning to make for the last two years and it is finally happening now. Also the architecture business is growing fast, expending to Middle East and China. We are mostly operating in hospitality industry developing or reconstructing existing hotels, resorts and restaurants. We are also developing Belgrade Country Club, special residential complex in the green zone outside Belgrade. Those are the projects we are focused on at the moment. My experience at the beginning of my career taught me to have a plan but stay flexible and adapt fast to new circumstances and new opportunities.
For more of Ksenija's work visit KDA Official page. 
GET YOUR COPY IN PRINT $21.90 AND DIGITAL $3.90