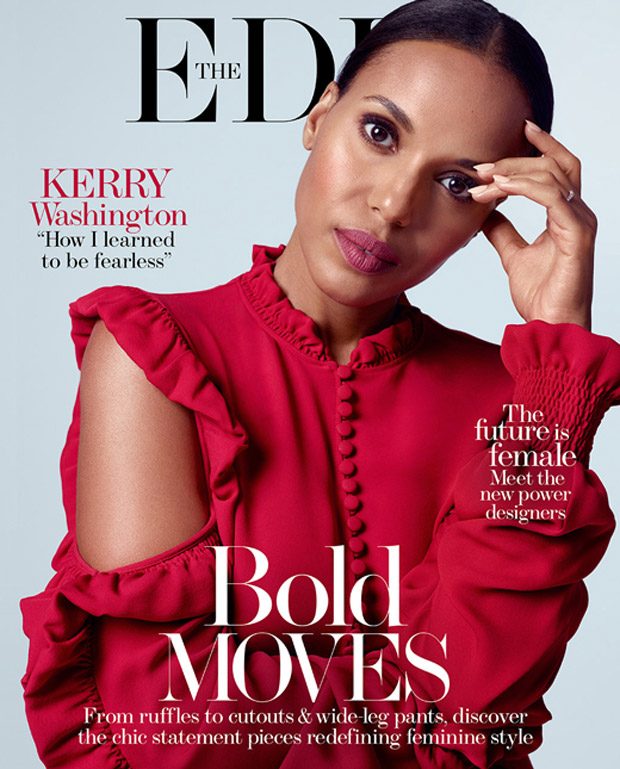 American actress Kerry Washington teams up with fashion photographer Kerry Hallihan for the cover story of The Edit Magazine's latest edition. In charge of styling was Tracy Taylor, who for the session selected looks from the likes of Johanna Ortiz, Goen J, Isabel Marant, Beaufill, Magda Butrym, Isa Arfen, Carmen March, Sophie Buha, and Rosie Assoulin.
Beauty is work of hair stylist Takisha Sturdivant at Exclusive Artists Management, makeup artist Carola Gonzalez at Forward Artists and manicurist April Foreman at The Wall Group. Art direction is courtesy of Gemma Stark, with set design from Cecilio Dolcetto Lara Ramirez, and production by Rockman Production.
"Millions of people were like, 'We need Olivia Pope to fix this.' On one hand, I was incredibly honored – 'Oh, look, we're part of the zeitgeist' – but I was also a bit infuriated, because I was like, 'No, this is your country. You're the Olivia Pope of your own life; this is your democracy. I can't fix this.'" – Kerry on Olivia Pope trending morning after Donald Trump was elected president.