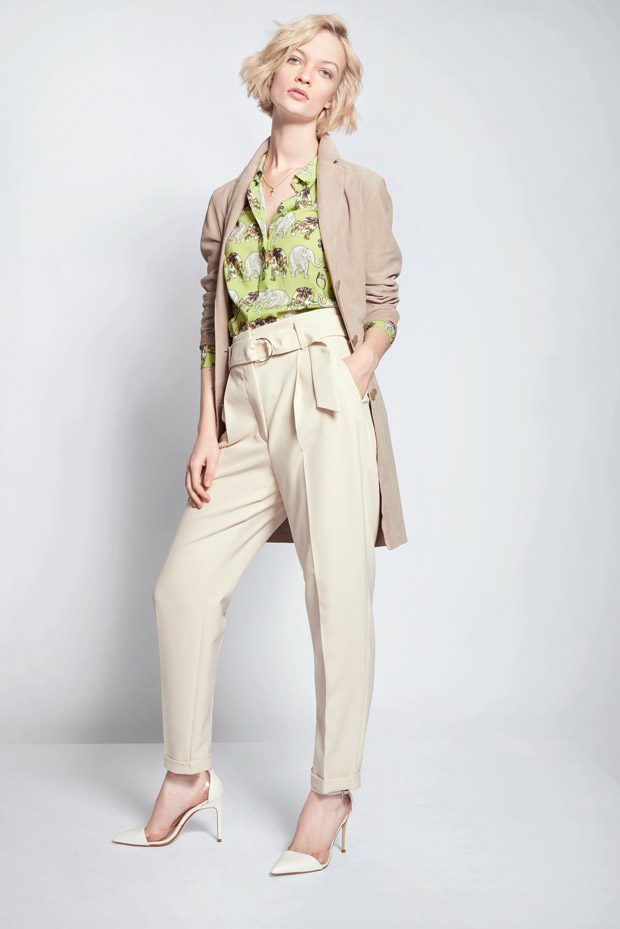 For their Spring/ Summer 2018 collection, German traditional brand RIANI invites us through a journey through various countries. Thus, the various culturary influences clearly shine through. Each summery collection is a powerful statement that embodies pure joie de vivre and feels like a jollification. Those are the perfect creations for any cosmopolitan, contemporary womens' travel wardrobe. Needless to mention, we had to use the chance and take a closer look at the different themes of RIANI's Spring/ Summer 2018 collection:
Casino
Being significant for this compelling collection is its vivid mix and match with contrary elements, for instance REVOLU- ME shows a slim sweater with emphasized, over- sized sleeves. In addition to that eye- catching piece, comfortable day pants are worn. Expect the unexpected! That unique combination underlines the blithe character of that lavish look. Simply smooth! Colour- wise, this collection is dominated by scarlet, diamond black and offwhite. Albeit also a few more, fresh hues can be found in this charming collection, for example light green. That underlines the feminine, easy- going character of those outfits. The striking statement prints definitely deserve devotion: look at those Versailles- flower prints, the chequers, those subtle stripes! "Casino" contains creations that can be worn at any occassion, from your morning in any office until the cocktail party.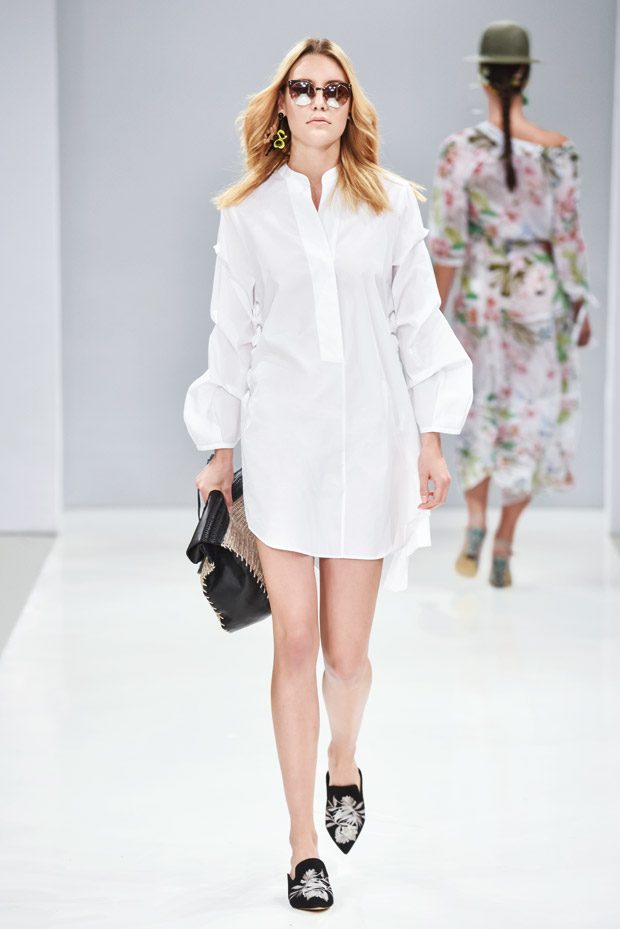 Paris Story
As you may assume by the collections' title, "Paris Story" takes it main inspirations from the French lifestyle. As a logic consequence, this collection is dominated by those colours that symbolize France: Offwhite, True Red, Olympic Blue and Black. All of this collections' looks are presented in a highly nonchalantly way, none of it is trying too much to impress. Exactly as French women prefer to dress. Finest fabrics underline the sophisticated character of those outfits, for example tweed, jacquard and merino wool. Worth of mentioning is the very special detail- awareness of those looks, certain pieces contain symbols that remind us of Paris, such as the Eiffel Tower. But also a striped shirt that is provided with a red bow at the collar literally let our hearts beat some seconds faster. So chic, so charming, so french!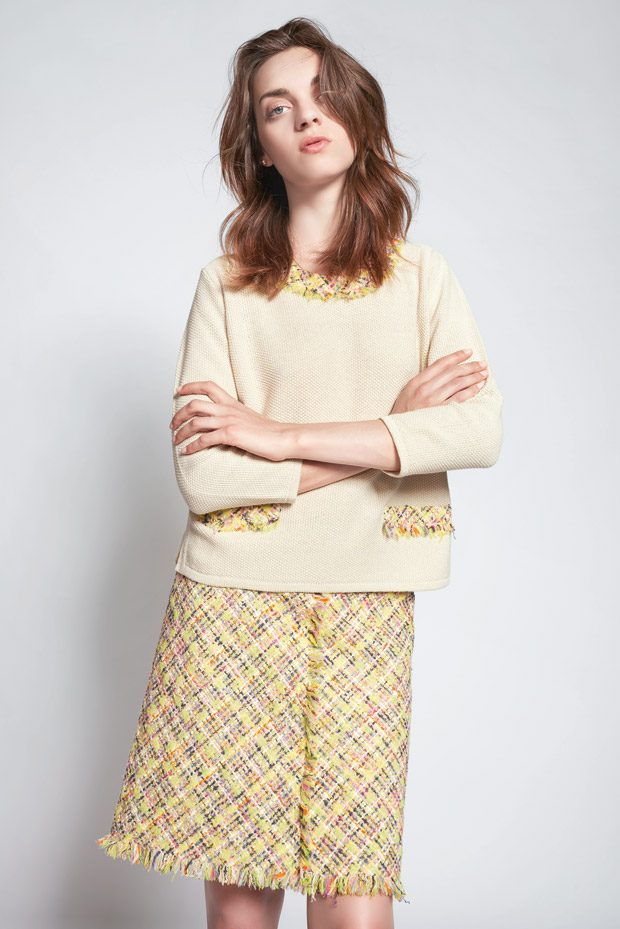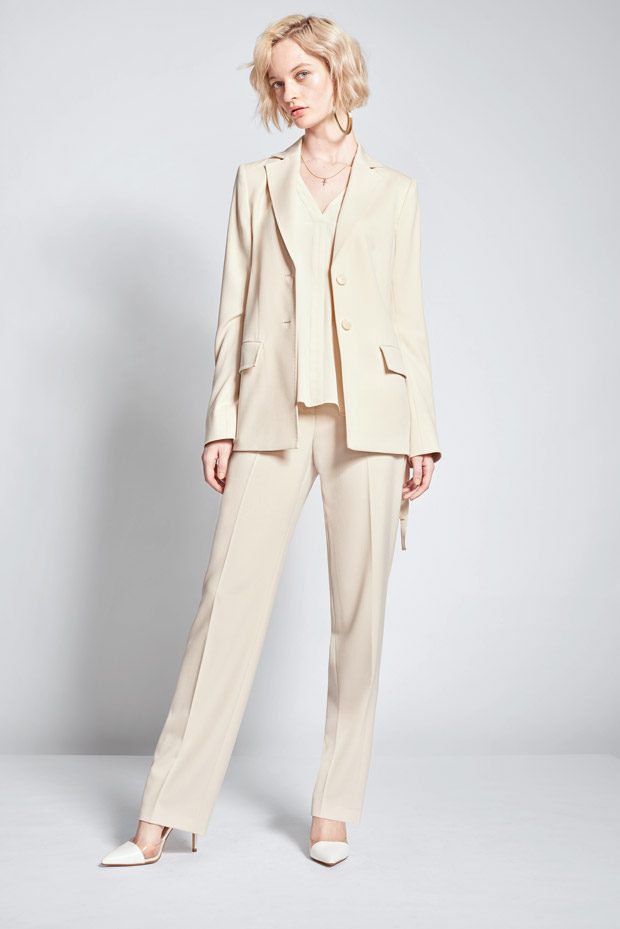 Tequila Sunrise
At first glance, "Tequila Sunrise" impresses us with its soft, delicate pastel colour choice: Cream, Torroncino, Cantaloupe, Margarita and Green Glow play a central role in this collection. All of those tones underline the positive, fresh, sophisticated approach of those looks. They are timeless, yet vivid and contemporary with just the right amount of each. Simply seductive! In those outfits, never too many tones are paired in one look and thus, the overall image stays very clear. The key looks of this collection are a sporty pants in active jersey that teams up with a Poppy- print blouse with soft flounces. Another key look of this collection that stays in mind is feminine yet strong, with just the right amount of each: it contains of RIANI's iconic tweed that is shown uni with multicoloured decoration and a casual shirt with Ganeesha print. Another highlight of this collection is a nude- coloured egg- shaped coat that is paired with an outfit in the same colour. Simply sophisticated!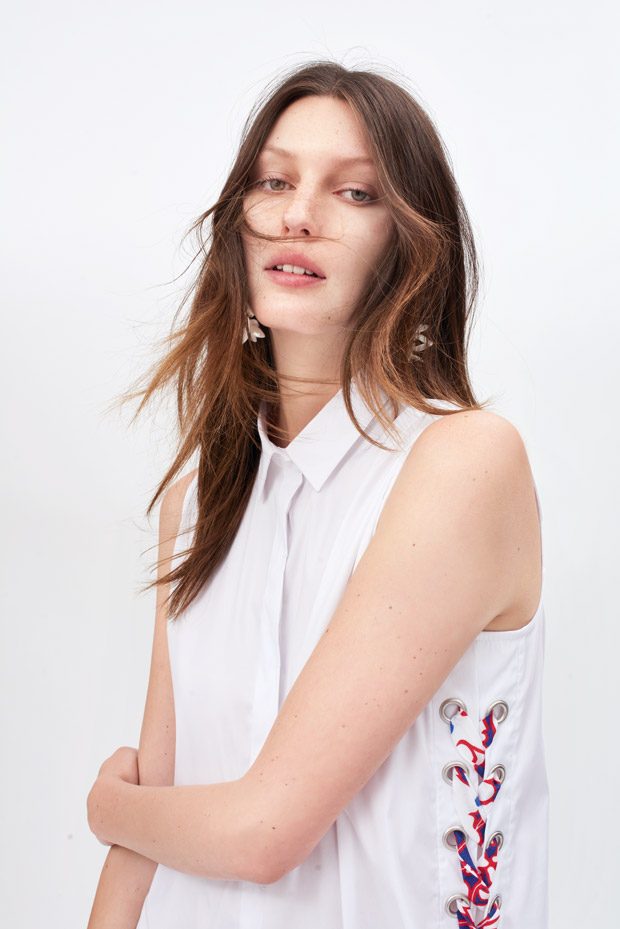 Costa Rica
"Costa Rica" is rich of diversity, like the country and its flora and fauna itself. The vivid, joyful colour palette of this collection feels like a walk through the rainforest of Costa Rica: Tropical Sky and Green Glow meet Pure White, Pewter, Alligator and Silver. It is exactly this unique mix that makes this collection so incredibly refreshing and vivid. The fauna is depicted in the collections' prints. Some outfits are kept tonal- for example a shirt dress that in emerald green. Calm like a sunrise after a tropical storm. "Costa Rica" is the perfect choice for your travel wardrobe, as all pieces can easily be combined with each other.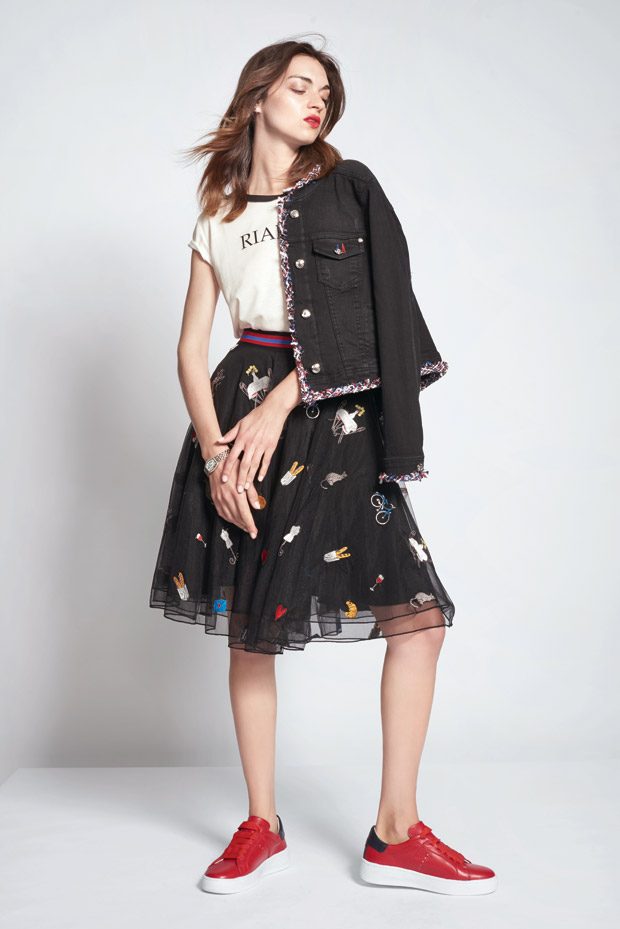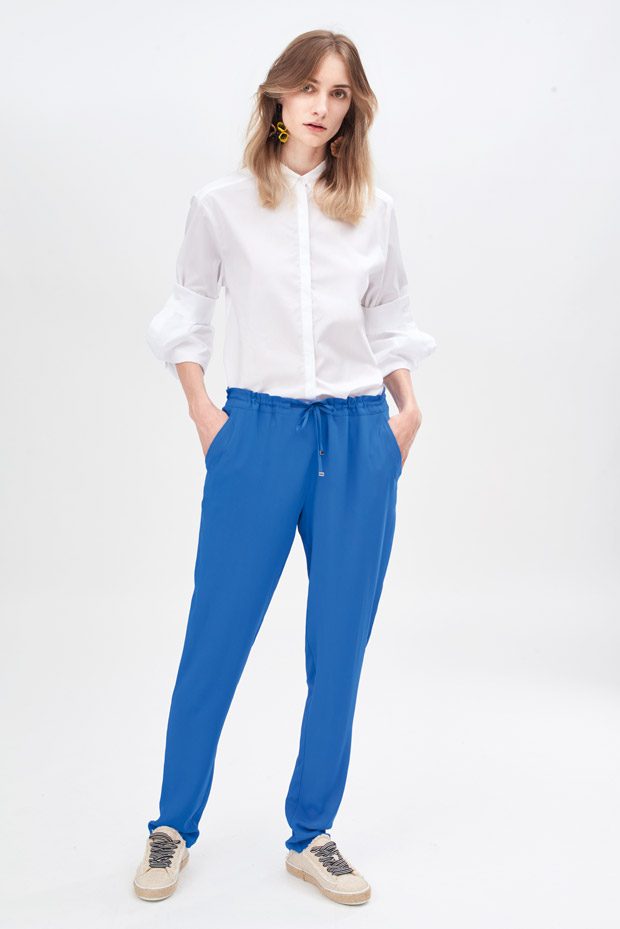 Montevideo
"Montevideo" is characterized by its bright, fresh, unique approach. Ethno- influences clearly shine through. The use of lace, embroideries, and prints with vivid flair feel like a jollification and express pure joie de vivre. They are made for the strong, cosmopolitan woman that knows what she wants in life and dares to wear eye- catching pieces. Depending your daily mood, you will certainly find the right outfit among those lavish looks. Bright, striking hues are paired with timeless, classy ones: for example vibrant nectarine and aperol are worn in contrast to daring black and pure white. It is exactly this combination which makes the looks so special. Volants and ruffles perfectly express the Latin influences of this collection. Being significant for those looks is also its subtle sexiness and thus, always a bit, but never too much skin is shown. Who would not love to dance through the night in Montevideo, wearing any of those joyful dresses….
Santorini
Being significant for this collection is its blithe character which is expressed by the colour choice you associate with the Cyclades: White, True Red and Olympic Blue. Sundry outfits of this collection are kept tonal, whereas sometimes two tones are paired in one look. Summertime, and the living is easy…Stripes, checked pattern and a postcard print embody holiday feeling. This collection makes you dream of watching the sunset in Santorini from any of their sheer white houses, observing the endless horizon of the blue ocean…..
It is hard to choose a favourite theme, as each has its very own character. We cannot wait injecting those precious pieces into our Spring/ Summer 2018 travel wardrobe and we will definitely keep an eye on RIANI and on all upcoming collections!
Picture Credit: RIANI GmbH
Review by Sussan Zeck for D'SCENE Magazine