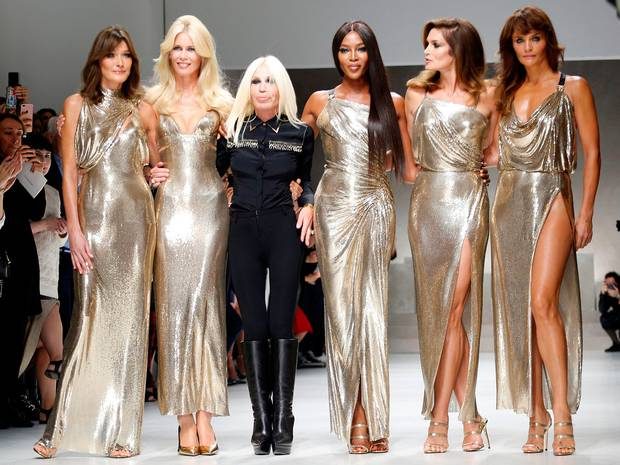 Versace Artistic Director Donatella Versace will be honoured with the The Fashion Icon Award at The Fashion Awards 2017 in partnership with Swarovski for her creativity and innovation, glamour and power of her fashion house.
I am truly honoured to be collecting the Fashion Icon Award at The Fashion Awards 2017. For 40 years my brother and I have done what we love and that is a legacy I am honoured to continue and uphold. We have celebrated empowerment, joy and of course glamour. We have championed a community of people who share our values and together with them have created truly iconic images in the world of fashion. I am truly humbled by how Versace has been embraced across the decades, across the world and across the generations. Thank you to the industry for your support of us, thank you to my team for their loyalty and incredibly hard work, thank you to my family and friends who have supported me more than they can know and thank you to the genius that was my brother Gianni. His incredible spirit is in everything we do and everything we stand for. – Donatella Versace, Artistic Director Versace
The award recognises and celebrates both the incredible fashion legacy of Gianni Versace and the role Donatella Versace has played in maintaining the iconic brand her brother created as well as supporting, mentoring and championing many young British designers and young designers around the world. December 2017 is also marks the end of a year of remembrance and tribute to Gianni's 20-year legacy and the celebration of Donatella Versace's 20th year at the helm.
Donatella Versace is an exemplary woman and designer who has shaped the global fashion industry with her vision for Versace. She has shown incredible strength and dedication to the industry and has continued her brother's legacy through her remarkable work. What I admire the most about her is her ability to make women look and feel powerful. I could not imagine a better recipient of this award, especially as this year marks such an important date for Versace. – Dame Natalie Massenet, Chairman British Fashion Council
Donatella Versace will be awarded on Monday 4th December at the Royal Albert Hall in London.
Image courtesy of Versace