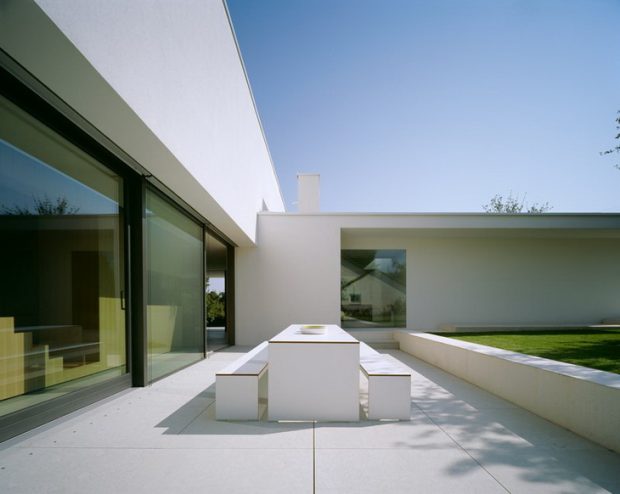 Good interior design is all about making spaces feel welcoming, comfortable and practical for the people occupying them, and this also extends to doing the same thing in the garden, as well as inside a home. But, the very best designs take it a step further, ensuring the two living areas complement one another and flow seamlessly to create an indoor-outdoor space that works without interruption.
If you'd like a garden that complements the interior of your home, consider the following:


The view
Many of us see into our gardens from the vantage point of the kitchen, which is why it's important you've considered the view from the kitchen sink. To this end, think about what you want to be able to see while you're washing the dishes: it would be much nicer to watch birds flocking to a bird feeder you've carefully positioned than a view of the compost bin, wouldn't it? Do the same with the view from your master bedroom. If you have a large tree growing over your bedroom window, consider trimming it back so you allow more light into your home and can see down into the garden. Don't trim it back too far, however – a little dappled sunlight, or leaves casting dancing shadows across a bedroom wall, looks lovely. Rattan dining sets are the way forward if you are interested in making your garden stand out.
The materials
Another way to bring the inside out into the garden is to think about the materials you're using in your home. For example, if you have a reclaimed wooden dining table, considering echoing it in the furniture you're using in your garden. You could buy a wooden outdoor table, or install some decking to use to mark the boundary of your barbecuing and dining area. If you have a larger budget to play with, consider mirroring the worktops in your indoor kitchen with the worktops in an outdoor kitchen. While they're an investment that requires a large budget, outdoor kitchens are perfect if you love to cook and eat alfresco or regularly host gatherings outside.

The color palette
Gardens can be a kaleidoscope of color, and there's no rule that says you have to restrain yourself to choosing flowers that work in perfect harmony with the kitchen walls. But, it can look nice and feel coherent if you use some colors outdoors if you've featured them heavily indoors, too. For example, if your kitchen island is painted blue, and your garden flows directly on from this room, then consider buying blue cushions or seat covers for your alfresco dining area to continue the theme and subtly nod to the fact that the two spaces are interlinked.
The same feeling can be achieved by reflecting patterns in your outdoor space too. For example, if you favor geometric prints indoors or have a floral wallpaper, mirror these details in the soft furnishings you're using in your garden. Similarly, a herringbone floor in a kitchen-diner will look beautiful if you complement with a herringbone paved patio rather than simply laying a plain concrete floor.
The furniture
Finally, typical garden furniture tends to include a table and set of chairs, but you don't need to stop there. You can bring elements of the 'indoors' outside by investing in furniture that's often used in living rooms but is specially designed in particular materials to withstand use outdoors. For example, if you have a large garden, adding a coffee table with some comfortable deck chairs can create a relaxed area for entertaining. You can even buy outdoor sofas and daybeds made from rattan, providing the perfect spot for an afternoon nap in the sun. Also, consider garden accessories that wouldn't necessarily be appropriate for indoor use, but have the same effect. For example, a fire-pit would obviously be a major fire-hazard inside your home, but in your garden, it provides that same comforting, warm focal point to stare transfixed at as a fireplace usually would.
Those are just a handful of ways your garden design can complement your interior. Will you try them?
Images from House P in Waldenburg by Philipp Architekten