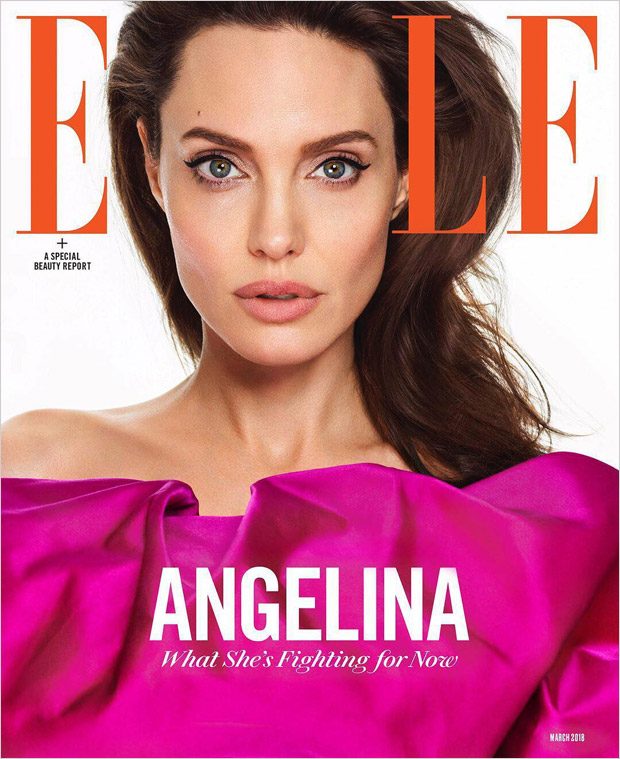 Humanitarian and actress Angelina Jolie takes the cover of American ELLE Magazine's March 2018 edition captured by fashion photographer Mariano Vivanco. In charge of styling was Samira Nasr, who for the cover selected look from Saint Laurent by Anthony Vaccarello. This is the first edition of ELLE Magazine under new editor-in-chief Nina Garcia's helm.
"I was quite anti-politics when I was young. I started working on human-rights issues and meeting refugees and survivors mostly because I wanted to learn. I also had this romantic idea that I would get my boots on and be a humanitarian. But at a certain point, you realize that's not enough. You have to find the root of the problem. And that, so often, brings you back to the law and politics. For instance, I kept meeting refugees who were survivors of systematic rape—rape used as a weapon. Yet there were virtually no convictions. It fired me up to start working with governments and lawmakers. When it comes down to it, we still treat violence against women as a lesser crime.
I think of how hard women fought to get us to where we are today. Everything counts, from the way you hold yourself in your daily life and educate yourself on your own rights, to solidarity with other women around the world. I tell my daughters, 'What sets you apart is what you are willing to do for others. Anyone can put on a dress and makeup. It's your mind that will define you. Find out who you are, what you think, and what you stand for. And fight for others to have those same freedoms. A life of service is worth living.'" – Jolie for ELLE US on politics, and women rights.