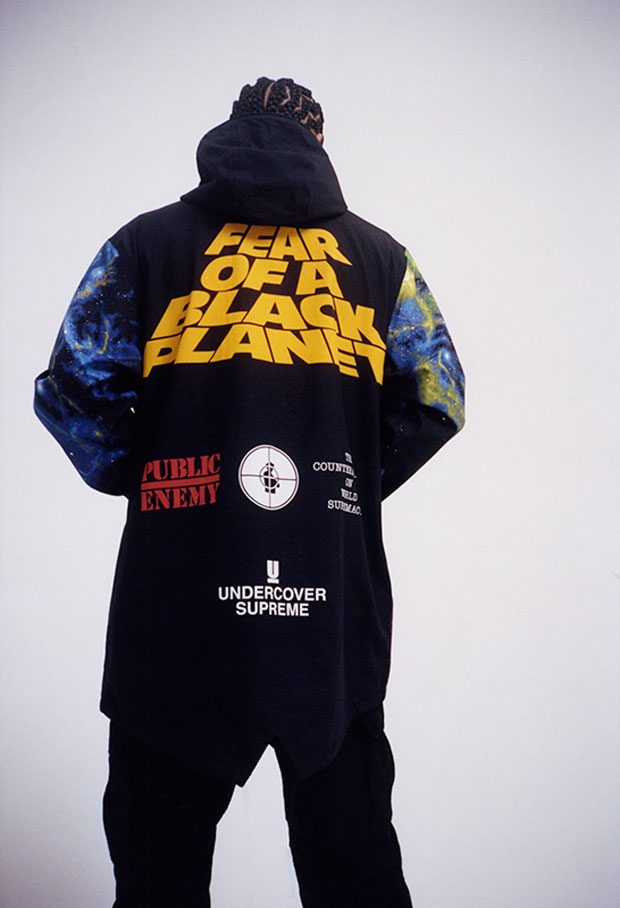 SUPREME has worked with UNDERCOVER and a pioneering American hip-hop group Public Enemy on a new collection for Spring 2018. Featuring the original album artwork from Public Enemy's Fear Of A Black Planet, the collection consists of wide range of apparel items, accessories and shoes in collaboration with Dr. Martens.
Public Enemy is a pioneering American hip-hop group formed in 1986. The group is considered among the most influential hip-hop acts of all time, revered for its experimental sound and politically conscious lyricism. Fear of a Black Planet — PE's third studio album — was released in 1990, and selected for preservation in the Library of Congress in 2005. The 20-track epic produced the anthemic single "Fight the Power". The record contains potent criticisms of white supremacy and the news media, while exploring organization and empowerment within the black community. Over 25 years later, Fear of a Black Planet remains urgent, ambitious, and disruptive. – from Supreme
The collection is available in-store NY, Brooklyn, LA, London, Paris and online March 15th, and in Japan on March 17th.
A portion of proceeds from the collection will be donated to the ACLU (American Civil Liberties Union).
See more after the jump: