DESIGN SCENE INTERVIEW: COUTURE REVOLUTION WITH GYUNEL
|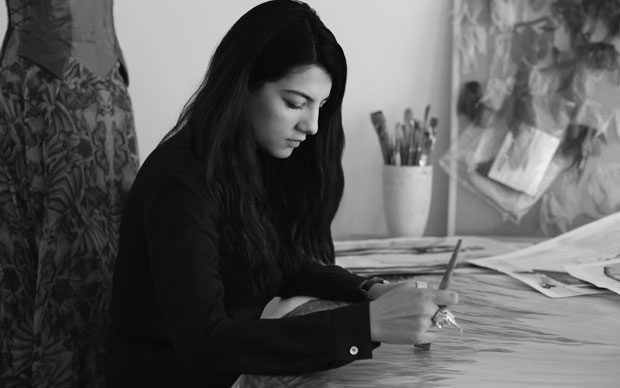 Following the latest Paris Couture Week our editor KATARINA DJORIC sits down for an exclusive interview with GYUNEL, the creative force of the much talked about Gyunel Couture. The founder of the couture house to watch talks about her beginnings, giving back and plans for a ready-to-wear line.
At what point did you realize fashion could be your career?
Having always been passionate to follow a creative route, I nonetheless started off in a very different direction focusing more on economics and business, as — with both my parents and most of my family being economists — I knew it would be inevitable not to study economics. While studying, I spent every free moment pouring over art and creative ideas of my own and came to London for art and fashion courses. After successfully passing my A-levels and getting my degree in economics, I eventually followed my passion towards a more creative route. Having initially studied fine arts and photography, I then found myself naturally moving towards fashion as well. That's how I decided to apply for London College of Fashion and then Central St Martins — to gain as much knowledge as possible. I find that all of my previous studies come together in my current role with my art studies now inseparable from my couture creations. I bring a lot of photography into my fashion design too and am of course grateful for the business courses I took, as they help me with the day-to-day management of the business. One of the left-behind passions is to be a film director, but you never know…
Read more after the jump: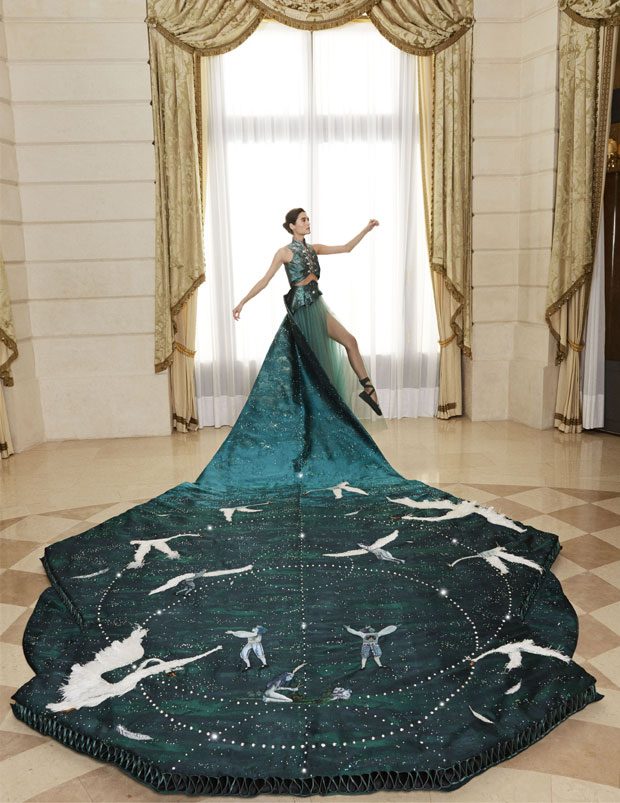 Your atelier is based in London, how much does the city itself play part in your collections?
Long before London Fashion Week became an essential fixture in the world's fashion calendar, London has been very close to my heart, as it's the city I've been calling, second, home for the past couple of decades. Its sense of chaos nurtures in me an adventurous spirit that has always been a motivational factor in my fashion designer persona.
How has your work evolved since you began your own label?
The best perk in having my own label is that I am constantly able to embark on creative quests to retell the story of timeless fashion, whilst tying in my various memories and sources of inspiration with the focal point of women's empowerment principles. My work has further evolved mostly in being able to give clients exactly what they want when they want it. That is why with the streamlining of my production I can now deliver much more effectively than most couture houses. I am now focusing on more private and exclusive client presentations at my Knightsbridge salon, where my most loyal clients have a chance to see new pieces rather than wait for the show every six months during Paris couture week. I could at the same time claim having my gowns worn by AAA celebrities and clients on the red carpet or my designs sold in Harvey Nichols count as accomplishments, but I will instead say my most significant accomplishment was recently having my business's contribution to society recognized through Philanthropreneur Award of the Year 2017. Giving back to the communities I am directly involved with matters to me most, whilst also being as sustainable as possible in every effort to share the beauty and art of couture. It is for this very reason why a significant percentage from every couture piece I sell goes directly to select charities that in turn invest in local NGOs, thus providing grassroots organizations the help they need to transform the lives of the world's most vulnerable and marginalised children, their communities, and civil society as a whole.
You identify yourself both as a visual artist and as a fashion designer. How do these two disciplines complement one another in your design process?
I founded my namesake fashion house in 2005 and have been in business ever since, but have actually been experimenting with visual arts and fashion design and their unique interwoven relationship for as long as I can remember myself. Each design starts off being inspired as I do my oil paintings and is then transported from canvas to a fairy tale-esque reality that brings my creative vision to life. My atelier team then shapes every element of the design process to meet the client's need, with meticulous consultation and fittings being integral parts of the experience. My favourite part is coming up with the mood boards for the collection and draping on stand, but I equally enjoy each part of the process.
How do you find a balance between creativity and production?
Having grown up with couture lovers in my family, I think it was a natural path that I would start a couture line upon or soon after launching my brand. Speaking from the experience of having designed ready-to-wear for more than almost ten seasons, I can tell you it is much easier to produce, however a lot of thought does go into trying to stay commercial and creative at the same time. I feel more free designing couture as I let my fantasy rule over the commercial side, even though I still try to keep both aspects in mind. Couture clientele views pieces in the same light as a precious piece of art, which gives me freedom to explore and run wild with my imagination.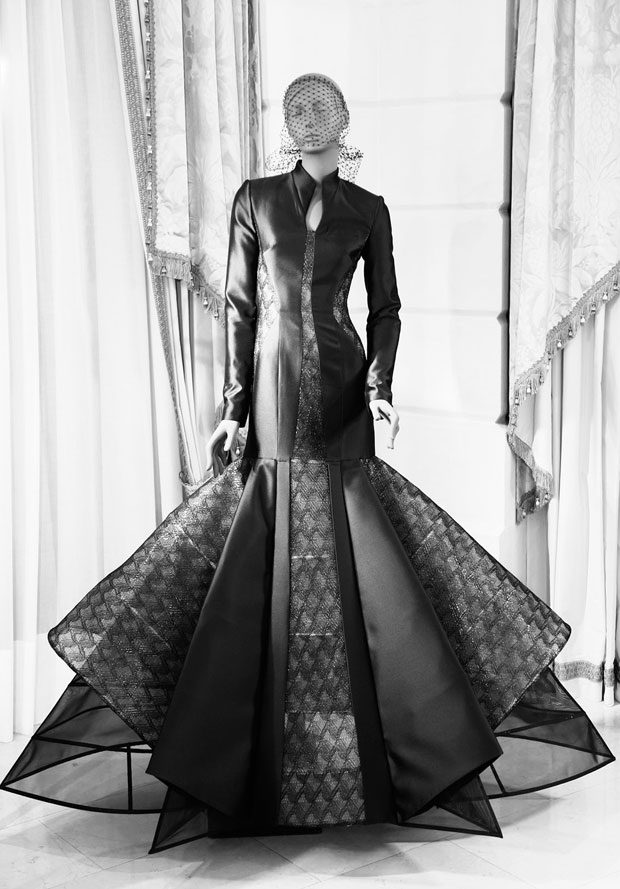 What are you fascinated by at the moment and how does it feed into your work?
I always draw inspiration from my childhood memories, my grandmothers' wardrobes, historical fashion, my own imagination, surrealism etc. Sometimes simple things I see in everyday life fascinate me so much that I lean towards a totally different direction. My main motivational factor at the moment is creating pieces for someone with a sense of feminism in her heart—smart, stylish and independent.
Tell us about your creative process. Do you design with a specific woman in mind?
I like the idea of a woman who would surprise you in the way she dresses, despite her profession, age or background. To wear clothing with a twist, that portray her strong inner sense of self and most importantly that show her personality. I imagine my ideal muse would surprise me with her style and I am so grateful to have met so many women who have inspired me creatively.
I absolutely loved your Spring Summer 2018 collection, what was the inspiration behind it, and do you have a favorite piece?
My grandmother was a librarian who would take me with her to work as a child and let me borrow as many books as I liked. I loved spending time at the library, delving into all sorts of books, including Hans Christian Andersen's 'The Wild Swans'. That, as well as art deco interiors and jewellery, inspired me to create a collection that would combine geometric panels with feather embroidery and innovative feather-slashed leathers in a surrealist context. My signature diamond cut silhouette, as well as a contrasting palette of mint, red, black and rose gold, combined with ombre brush marks, worked together with my painted gargoyles coming to life through this collection that tells the story of a symbolic swan through the lens of nihilism. Drawing additional inspiration from Russian ballet and its famed prima ballerinas, it all fused together in a perfect harmony that highlighted my mood for this season. My favourite pieces among the collection is undoubtedly the majestic triptych that took more than six months to develop with the generous support of Preciosa Components.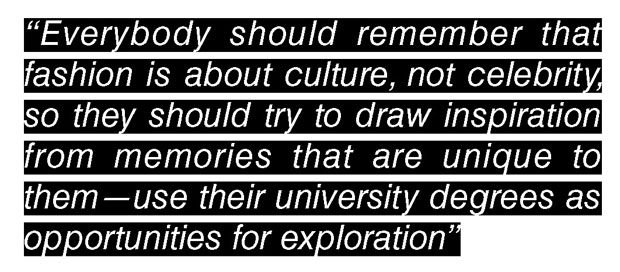 What are you working on now? Can you share with our readers something about your next collection?
I am currently working on my next couture collection for Autumn/Winter 2018-19. It involves a theme that has been intriguing me lately with my signature diamond geometric cut once again present, as well as [with] the addition of new exciting elements like knife-cut feather-shaped leather and origami folds with metallic crinoline and inlaid beads. I promise it will be something very special, so stay tuned!
What is your stand on couture fashion in today's setting of the fashion industry?
The couture customer is somebody that understands and appreciates exclusivity, limited edition, someone who appreciates the artwork that goes into the garment starting from its initial conception, complicated unique pattern cutting, hours of embroidery, embellishments etc. The amount of time and people who are involved in making just one gown is astonishing. Also, a couture buyer does not have the fear of walking into an event and seeing another lady in the same dress—the chances of that happening are close to zero and that gives a different kind of confidence. I personally see no difference between couture customers and art collectors.
Your designs are a regular on the red carpet, who are the stars you would love to dress for the next Red Carpet Season?
I am lucky to always have a few women on my mind, substantial women that I have admired from a long time ago; their poise, style and life choices just keep inspiring me. I feel grateful to add some new ones to my list as I keep meeting new interesting women every now and then. Sadly, they are a rare breed, but they can keep you inspired for decades. I am sincerely flattered that I get requests from celebrity stylists all over the world to have my creations featured on the red carpet, but the most important part for me is when the celebrities wearing my creations on the red carpet have truly fallen in love with my work and keep coming back for more.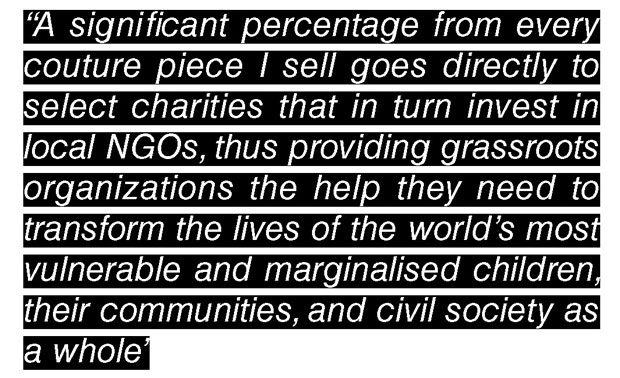 What advice would you give to young designers wanting to start their own label?
The world is changing at a very fast pace, so it's of utmost importance that young creatives demonstrate adaptability to change. Everybody should remember that fashion is about culture, not celebrity, so they should try to draw inspiration from memories that are unique to them—use their university degrees as opportunities for exploration.
Where do you see your label 10 years from today?
I am contemplating growing further my ready-to-wear line at some point in the near future to be able to accommodate requests from big e-commerce platform buyers. Rather than approaching luxury as something can be attained with the click of a button, I am trying to create a much more intimate ecosystem, so, in some ways, as a designer staying true to the principles of haute couture, I am taking things back the way the bigger Parisian maisons used to be, before many of them expanded and grew to be the powerful industry players they are today.
Keep up with Gyunel @gyunel_official on Instagram.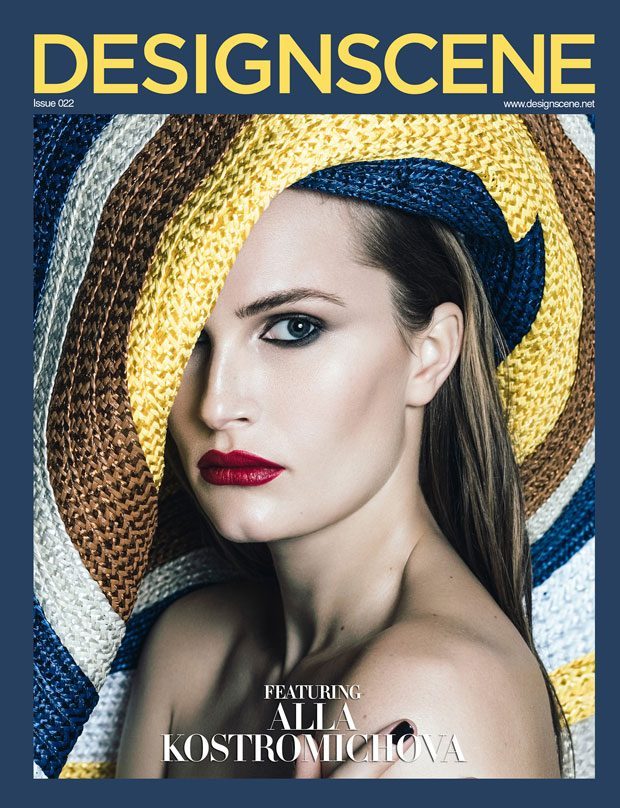 Get your copy of DESIGN SCENE in PRINT & $4.90 DIGITAL