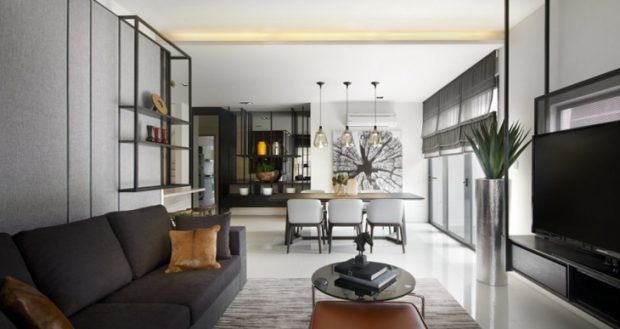 Condo life can be fantastic; you get all the advantages of living in an apartment with the added benefit of ownership. But when you open the door and walk in, the last thing you want to see is a home that looks like it might have been furnished around the time Bilbo Baggins was decorating his hobbit hole. The problem is, that while you might have Cassoni tastes, and would love to find amazing Parklawn condos for sale you are operating on a Sears budget.
Thankfully even if you don't have the money to spend on the many expensive brands, you can still make your condo look as though you have spent a fortune.
Read more after the jump:
Dress the Room Up
Crown moldings might seem so 19th Century, but today, they are a fabulous way to add detail and beauty to virtually any room in your condo. Those from the 19th century and in many of today's million-dollar homes are often hand carved from wood or poured into plaster molds. While these versions can cost thousands of dollars, you can easily go to your local discount DIY home warehouse and pick up pre-made wood crown molding strips for a bargain price. You can add them to any of the rooms in the form of ceiling moldings, chair rails, and around columns.
Choosing the Right Color Scheme
Your color scheme says just as much about your home as it does about you. Choose the right color can be challenging, especially when you realize the rest of your entire color scheme will be based on the color of the walls you choose. But, if you are trying to give your condo a sense of elegance or grandeur, some colors work better than others. Your initial decision should be whether you prefer soft, understated colors or go all out and be bold or dramatic. One simple trick is to paint the interior of your doors black. For the cost of a can of satin black paint and a brush, you can kick the elegance in your home up several notches.
Throw Pillows Add Class
How many times have you walked into an upscale home and noticed they have throw pillows on just about every piece of furniture from the couch to each of the beds? Adding color coordinated throw pillows throughout your condo is a great way to add a touch of class and elegance. They provide your guests with an added touch of comfort and add a layered feeling to the room. Keep in mind, when it comes to buying throw pillows avoid smaller ones like those measuring 12 to 18 inches. Instead, go big and buy those that are 20 to 24 inches in size, overstuffed is even better. Down-filling is a great way to go for a plush, elegant look.
Add Window Treatments
If your condo came without window treatments beyond those standard cheap blinds, it will always look cheap and unfinished. Try installing curtains but avoid going for the bottom of the barrel bargain brands you can literally see through. At least goes for lined off-the-rack curtains made from cotton or silk and DIY rods. If you aren't into curtains, you can always install wood blinds or shades made from woven bamboo. Just avoid cheap materials if you want your condo to have that luxurious, elegant look and feel to it.
Go for Unique Hardware
Luxury homes tend to have unique and often very expensive hardware from cool looking faucets, and light fixtures to drawer pulls, and door handles. While you can buy things like this at your local discount DIY store, they look as cheap as they are. A much better place to look for these items is at flea markets, antique stores, and some of the smaller hardware stores. You might be surprised at what you can find and how little it will cost you to add a feeling of class to your new home.
These are just a few ideas on how to give your new condominium a classy, elegant look without having to spend a fortune. The fun part is that no matter how little you have spent; your friends will be amazed at how beautiful your new home looks. Of course, it goes without saying, if you are going to make sure your home looks fabulous, you need to make sure you have sufficient condo insurance coverage in the event of a disaster.
Images – The Vale by Blu Water Studio