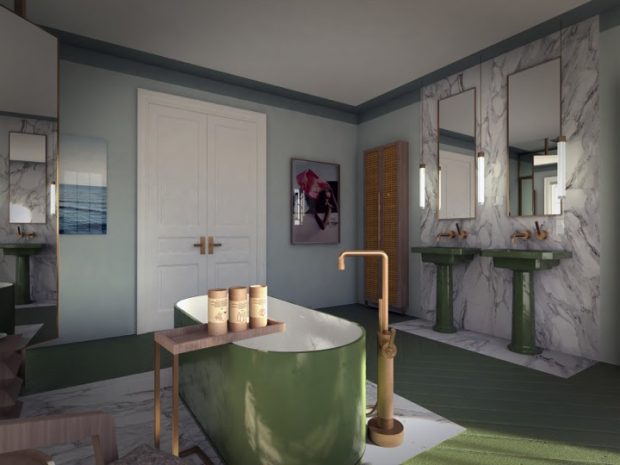 When you're designing your home, your focus will naturally be drawn to the places you spend the most of your time, such as your kitchen, bedroom or the living room. However, there is a room in your house that deserves just as much stylistic attention as any other – the bathroom. While it is a largely functional room, this doesn't mean you have to skimp on being chic and bang on trend. With a few simple and lovely touches here and there, you can create a bathroom that is both functional and luxurious, useful and beautiful. Getting started is easy with these simple steps that will get your creative juices flowing and your designer mind engaged.
Looking good
The first thing to do when designing a tasteful bathroom is to focus on how it looks. It doesn't have to mean doing a big re-painting job or ripping out your bath, but instead, it can be achieved through little fashionable touches that act as accents to the room. By choosing items, such as storage baskets, that either match or complement each other, you will soon have created a coherent and fresh style to your bathroom without breaking the bank or taking up a lot of your time.
If you do decide to re-paint to match your new items while working on the new interior design, for example, remember to choose a colour that is light and neutral to make the most of the natural light. Consider using pastel tones like blue or purple that add some subtle elegance to the space. As well as this, if you have a small bathroom, adding some mirrors will create the illusion of more space and allow your bathroom to also be a useful dressing room or make-up studio.
A beautiful fragrance
In a bathroom, because it is a practical room, you need to have something to create a pleasing aroma. Most bathrooms have a cheap, store-bought air-freshener that falls short of doing a good job and looks bulky, cheap or tacky and out of place. For a tasteful bathroom, it is worth investing in a quality home fragrance from a high-end brand. Alongside having the pleasing perfume filling your bathroom, going with a brand means that the fragrance will come in an elegant bottle that you can proudly display without ruining the look of your bathroom, as opposed to hiding an ugly, pressurized can of air freshener in the cupboard.
The great outdoors, indoors
Bathrooms are naturally damp and humid places, which makes finding a good solution to this problem, which is also stylish, can initially seem like a hard task. However, one way of fixing this is to bring the outdoors inside by finding plants suitable for the bathroom. Placing a fern or spider plant in the bathroom will add a splash of life and colour to the space, as well as having the practical benefits of improving the air quality and decreasing the likelihood of damp.
With these three simple steps, you will be well on your way to having the bathroom of your dreams.
The stunning images feature AVOCADO BATHROOM designed by the talented BOUNDARY SPACE design practice – read our exclusive interview with the team.