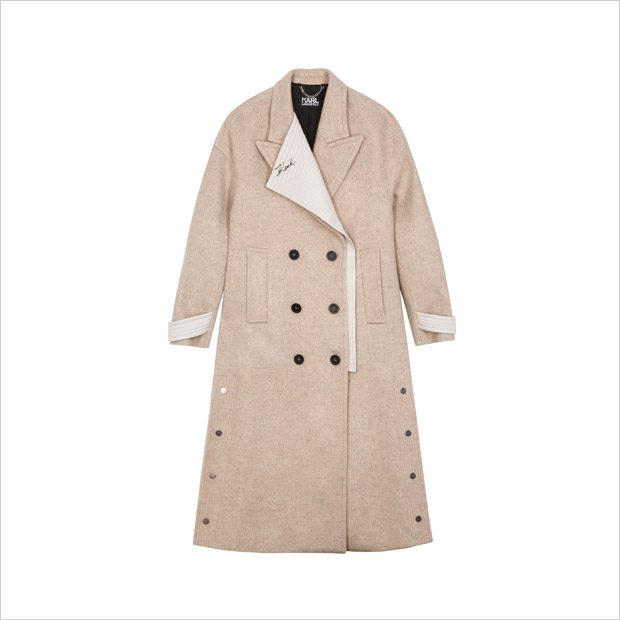 While sunny summer days are slowly coming to their end, it is time to clean your wardrobe and focus on some autumn essentials. A keypiece which must not be missing in any fall/ winter wardrobe is a comfortable, cool coat that is practical and keeps you warm. It is the piece that is first of all visible when you are moving outside. The good news is: you won't be searching for too long, as we already viewed what the labels have to offer and selected you some of our favourite pieces. With them, you can start stylish and warm into the new season. But now let us have a closer look at our favourite picks:
"The new wrap" by MAX & Co.
This creme white wool coat is the perfect pick for those who prefer to dress in a graceful, sophisticated way. This long piece, that is focused on the waist, will keep you warm for sure. This wool coat takes its inspiration from sports history. Due to its impressive length, the cool lapels and the eye- catching colour, you will certainly be the center of attention.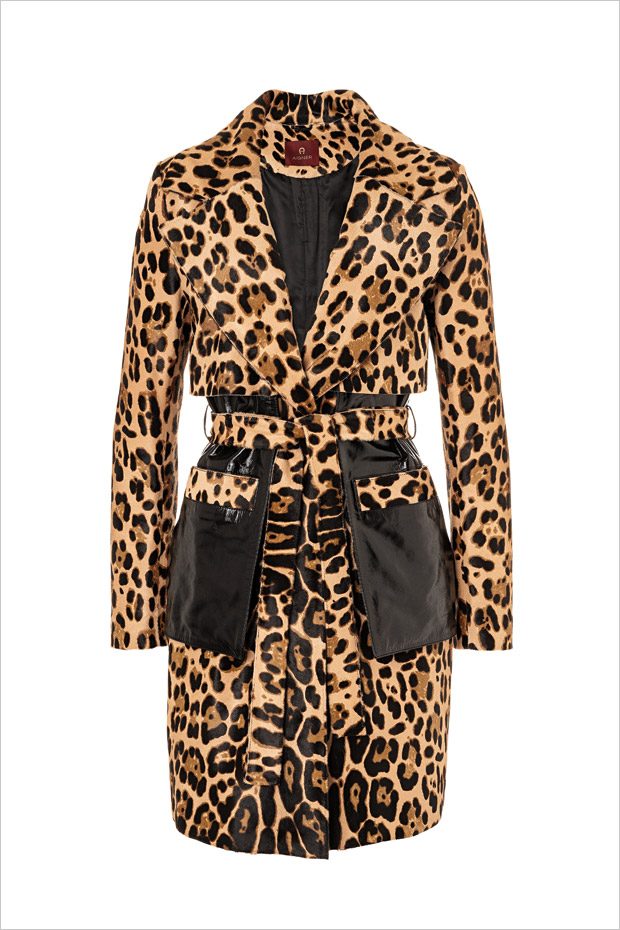 Leopard- print coat by AIGNER
For friends of leo- inspired designs, this is your must-have! This eye-catching leather coat is a true highlight in every autumn/ winter wardrobe. Due to its figure- accentuating cut, it is extremely
flattering the feminine silhouette. Another highlight are the over-sized, black pockets made of lacquer. When wearing this, you will certainly be the coolest cat in your neighbourhood.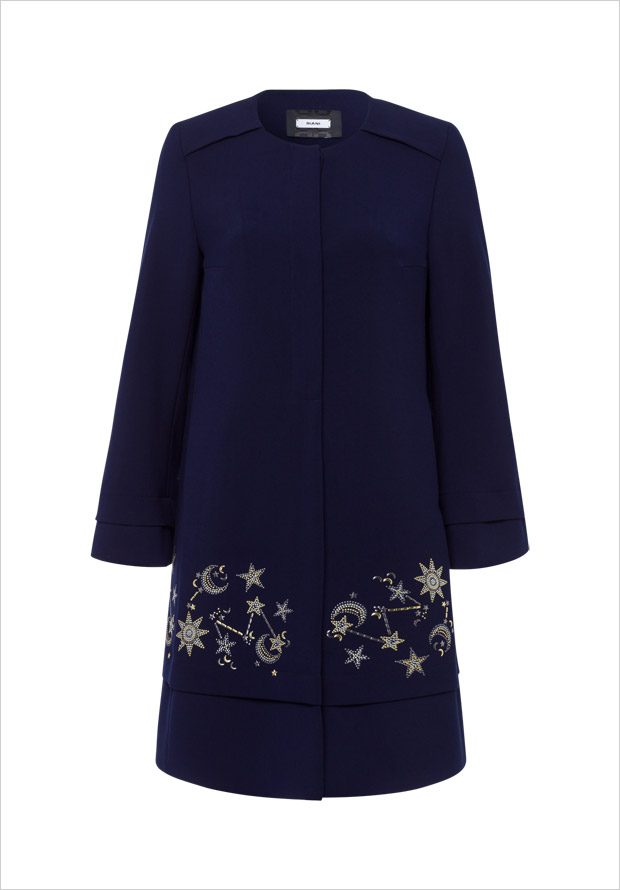 Eclectic blue RIANI coat
Are you chasing your dreams or are your dreams chasing you? This picturesque, eclectic blue coat with silver star embellishments is a dream come true. It convinces us due to its graceful, elegant character. For a romantic dinner date under the night sky this is your must- have for magic winter nights!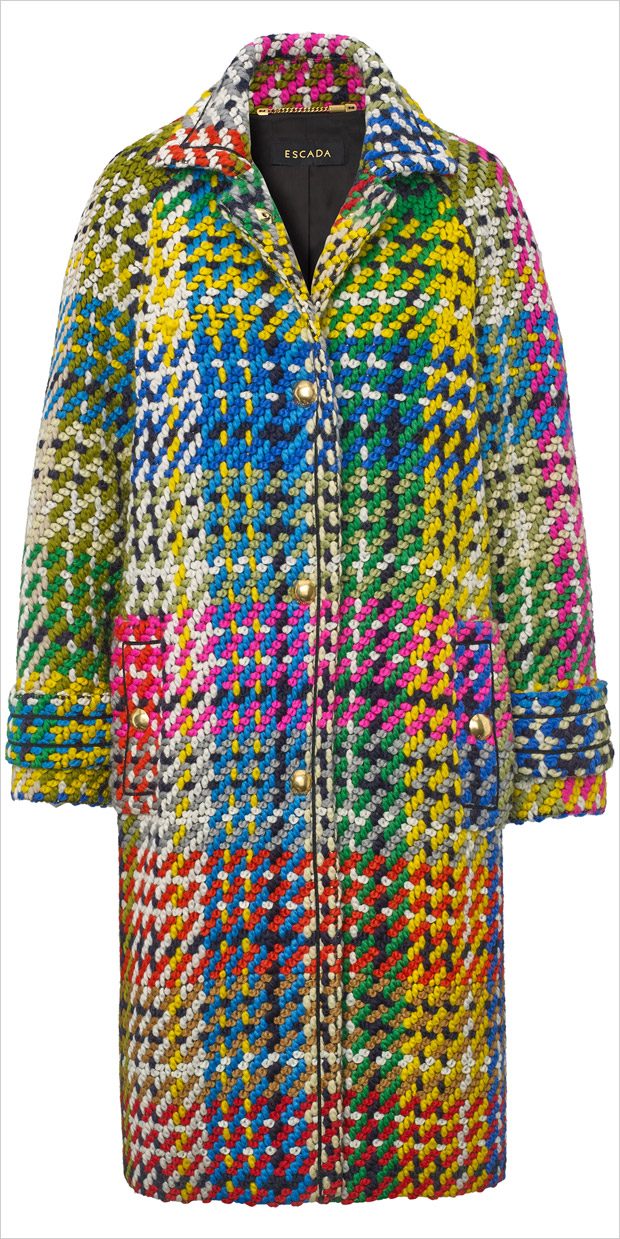 Colourful coat by ESCADA
Ready to brighten your dark autumn/ winter days? This bright, colourful ESCADA coat is a true highlight and will certainly stand out from any crowd. It makes us dream of sunny tales…
Knitwear coat by MADELEINE
What happens when azure blue, mocha, tortilla, sheer white and russet are creatively united? They build the perfect combination for those who prefer to have a true statement piece. This knitwear coat convinces us due to its very unique pattern, a very comfortable material mix and a straight cut. The good fact about this coat is, you can pair it with a bunch of our favourite autumn colours. Thus, it will certainly brighten your autumn/ winter days in a really stylish way.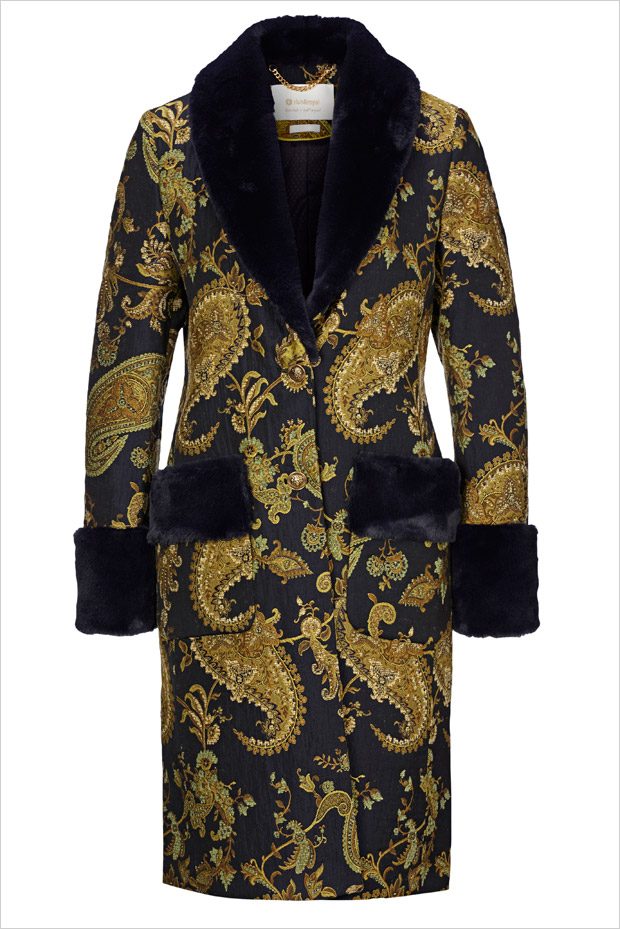 Coat by Rich & Royal
For friends & fans of rather opulent styles, this is the right model for you. With its eye- catching, golden ornaments this simply sophisticated coat from Rich & Royal is one of a kind. In addition to that, it is extremely flattering the female silhouette.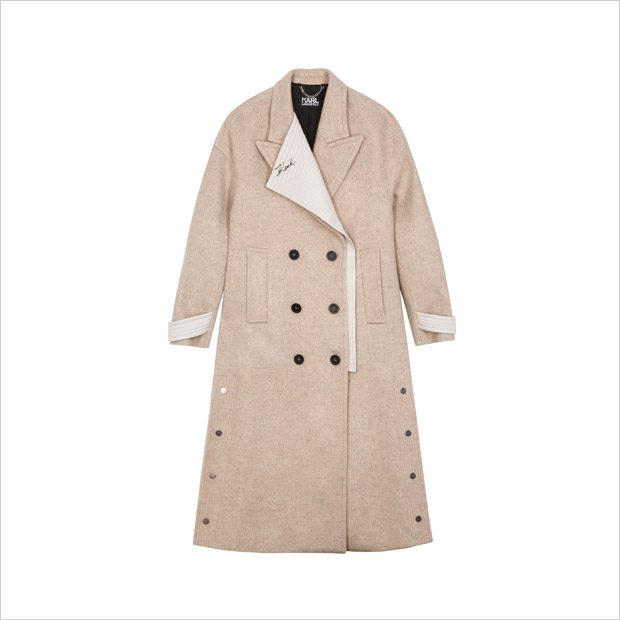 Beige coat by Karl Lagerfeld
For fans of detail- awareness, this is is your style! Look at the original button array, the artistically signed "Karl"- writing in the lapels, the completely cool cut. This charming piece has it all! The beige colour is stylish but never too loud.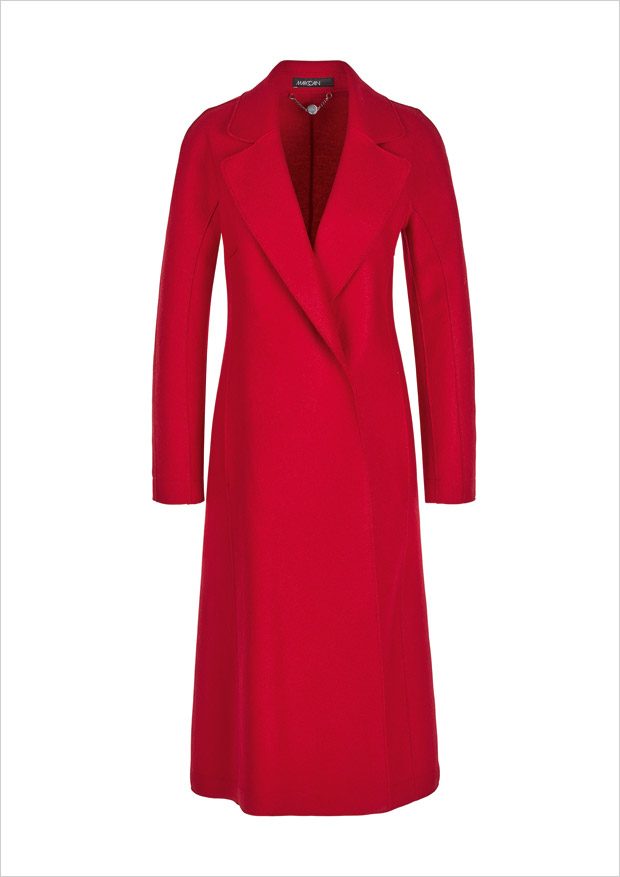 Scarlet red coat by Marc Cain
This scarlet red coat is the one for those who prefer to dress in a sophisticated, timeless way and for fans of bright nuances. It is quite long, so it will totally keep you warm during cold autumn/ winter days. This coat can be paired with plenty of timeless autumn colours, such as black, cognac or olive.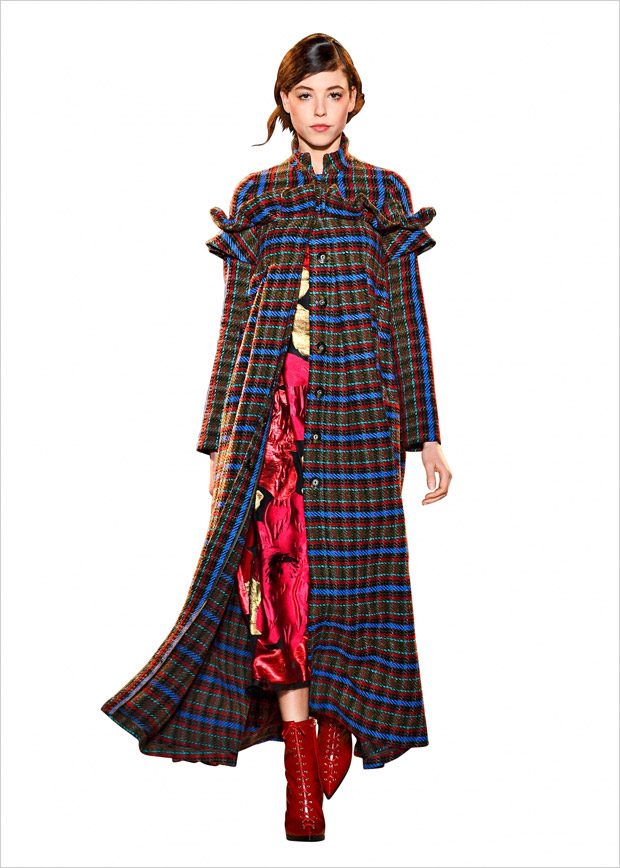 Long square pattern coat by Talbot Runhof
This impressive lengths that reaches until your ankles, the checked tweeds and the very special detail- awareness of this autumn/winter coat by Talbot Runhof literally let our hearts beat some seconds faster. This is the perfect coat to snuggle down in colder season and, thanks to its cool colour combination, is a true eye- catcher too. We love the azure blue highlights that are a true statement.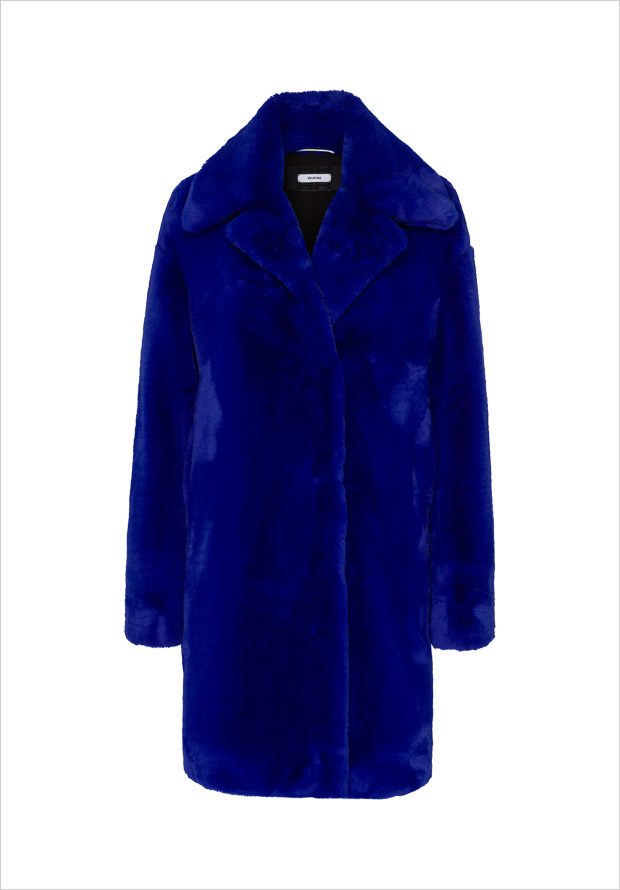 Eclectic blue fake- fur coat by RIANI
Another favourite for us to stay in mind is this eclectic blue, cosy RIANI fake fur coat. What an eye- catcher!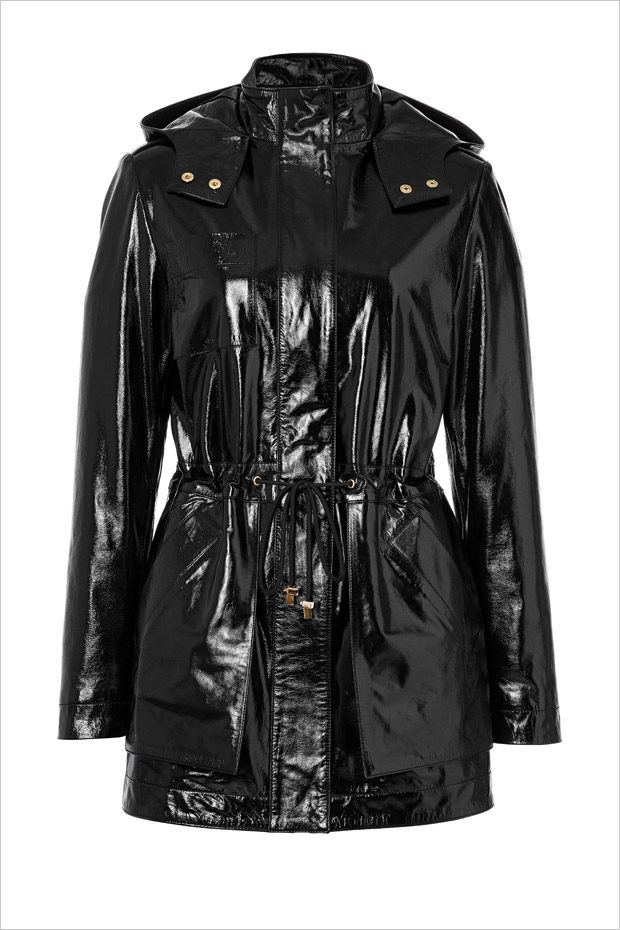 Night black nappa leather coat by AIGNER
This is your piece if you prefer endlessly elegant, cool, cosmopolitan pieces. No matter which autumn weather you will need to struggle through- this piece will certainly keep you warm. The lacquer fabric, cool lacing around the waist and the perfect cut make this a true favourite for this season! Furthermore it can be paired with almost every look.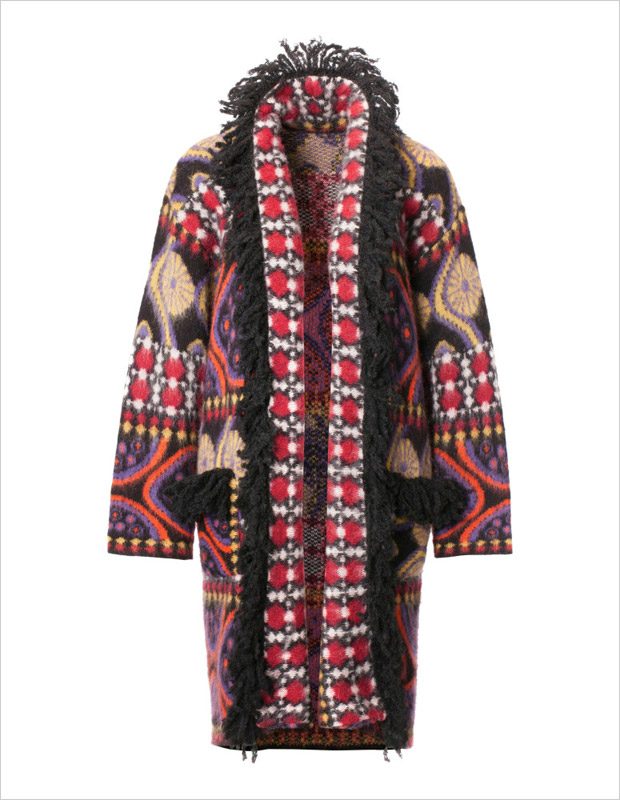 Boho-inspired coat by MADELEINE
This is your pick if you prefer to dress in boho- inspired, folklore clothing. Thanks to the fringes and its very vivid pattern choice, it will certainly brighten any dark autumn day. Blithe, cosmopolitan, cool.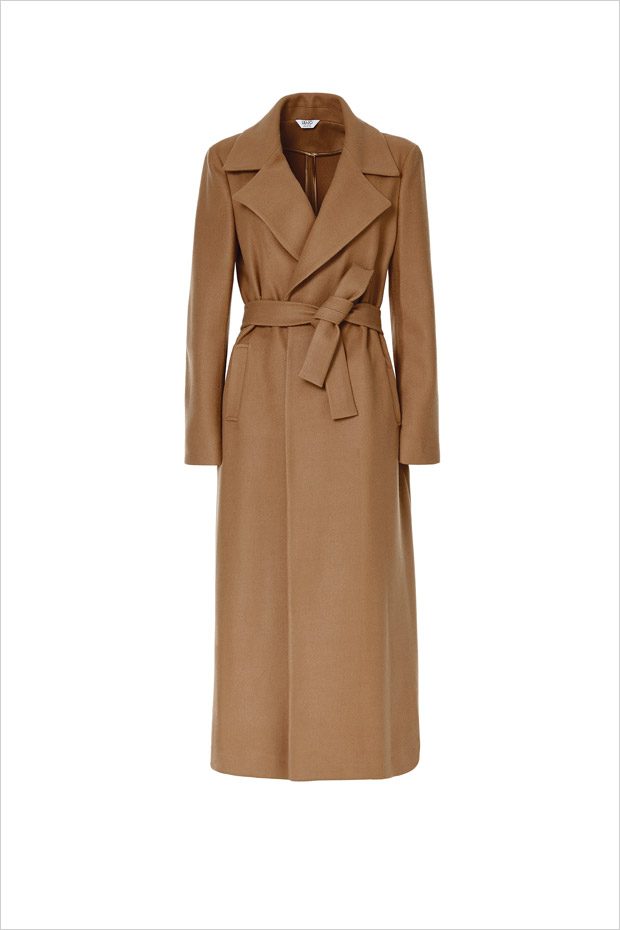 Liu Jo coat
This Liu Jo coat convinces us because of its very timeless, sophisticated and practical style. It is the perfect pick for those of you who lead a busy business life and need to travel to work each day.
It can be perfectly worn for both work, and leisure time. This timeless classic will never be out of fashion, so it's a clever investment that can be worn for years.
Over-sized Talbot Runhof coat
Oh yes, that piece is one of a kind! Look at those compelling sleeves, the rather mysterious colour choice plus its impressive lengths. Get it now or regret it later.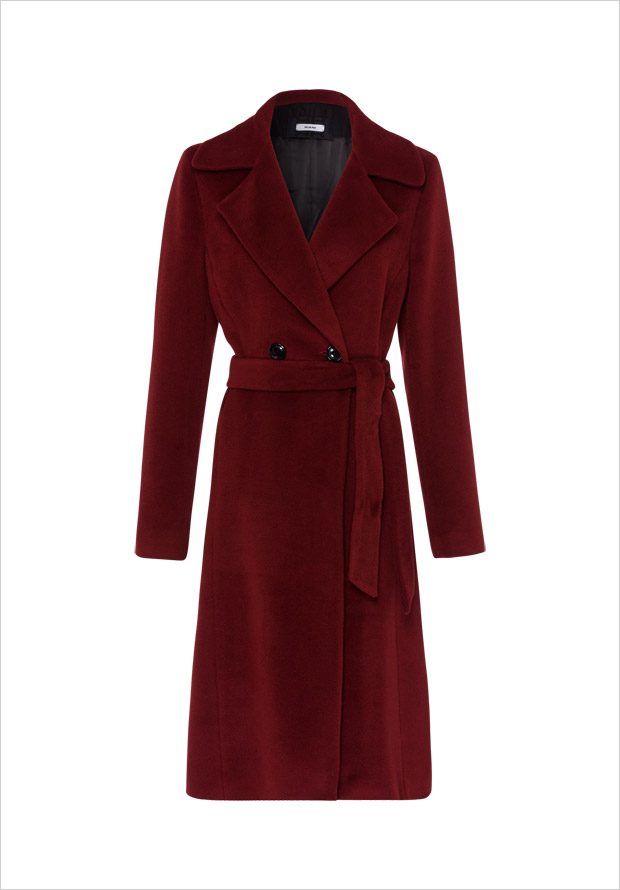 Red, midi-long wool RIANI coat
When talking about dinner dates, what about this figure accentuating, striking red RIANI coat? It is made of 100% wool, so it will certainly keep you warm and comfortable. Simply smooth!
Plum teddy coat by comma
What has been big past season, is still trendy: teddy coats are still present in our hitlist! This version in cool plum never fails….
Leopard-inspired design by Marc Cain
Another proof that leopard- print has its comeback anew this autumn/winter is this cosy piece by Marc Cain. It is made of fake fur and will certainly keep you warm in a highly stylish way.
Black trenchcoat / Black Label by Liu Jo
Black will never be out of fashion, as this night black trenchcoat by Black Label by Liu Jo. Even better: because of its sharp cut, it is a true figure flatterer.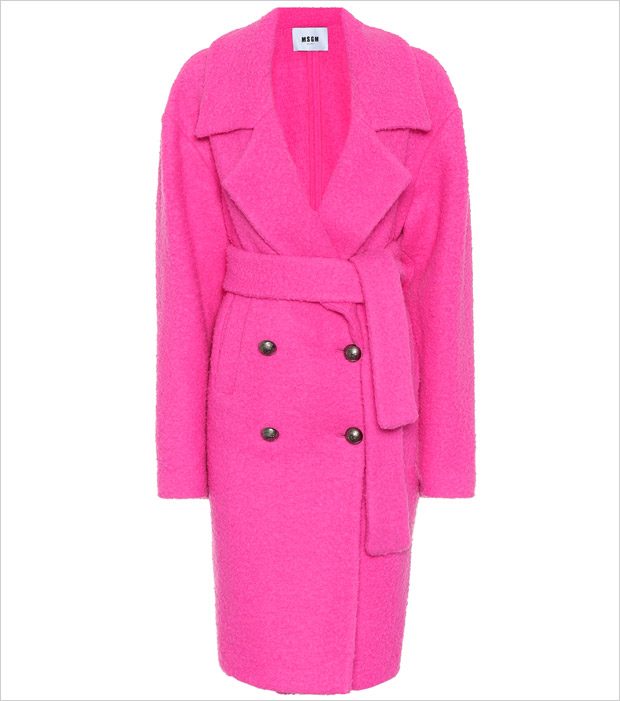 MSGM via MYTHERESA
This bright, eye-popping fuchsia coat is a true highlight in any autumn/ winter wardrobe. But not only because of this lavish colour, but also the very special button array, the comfortable fabrics made of highest quality and the button array make it so highly desirable.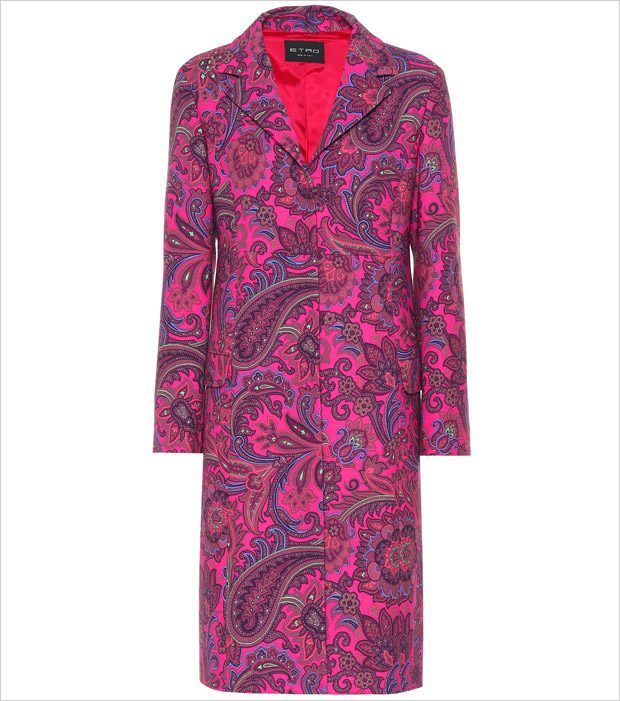 ETRO via MYTHERESA
Fans of ETRO will recognize the paisley print that the renowned Italian traditional label is famous for, as it can be also found in the print choice of this compelling coat. The refreshing colour palette works incredibly well together: fuchsia, lavender, mint and various shades of blue make this piece a true eye- catcher. Powerful, sophisticated, strong.

PRADA via MYTHERESA
This is a timeless, sophisticated piece you will buy now, and wear for decades. Its impressive length and the very special- detail awareness make this coat stand out from any crowd. It can be worn at any age and for any occassion.
To sum up the latest trends for you: classics will never be out of fashion and are always a good investment that can be worn for many years. Sophisticated nuances, such as champagne and beige, make them irresistible. Oversized- coats are not only super comfortable, but also highly trendy. Teddy coats, that were big in previous seasons, are still trendy. It is always a good idea to invest in a piece of good quality, as you can wear it for many seasons. Playful details play a central role in many model and add a highly unique approach. Leopard prints have another comeback this autumn/ winter and so have the typical autumn shades, such as wine red or night blue. Stay stylish and warm!
Review by Sussan Zeck for D'SCENE Magazine