Fall is upon us, and with that comes a new season of fashion to look forward to, but what do we actually have in store for us this year that will be turning heads? While not everyone wants to take the risk, there are so many different looks on the runways this year that there should be something for just about everyone.
Let's take a look at what's coming down the catwalk that you can stay on top of all the current trends and have your friends coming to you for fashion advice.
Animal Prints Are Back
That's right, forget any ideas that zebra stripes and leopard prints are in embarrassing to be seen in, while in fact, quite the opposite as both of these are making a huge comeback for the fall of 2018. If you want proof, both prints have been seen on the catwalks of top designers such as Tom Ford, Victoria Beckham, Balenciaga, Givenchy, and Calvin Klein. However, this year's look includes flats and a pared-down look. In fact for our DESIGN SCENE Magazine September 2018 issue we have supermodel Aline Weber wearing the must-have Tom Ford animal print suit from the designer's Fall Winter 2018 collection.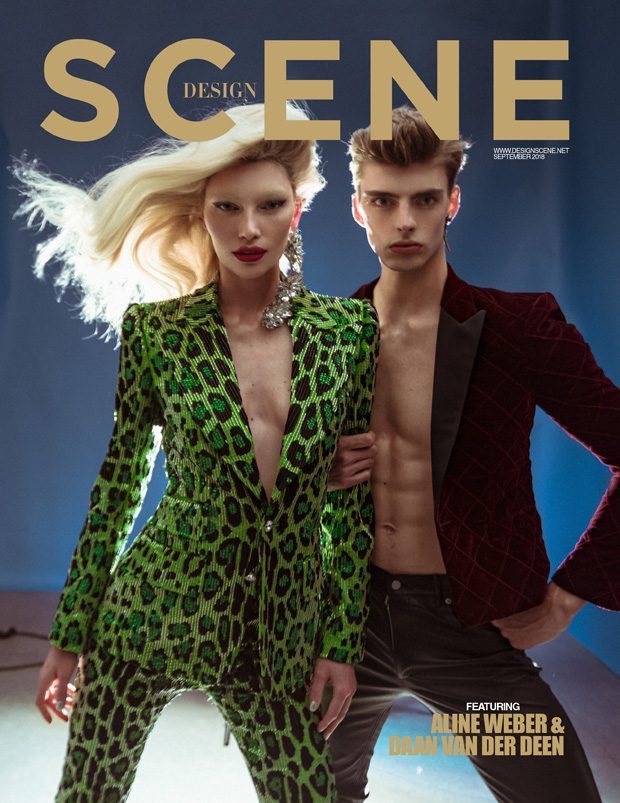 Aline Weber wearing Tom Ford animal print suit and jacket for DESIGN SCENE Magazine September 2018 Issue – ©photo Alejandro Cabezut
In-Your-Face is Out
For years fashion for women meant an over the top look, with coverage not leaving much to the imagination, however, this fall others are taking a more modest approach to their styles. The look on the runway is far more covered up than it has been in a very long time. Hemlines are dropping, prim and proper shirts are being worn under evening dresses with stockings. While hemlines are going lower, necklines are going up, creating one of the most modest fall seasons in recent memory. However, it would appear that Yves St. Laurent and Christopher Kane are choosing not to follow this trend.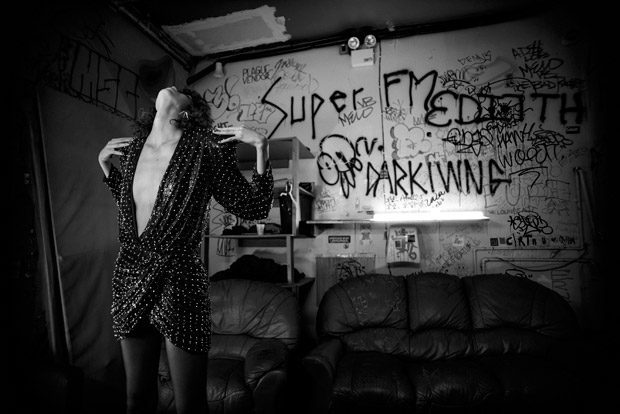 Supermodel Mica Arganaraz Models Saint Laurent Winter 2018 Collection in designer Anthony Vaccarello's mini dress. Image courtesy of ©Saint Laurent
Let High Gloss Shine
These materials include vinyl, plastic (which was the hot look in summer 2018), latex, and of course leather. For example, Chanel has been hard at work using metallics to create a shiny material. At the same time, Simone Rocha created a line of very feminine dresses with a look from patent red leather. Even Fendi stepped up by giving their trench coat an all-new glossy rain-proof finish.
Supermodel Abbey Lee Kershaw in FENDI glossy fall winter 2018 look, photo Karl Lagerfeld
To Top It All Off
Headwear makes a big return for fall of 2018. Hot this year are knit balaclavas as have been seen from Gucci, Calvin Klein, and Preen, who all have models strutting down the catwalks sporting their own take on the look. Now you can stay warm all winter long while wearing the latest styles from the best designers in the industry. Fall fashion is taking a new direction for 2018, with modesty being the name of the game this season, which is almost unheard of in the fashion industry.
From leather to tweed and from hoods to checks, this year's fall fashions are sure to be a hit. Whatever your decision, buying an essential luxury brand piece would make a great investment, perhaps as worthy of an investment as a condo in the city? No doubt a cheaper one.