You thought your sangeet attire is not as important as your wedding one? Well, it may not be true. The Sangeet ceremony and Mehendi are one of the most important events of a wedding for the couple, family and friends. This is the time when you can enjoy with your loved ones without a care in the world. Unlike other events like engagement and the wedding, it will be less about traditional rituals, ceremonies, formalities and more about having fun and making memories.
Also, this is the one time when you don't have to follow customs and traditions and dress the way you love. The bridal attire requires brides to wear certain jewelry and wrap their outfits in a specific manner. However, a Mehendi or a sangeet is one such event when you can break some rules and flaunt your personal taste and preference as you like. Therefore, your style and swagger should be on point. All eyes are going to be on the bride and she cannot look anything less than stunning. There are going to be lots of photographs and videos. Also, this might be the first time you will meet your husband's masi, chachi, bua, and other distant relatives. Brides-to-be! It is suggested that you give your Mehendi ceremony a stylish touch by wearing designer lehengas.
However, don't go overboard with the embellishments on it. Since it's an important pre-wedding function where there is going to be lots of "dance and master," you don't want to find yourself under the burden of heavily embellished lehenga. Go for something lighter in weight but colorful and vibrant in appeal. It should be something that will bring out your fun side and elevate your personal charm. Here are a few designer lehengas ideas for the bride-to-be to look pretty and stay comfortable on the best day of your life.
Eternal Florals
Women's love affair with floral prints is everlasting. These are chic and youthful. Floral designer lehengas are all you need for your Mehendi and sangeet as it will accentuate your feminine charm and enhance your natural beauty. However, avoid wearing floral jewelry with floral lehengas as it will dim the outfit's appeal. Meanwhile, a delicate mathapatti will complement the attire wonderfully. Opting colors like cobalt blue, dull pink, greys, sage green, vibrant yellow, fiery orange, Persian purples and more will make you look gorgeous.
Cape it up
The latest in trend and extremely voguish are cape designer lehengas. For modern brides, this is a perfect choice for their pre-wedding function. A sheer cape with intricate embroideries and dainty motifs paired with a magnificent skirt makes for a perfect Mehendi attire. Remarkably stylish, this attire is bound to make the bride look like a million dollar. Without the hassle of carrying the dupatta around, a cape lehenga will let you enjoy the time free and easy. A unique collection of designer lehengas at Lashkaraa.com might include the lehenga of your dreams. Check it out here.
Jacketed charm
Short and long jackets are back in trend and they are ruling the charts. Pairing up a simple lehenga with an extravagantly designed long or short jacket will make the bride look like a glorious queen and add a vintage charm to the ensemble. Raw silk jackets handcrafted with intricate embroideries and zardozi work are some of the most beautiful options for jacket lehengas. Paired with antique jewelry, this attire is bound to enhance your bridal glow.
Monotone marvel
Monotones may not be as monotonous as they are thought to be. The newest trend suggests that monotones are absolutely magical if styled right. Designer lehengas in a single color are quite in fashion. Not every girl can rock this number. A fashionista with a classy taste of accessories will look gorgeous in a monotone lehenga. This is a perfect attire to impress the crowd and take your fashion game forward. Colors like rose gold, golds, whites, ivories, midnight blue, and emerald green are some ideal option for this scintillating outfit.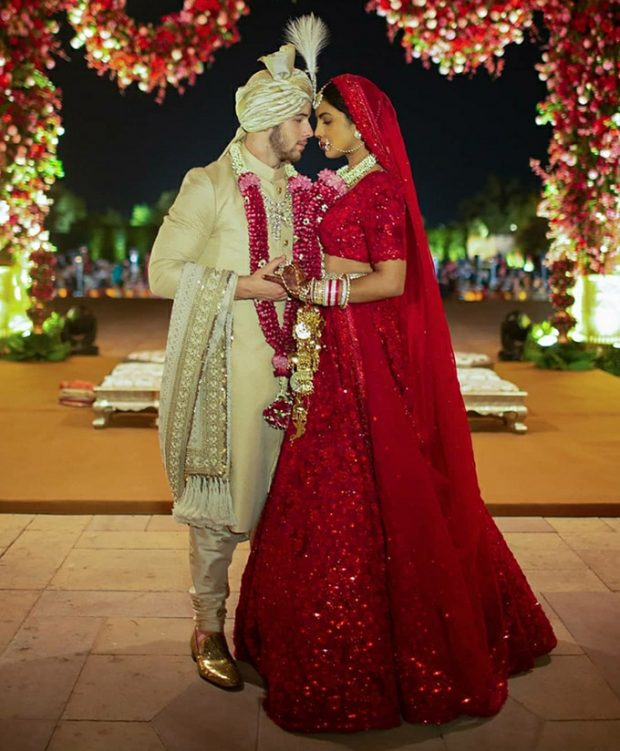 Benarasi Extravaganza
Who is not familiar with the richness of benarasi silk. Designer lehengas made with benarasi silk are an ideal choice for a bride with a sophisticated choice. In the past few years, the top designers have glorified this fabric with their magnificent collection of designer lehengas. Since ages, benarasi silk remains the first preference of women in India for auspicious occasions. The fabric exudes sartorial elegance and adds regal charm to the wearer's personality. The finesse of the fabric and intricate weaves speaks a lot about the meticulous craftsmanship. Each piece is unique, and it is an absolute splendor. It is an elegant and stylish attire in the most traditional manner.
Crop top lehengas
For those who are looking for bold and edgier look, a lehenga with a crop top is a perfect pick for you. There is no dearth of patterns to choose from when it comes to this fashion-forward style of designer lehengas. This is a show stopping-style that is definitely going to win hearts at the gathering.  A skimpy top and an opulently designed lehenga will make you look chic and glamorous.
Ruffles rage
The newest in town is ruffled designer lehengas. With ruffles on your skirt and a sexy backless top, this kind of outfit is a sight to behold. Ruffles and frills are an ongoing trend in ethnic wear industry and there is no ethnic outfit that doesn't look good with ruffles at the bottom. It's unique and unconventional and it will allow the wearer to make a statement of her own.
With so many trendy designer lehengas to choose from for your Mehendi, you shall now focus on enjoying the upcoming events. This time is never coming back, and you surely want to make the most of it.
Images from @priyankachopra