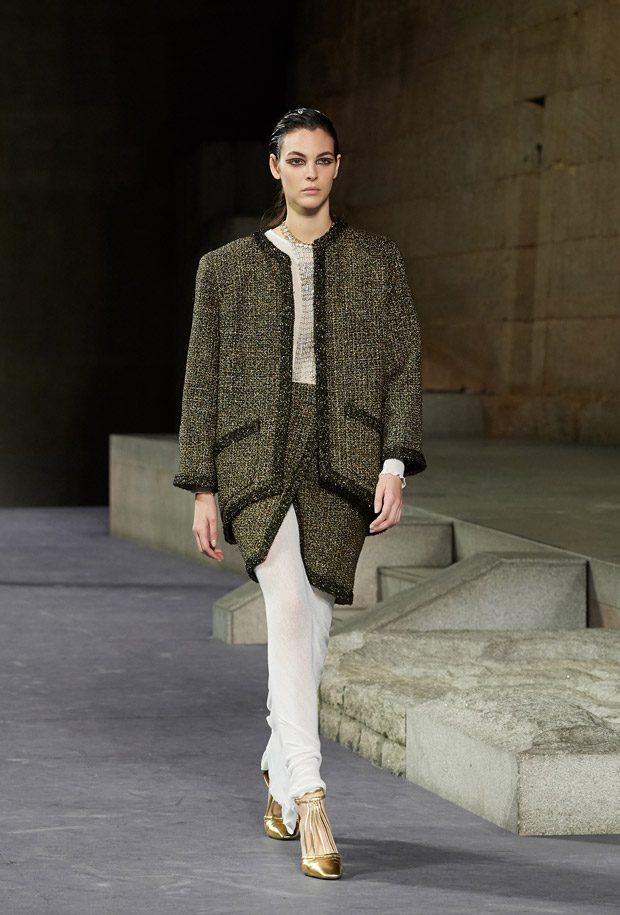 The one and only Karl Lagerfeld presented CHANEL's Métiers d'art 2018.19 Paris – New York collection, inspired by the Egyptian civilization, at the Temple of Dendur at the Metropolitan Museum of Art in New York. Part of the collection also pays tribute to the energy of New York, with pieces that feature prints by the graffiti artist Cyril Kongo.
"Lines are clear and simple, shapes are pure, geometric and distinct: a graphic strength so dear to the stylistic grammar of the House. The silhouettes vibrate under the sun, with optical lines that are almost kinetic. The look is slender, lively and ultra-feminine, the hips emphasised by a wide belt, the shoulders highlighted with a plastron collar. Day dresses, suits and coats are worn knee-length, with a hemline that's slightly shorter at the front, occasionally adopting the allure of a wraparound skirt.
Gold, so cherished by Gabrielle Chanel, is everywhere, with so many variations it becomes a colour in its own right. Gold aged and burnished by time, gold dazzling with sunlight, sparkling gold, shimmering gold, crackled gold, flamboyant almost disco gold, gold tinged with bronze… Responding to the brilliance of this gold the wefts of the tweeds in beiges, whites and blacks reveal subtle and deep colours, turquoise or lapis lazuli blue, coral orange or ochre yellow, dark purple or coralline red. The braids are incredibly delicate, woven from mohair, gold thread and beaded cotton thread, embroidered with tiny stone squares in coral or gold, or with mini pyramids of turquoise, jade green and copper tubes, laid in relief. The hats, by the Maison Michel, accentuate the purity of the silhouette: ultra-modern boaters with a folded back brim that come in crackled gold leather.
The complicity between Karl Lagerfeld and the CHANEL Métiers d'art takes shape as a perpetual creative dialogue, which illustrates the sumptuous elegance of the silhouettes and accessories in the collection. A resin plastron, asymmetric glass casts and golden leaves create an optical game of colours, just like Plexiglas, and a transcending reference to the skin of a crocodile. A shower of sequins seems to have been blown by the wind over a white dress, an embroidery featuring lotus flowers skims the hem of a skirt like a bas-relief: once again the embroidery ateliers at the Houses of Montex and Lesage demonstrate their art. The House of Lemarié depicts a graphic reinterpretation of Egyptian paintings, with delicate yet spectacular feather marquetry combining deep red, black and lapis lazuli blue, and appliqués on a plastron collar of miniscule flowers in denim and gold leather, cut with a raw edge and highlighted with beads. Knitwear is sophisticated: dresses and long cardigans in faded gold, bronze, turquoise and dusky blue jacquard… The buttons made by the House of Desrues, in sparkling and patinated gold metal or enamelled, are embellished with coloured cabochons or very 80s-style strips of strass."
To see more looks from Karl's modern interpretation of Egyptian culture continue below: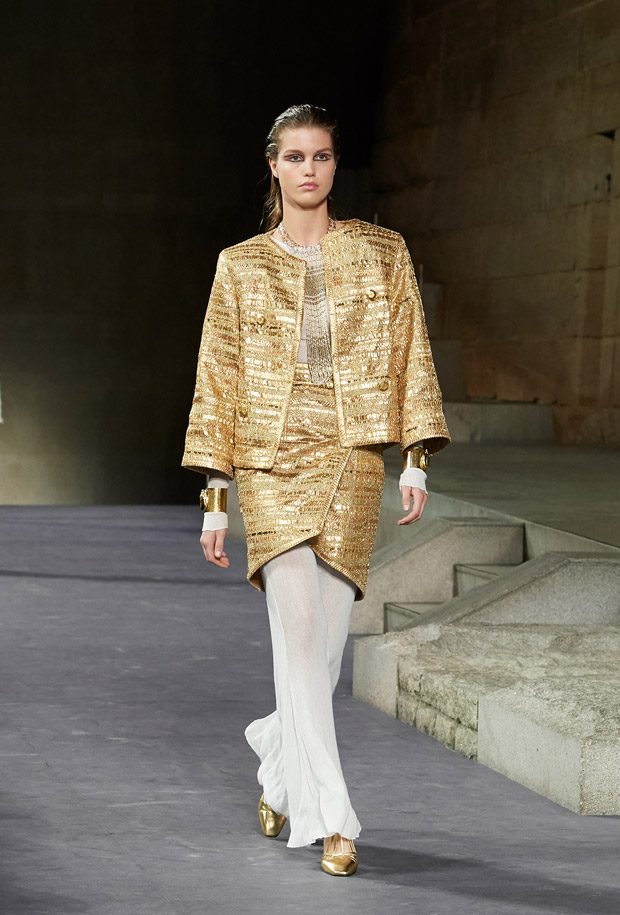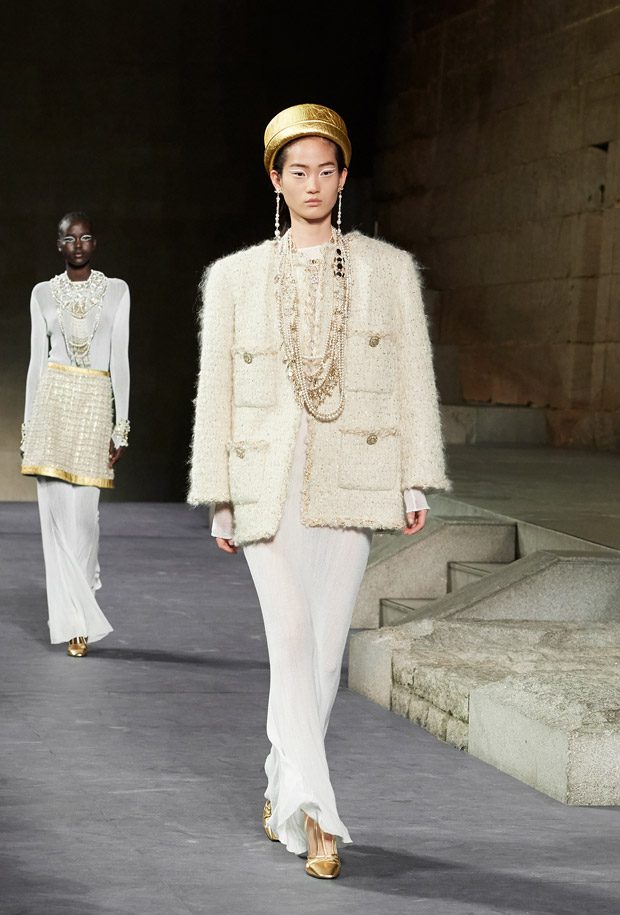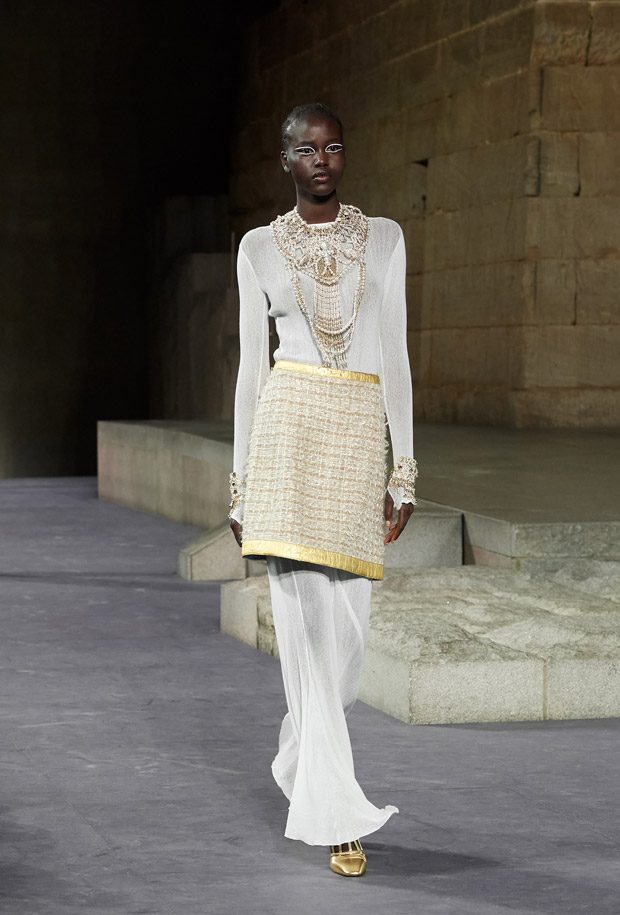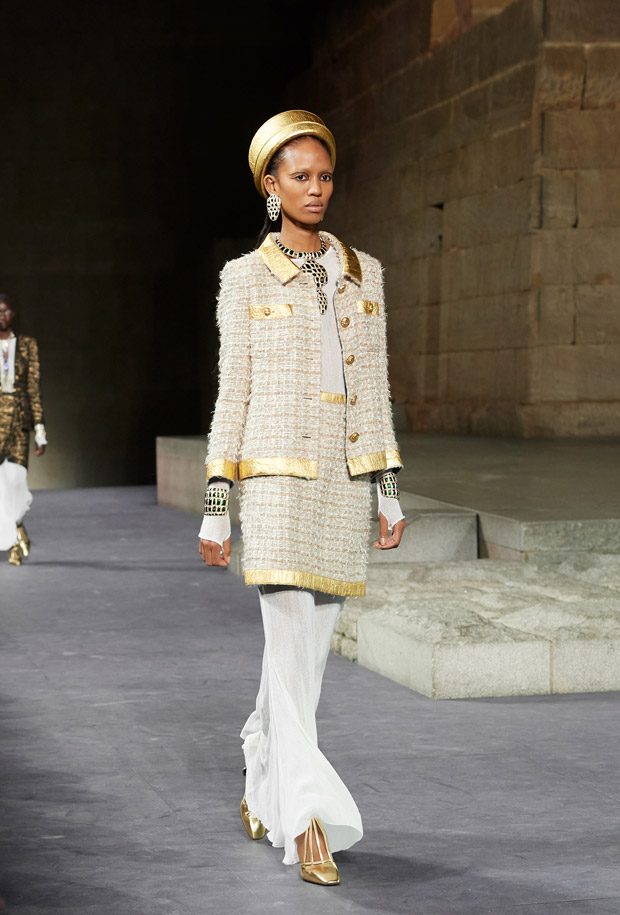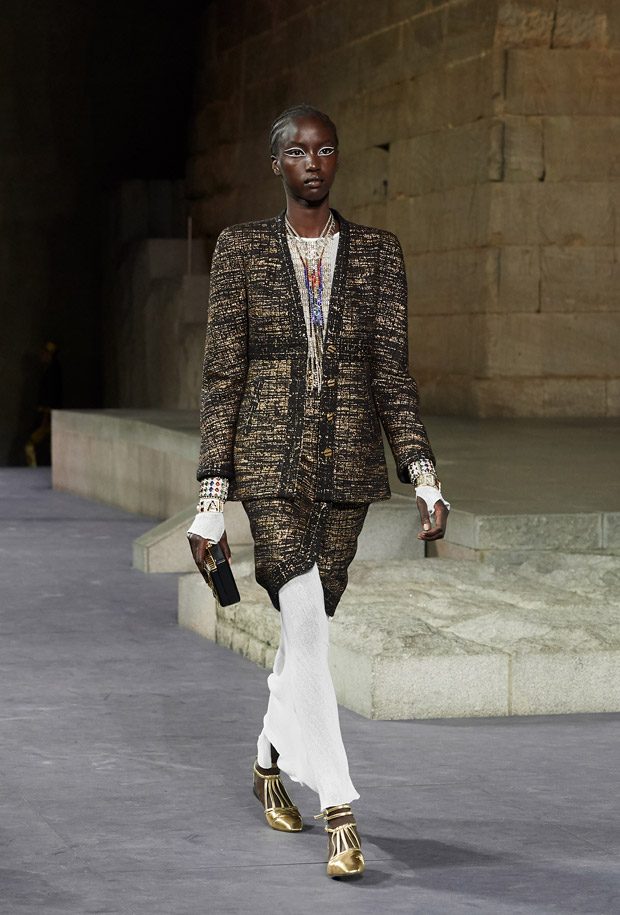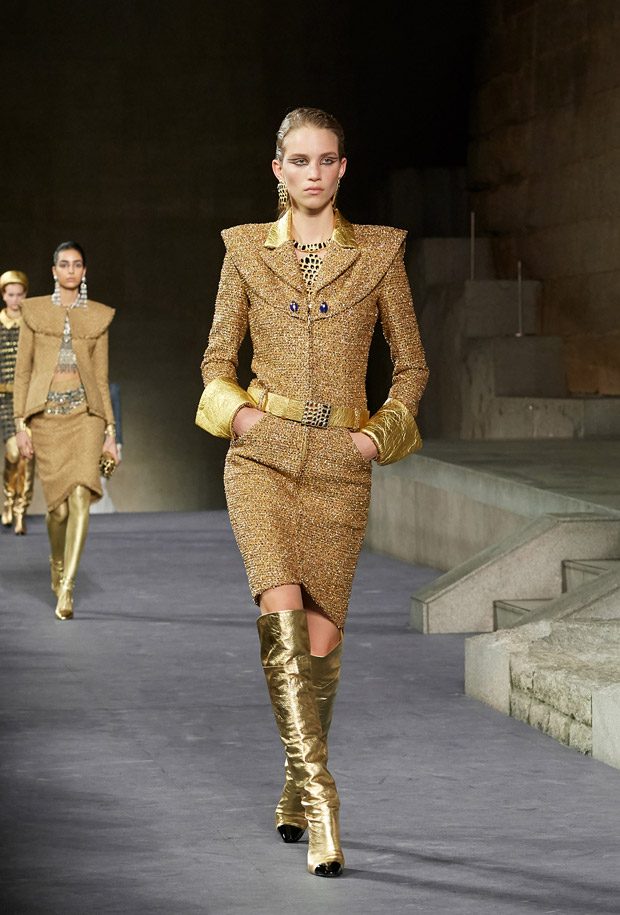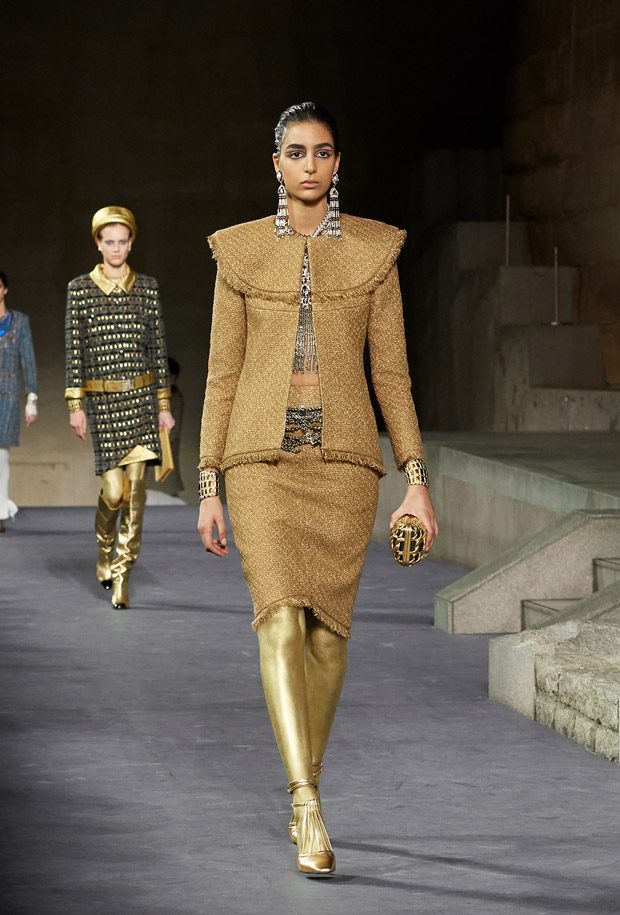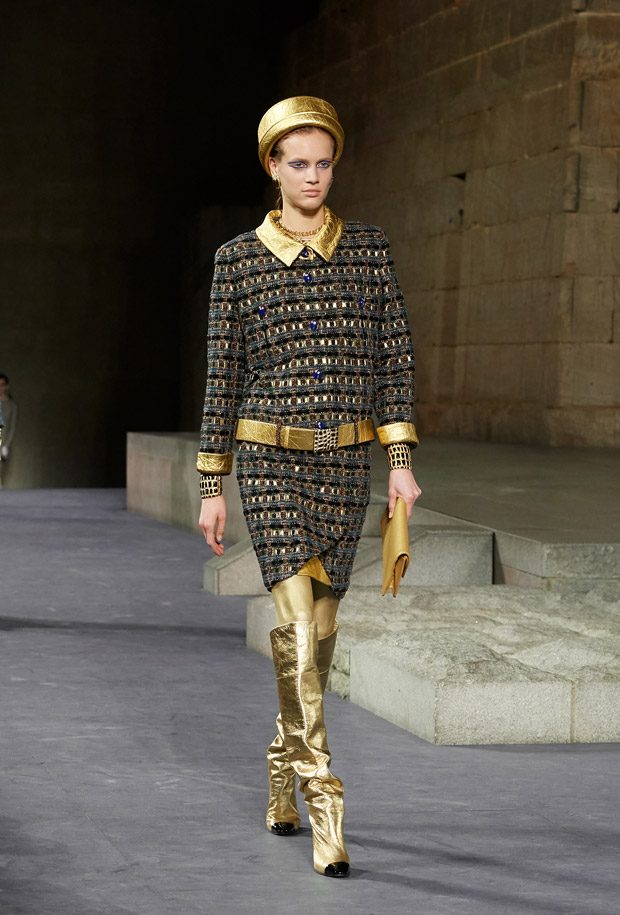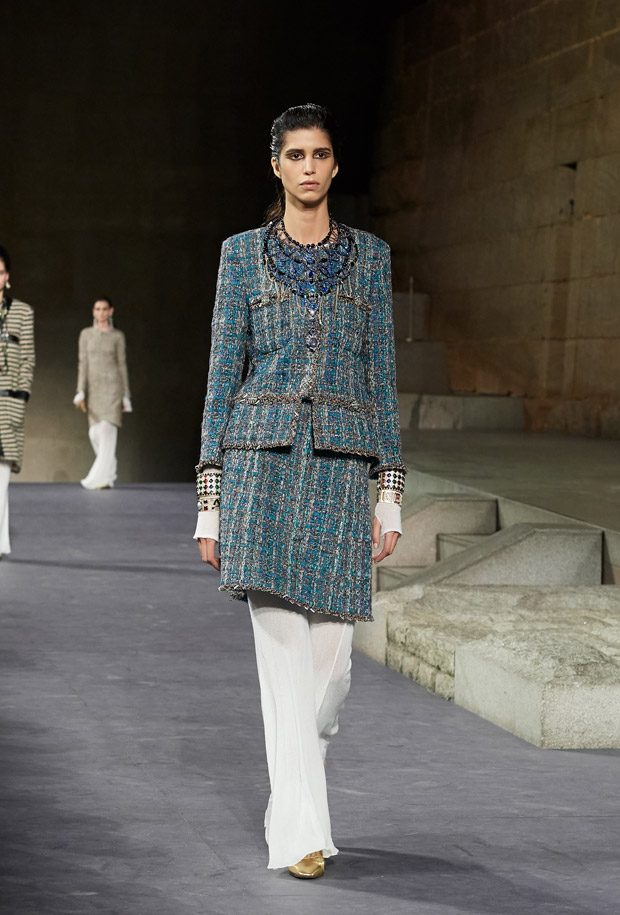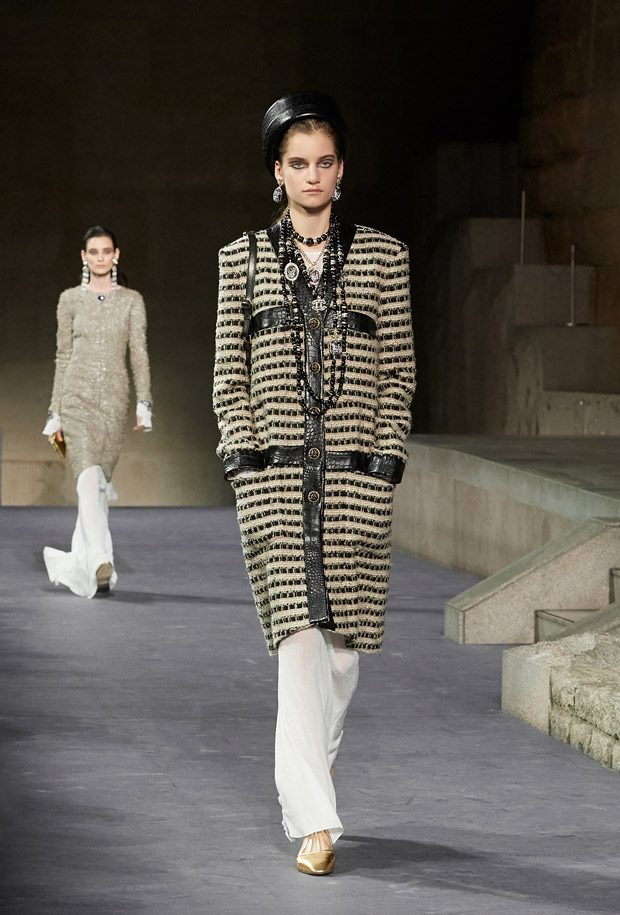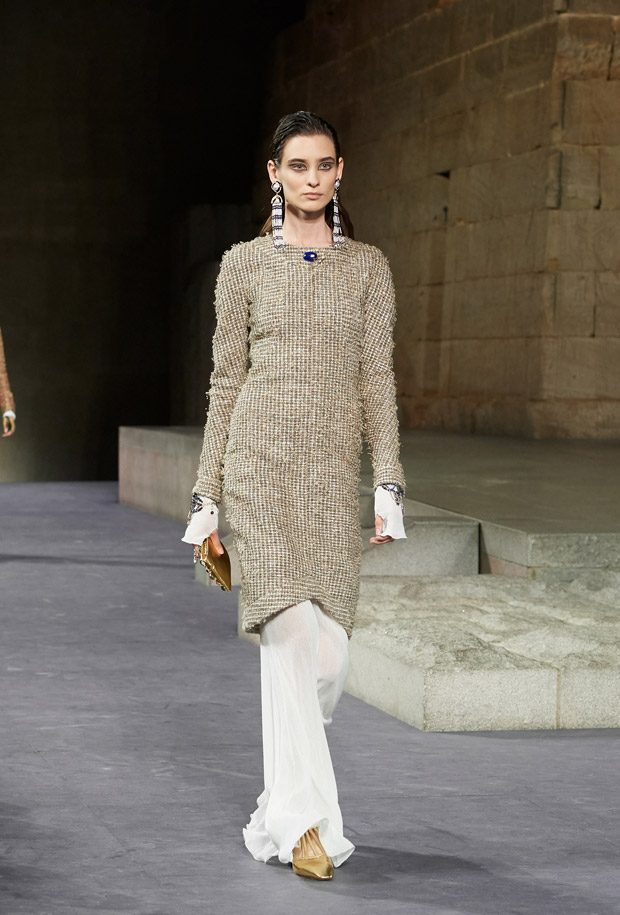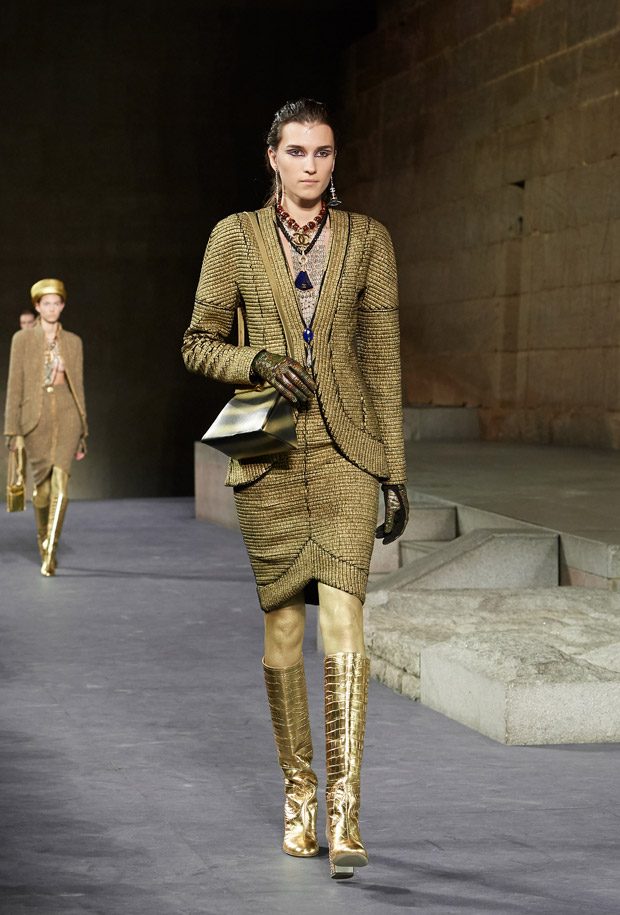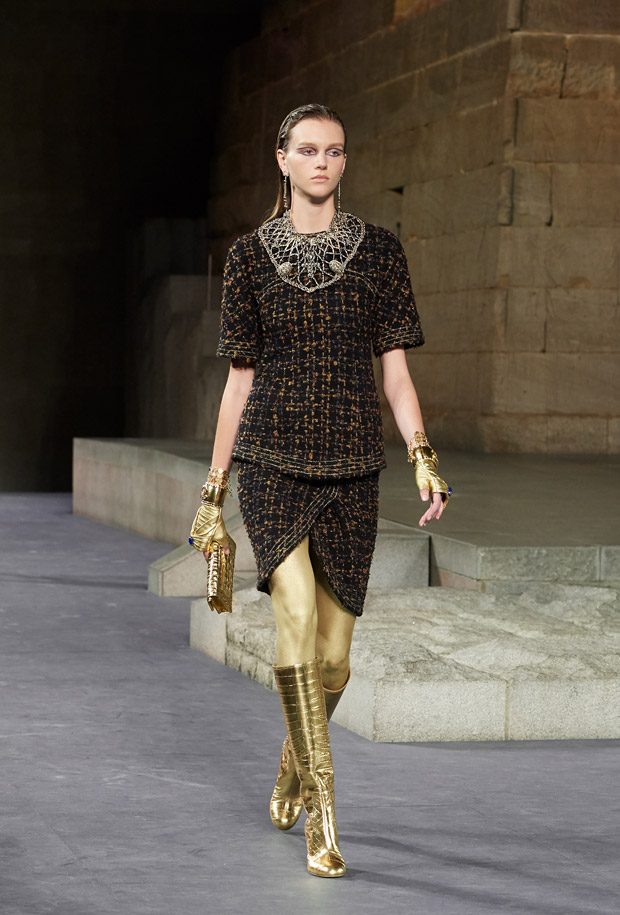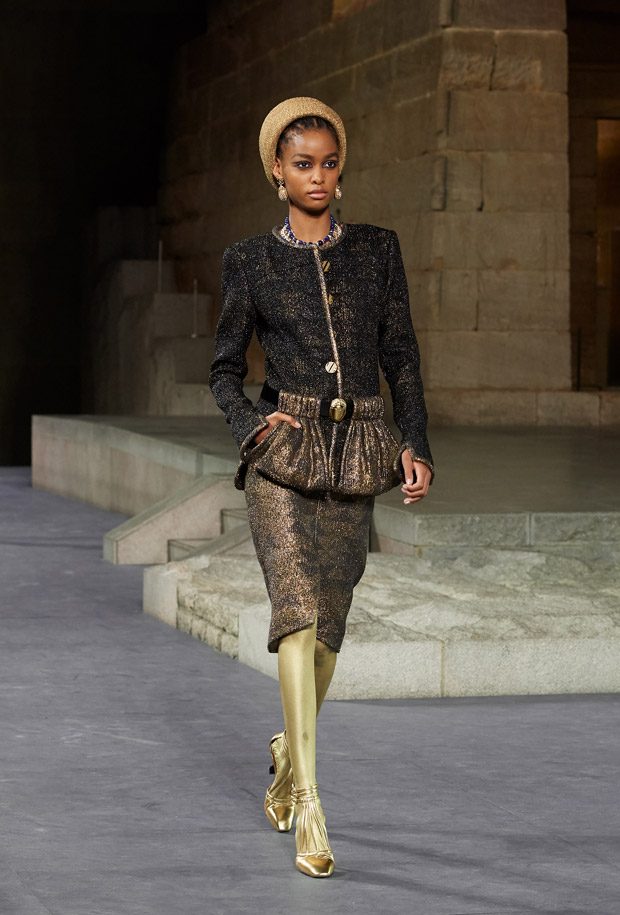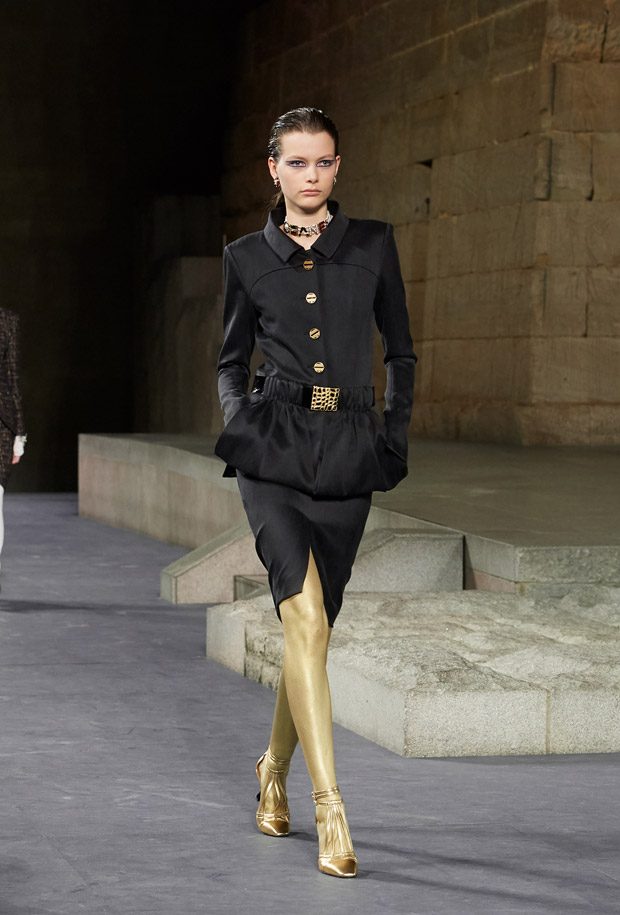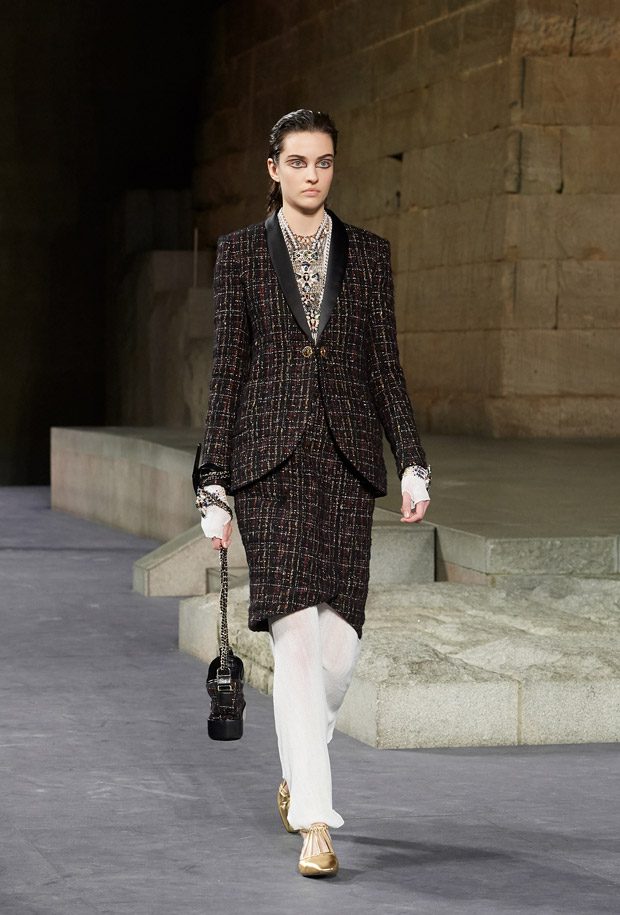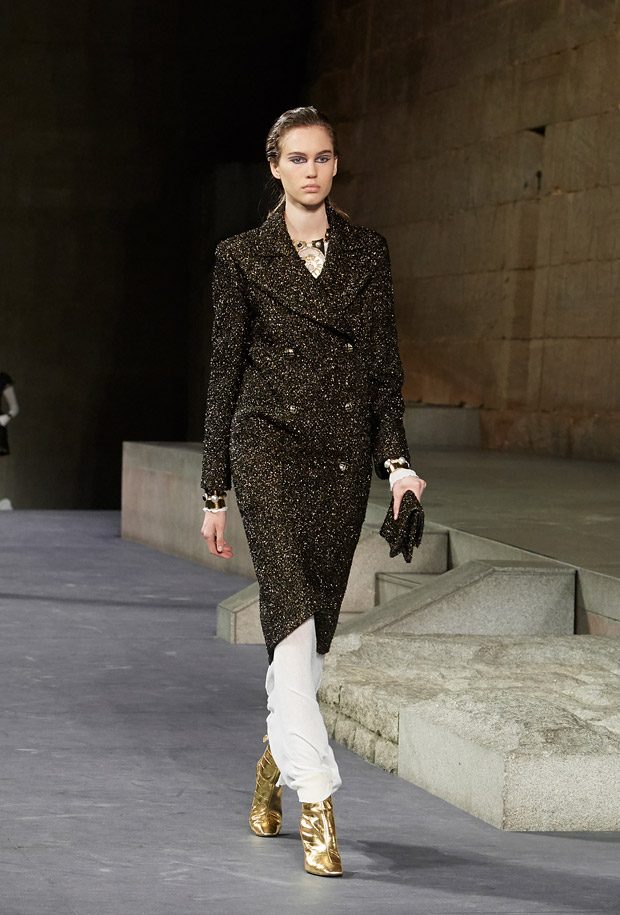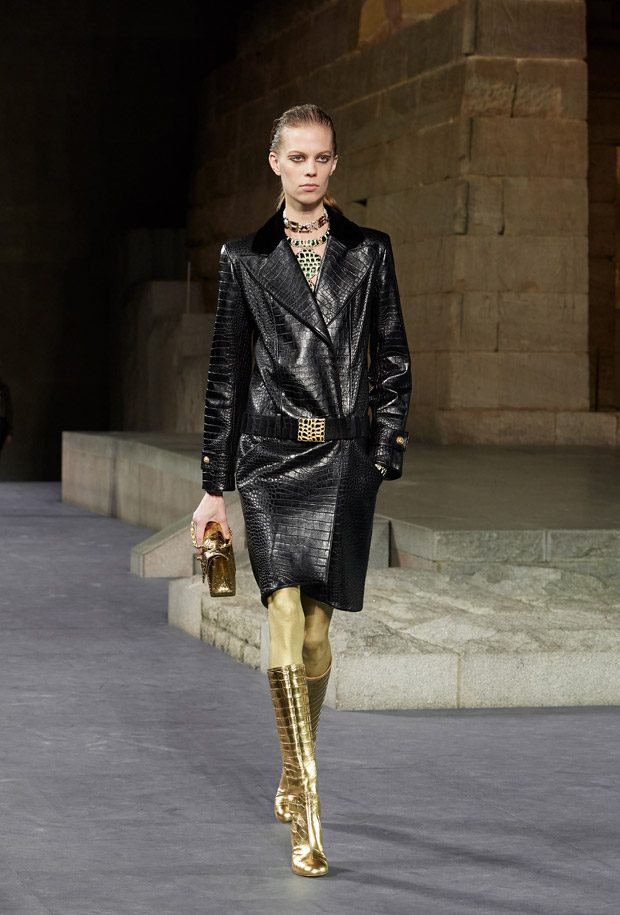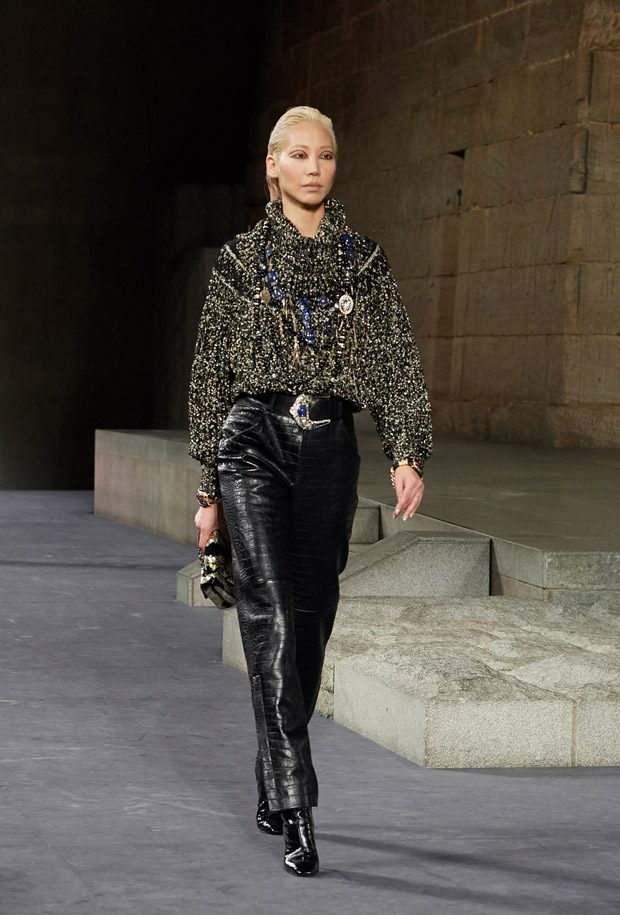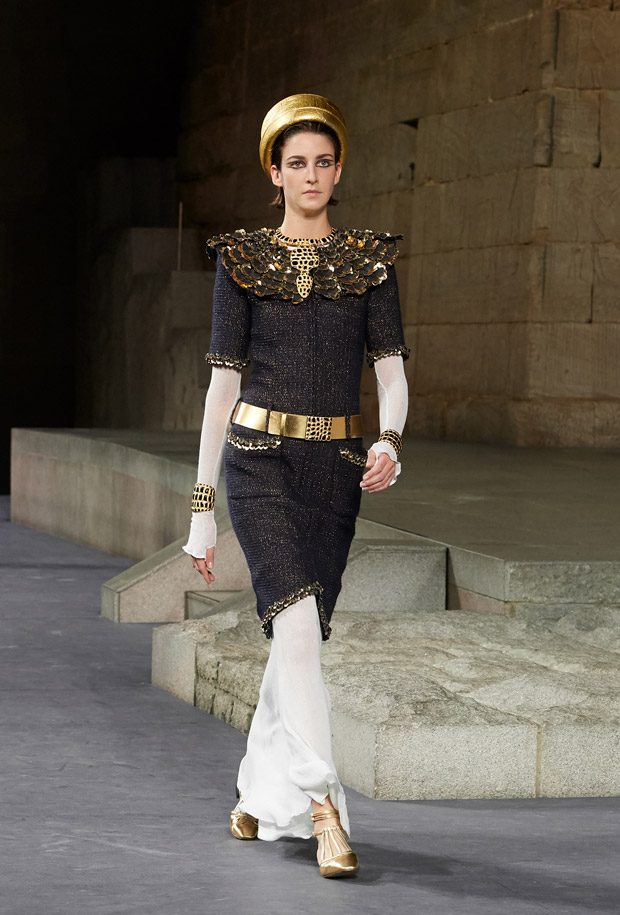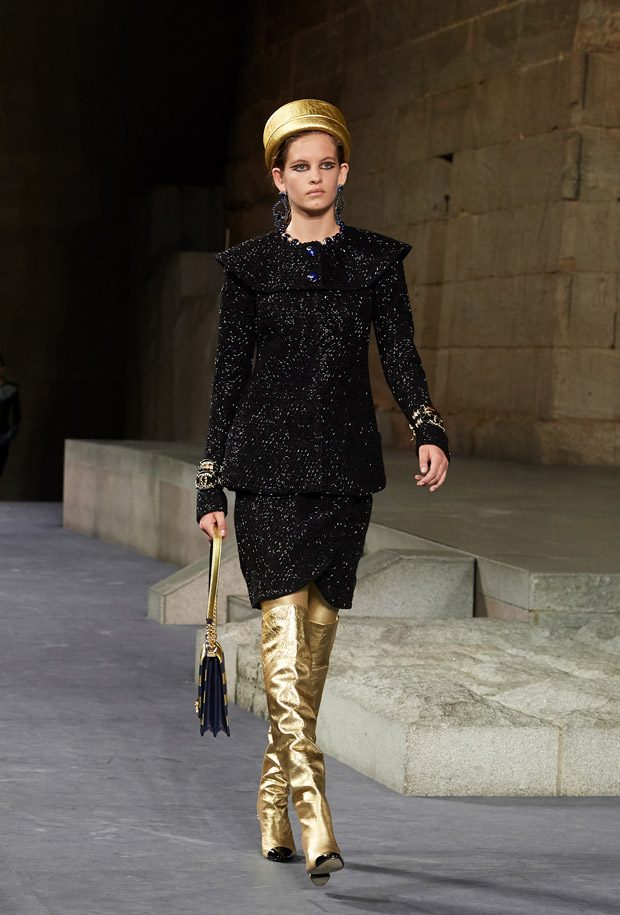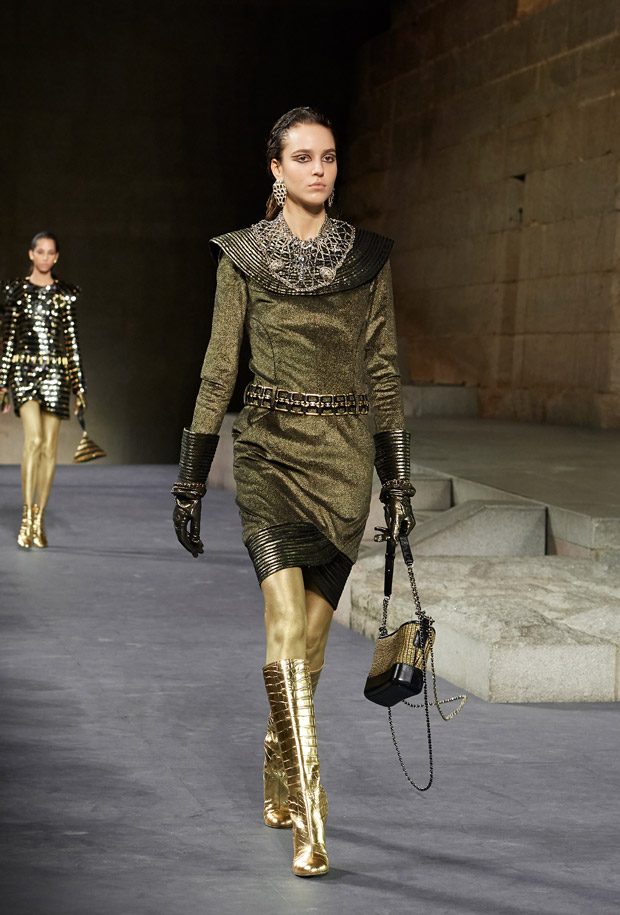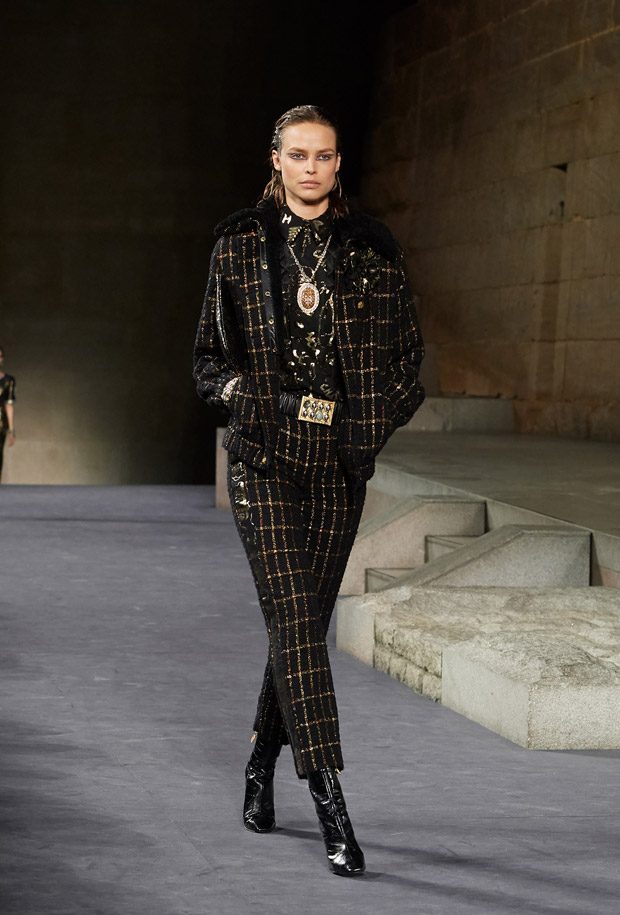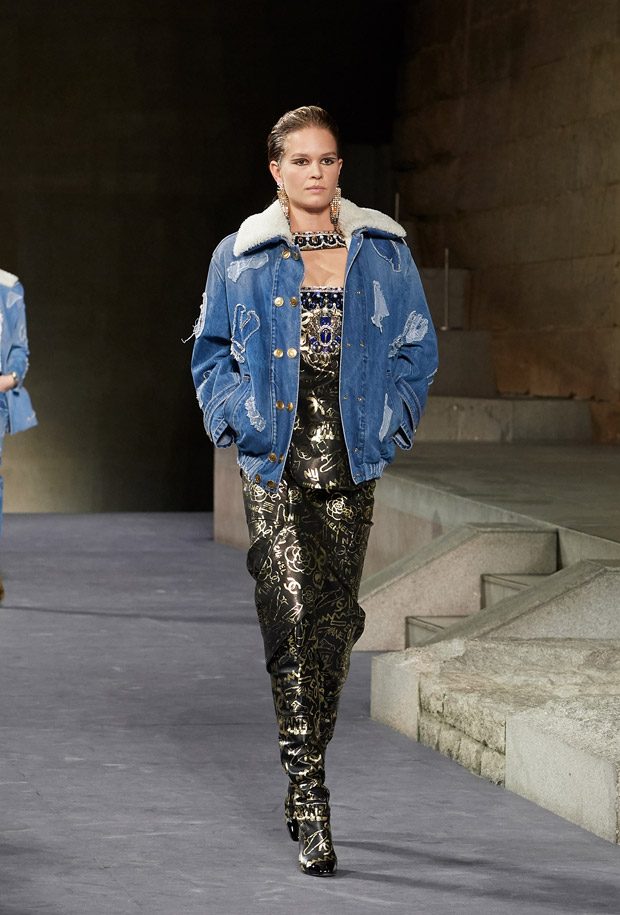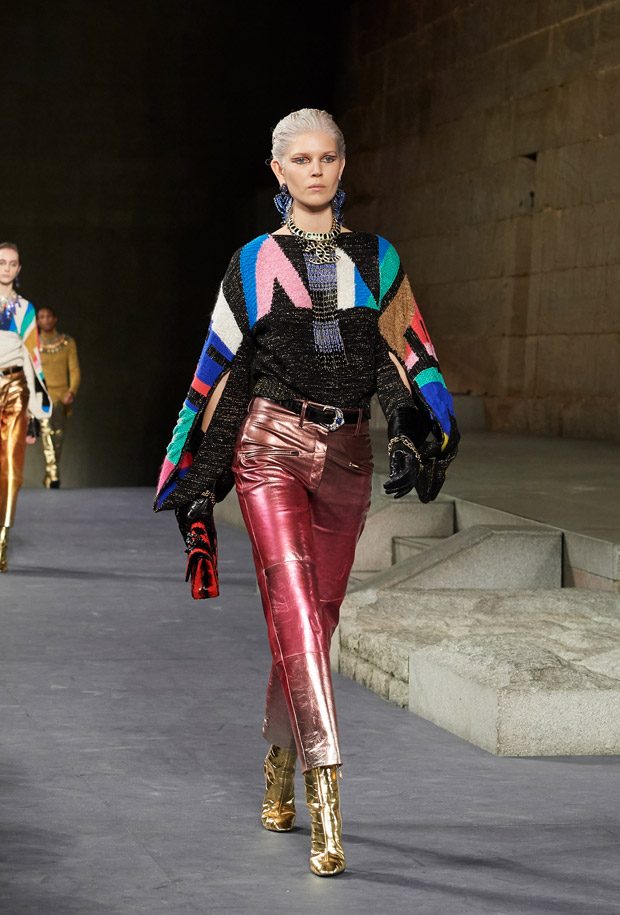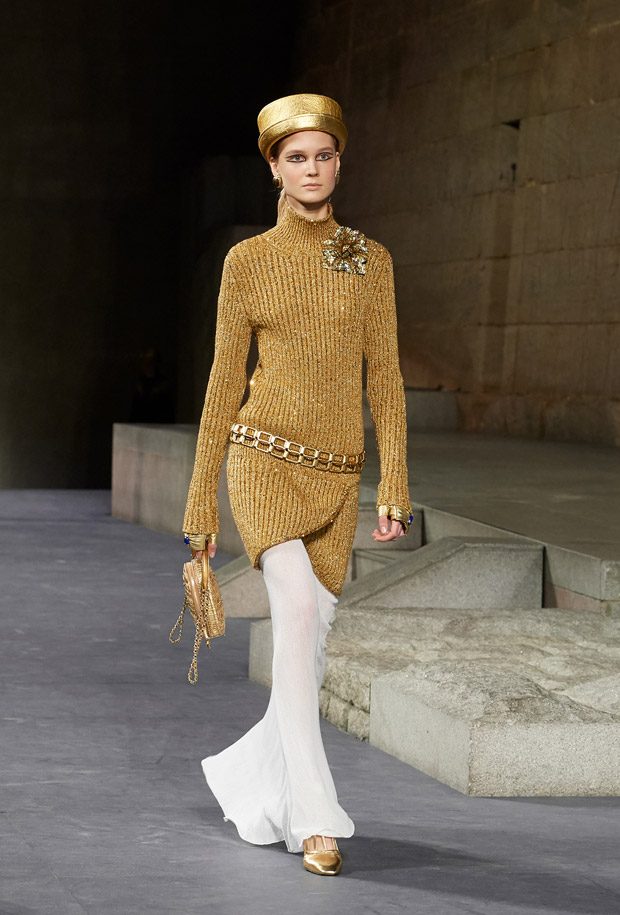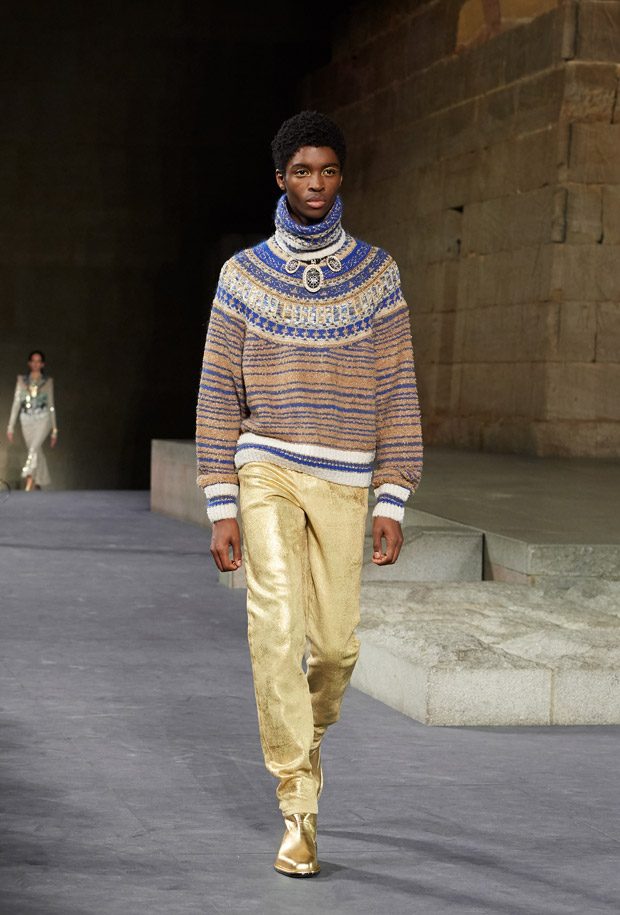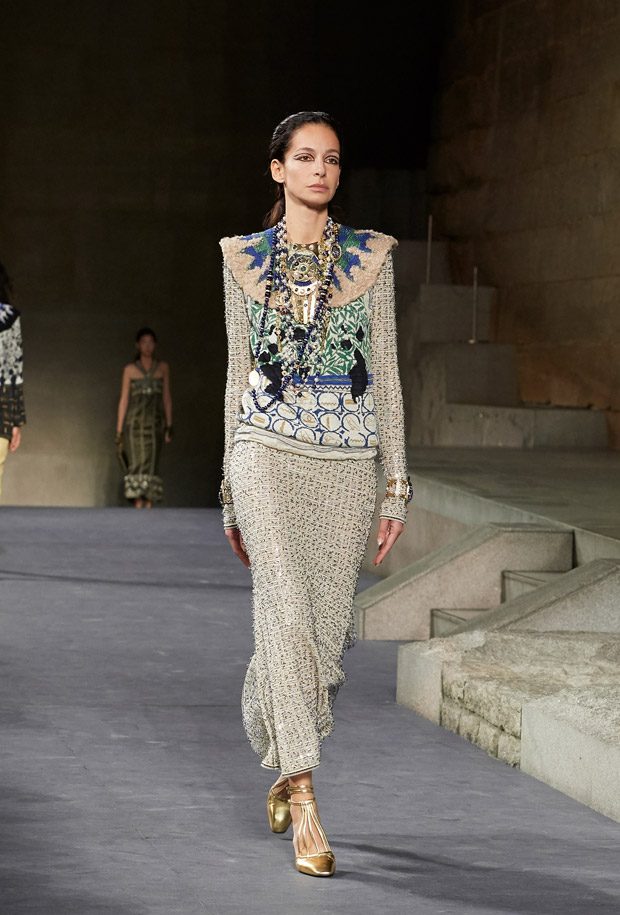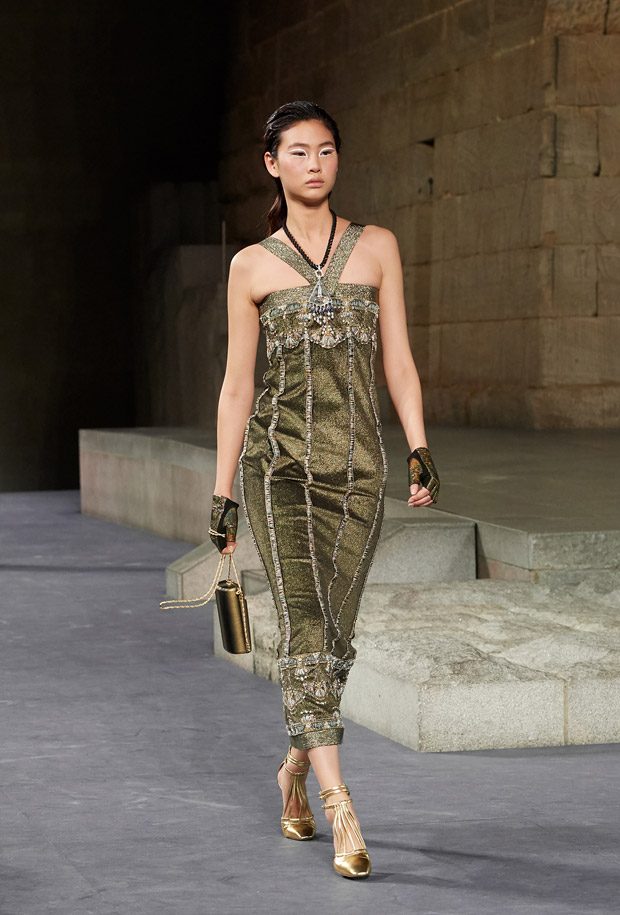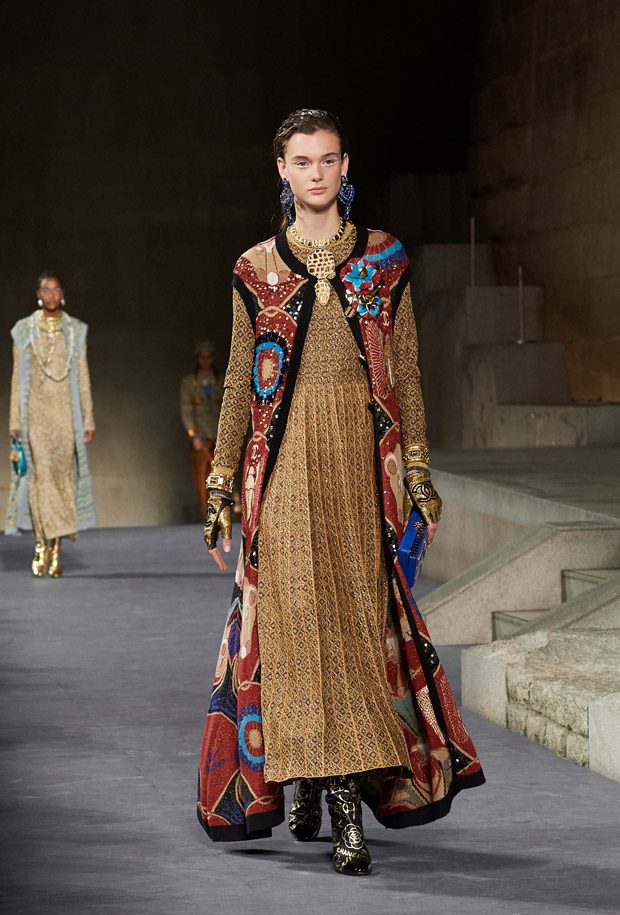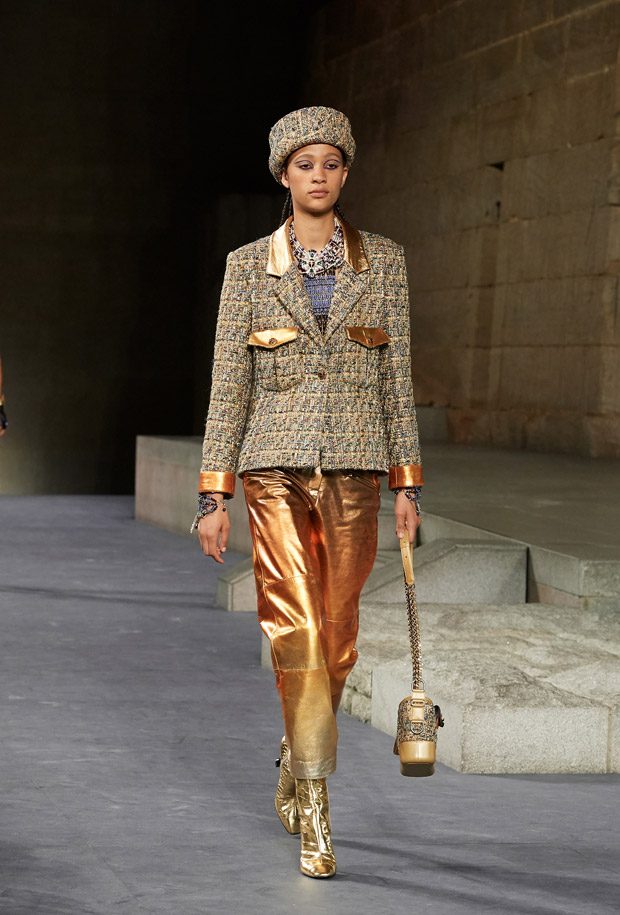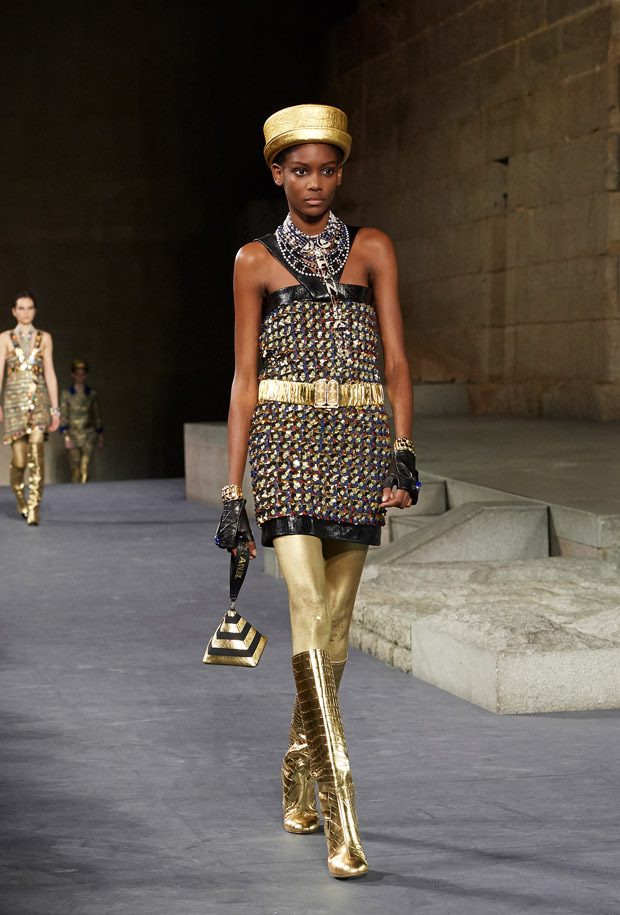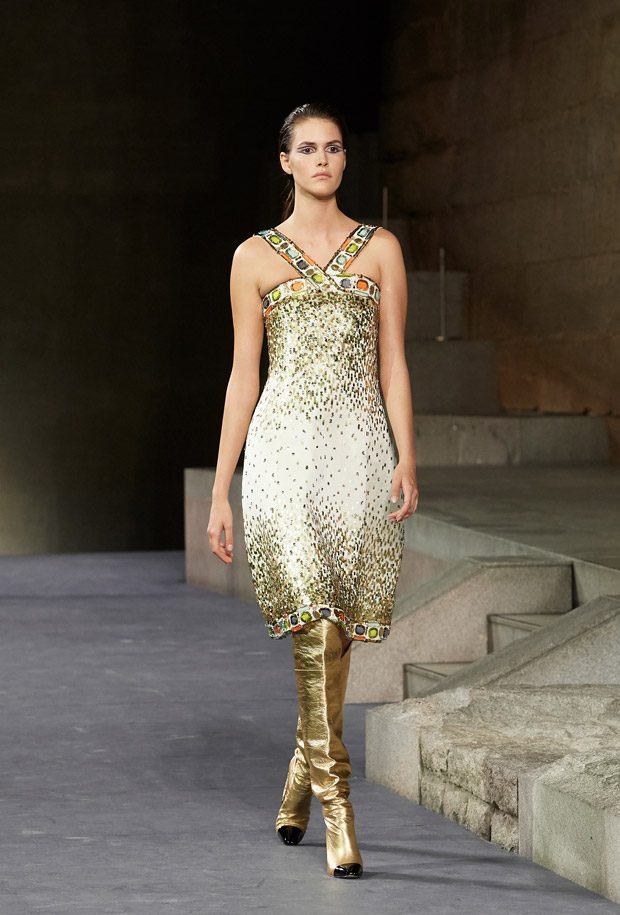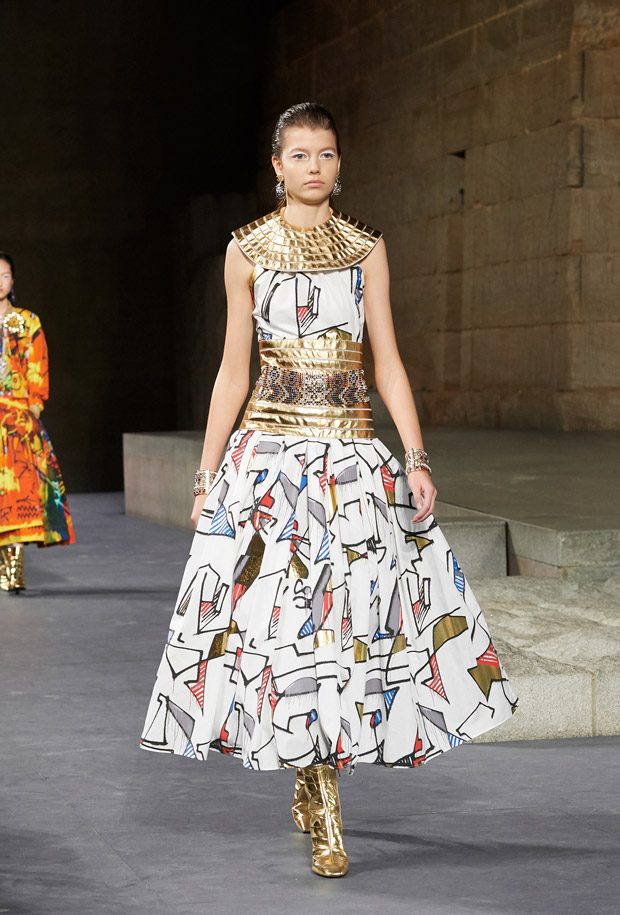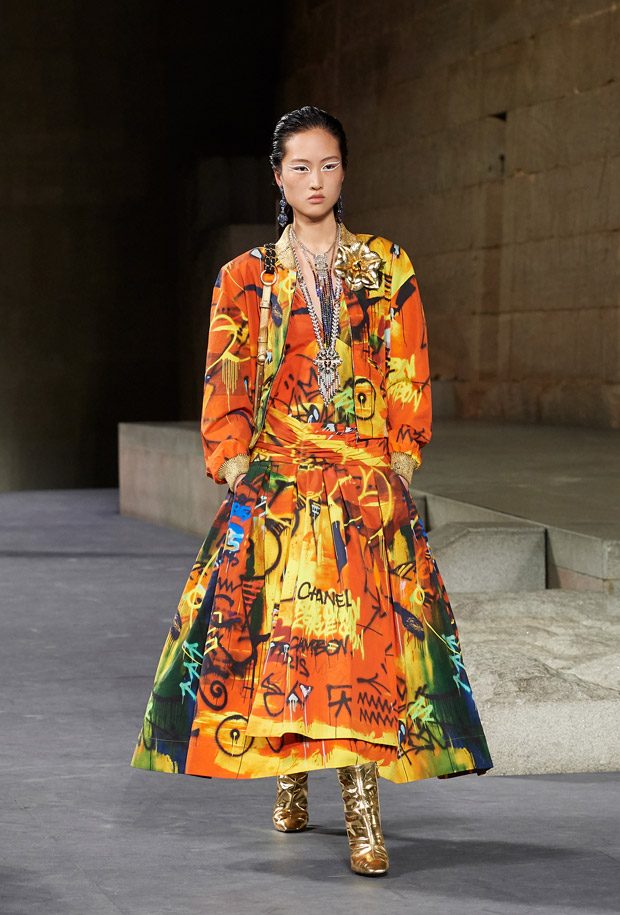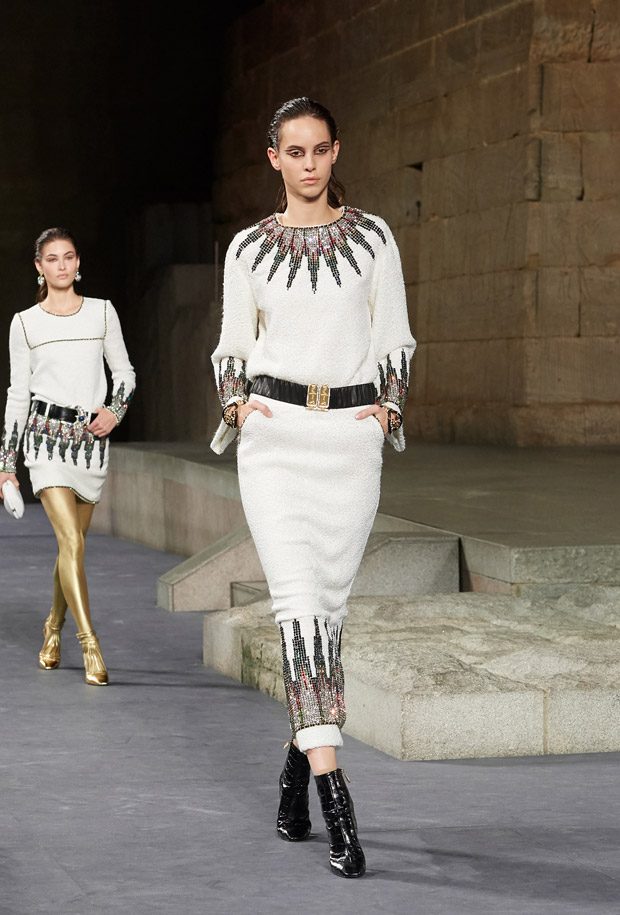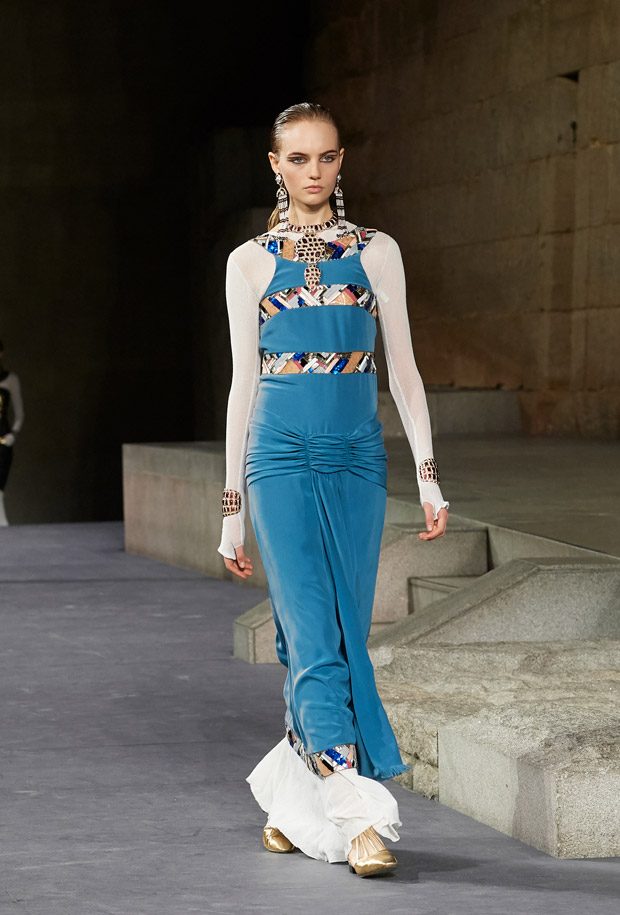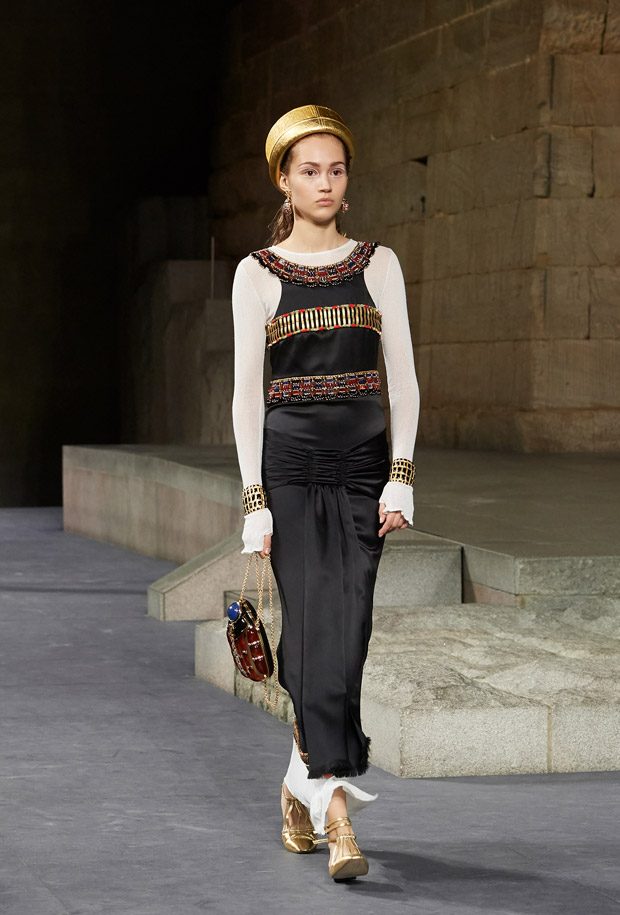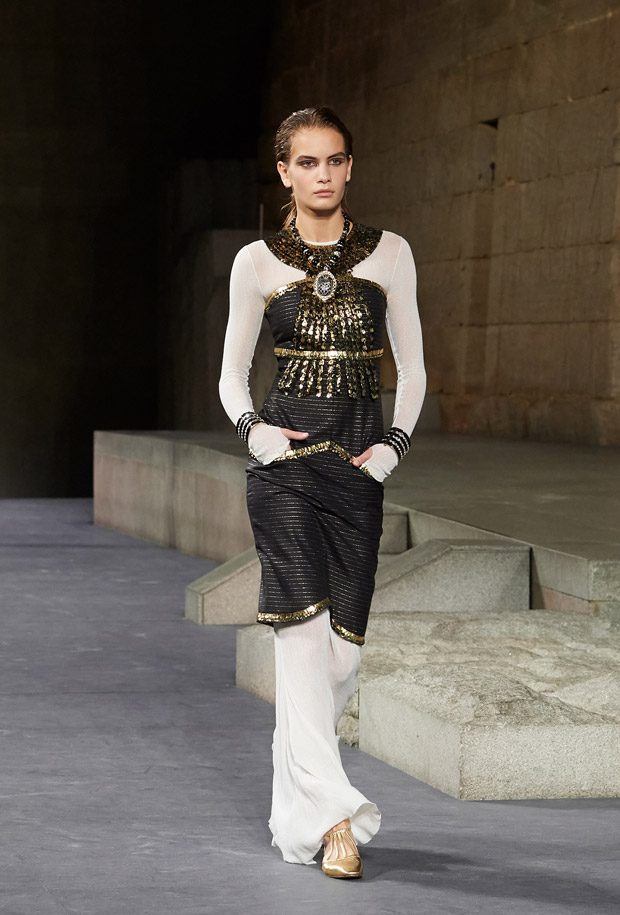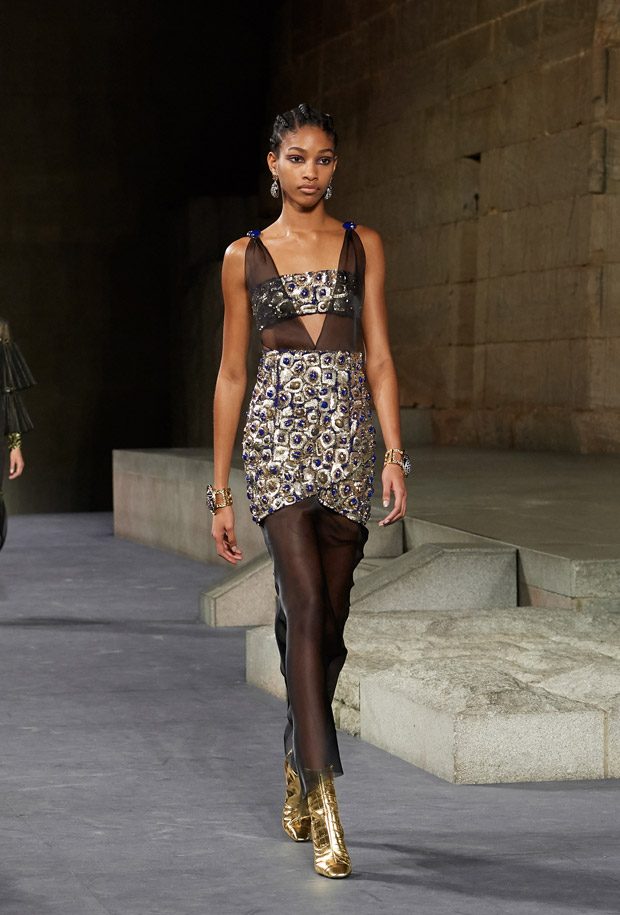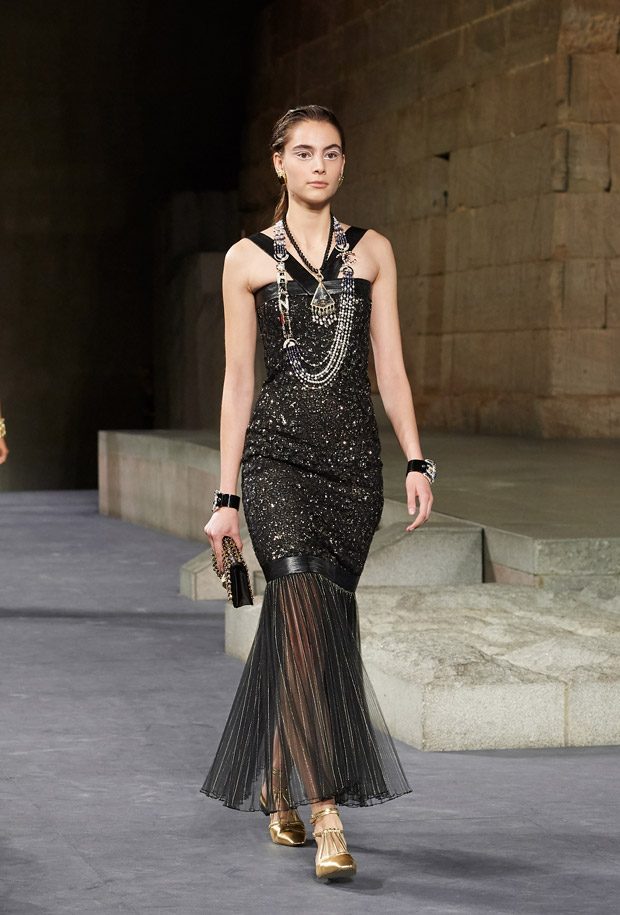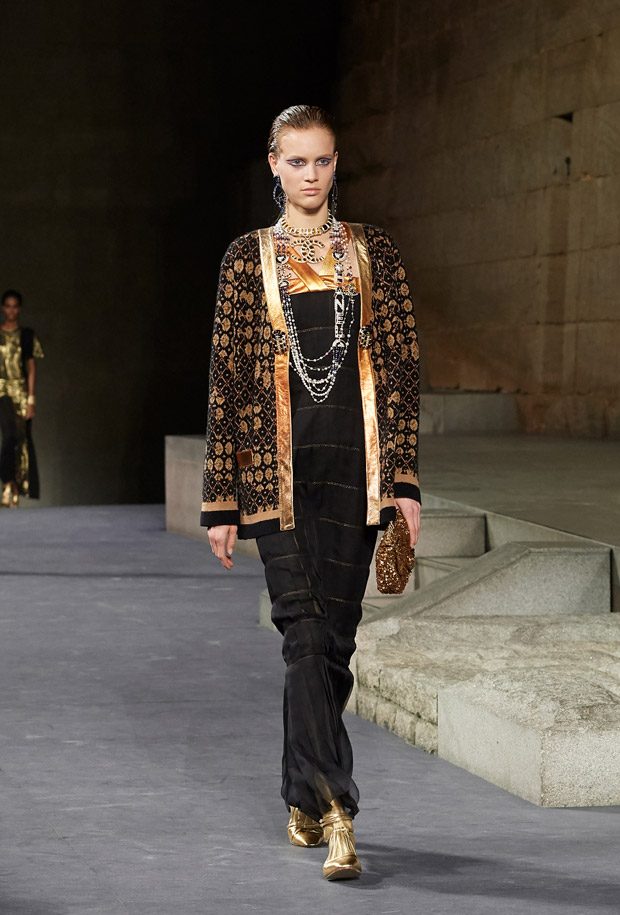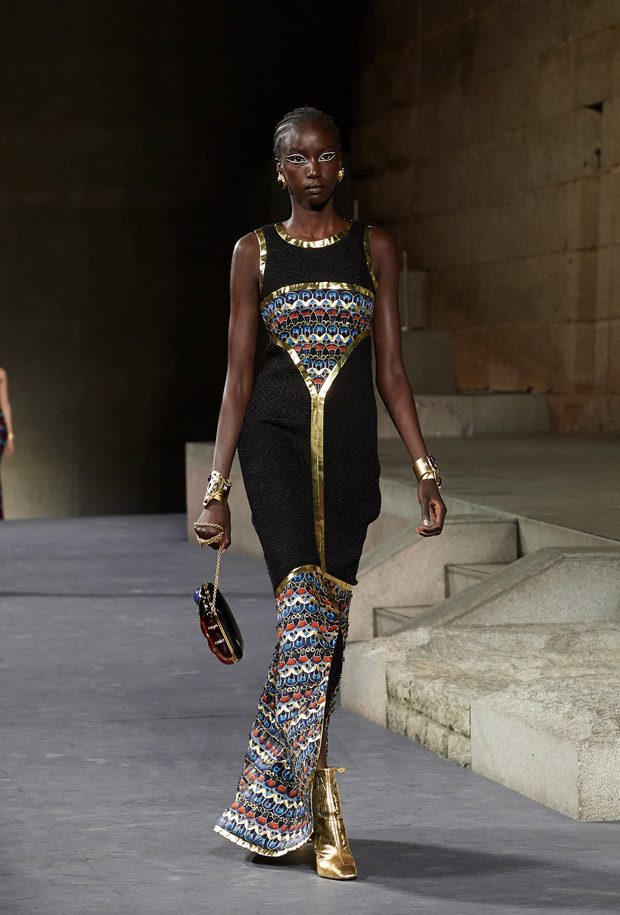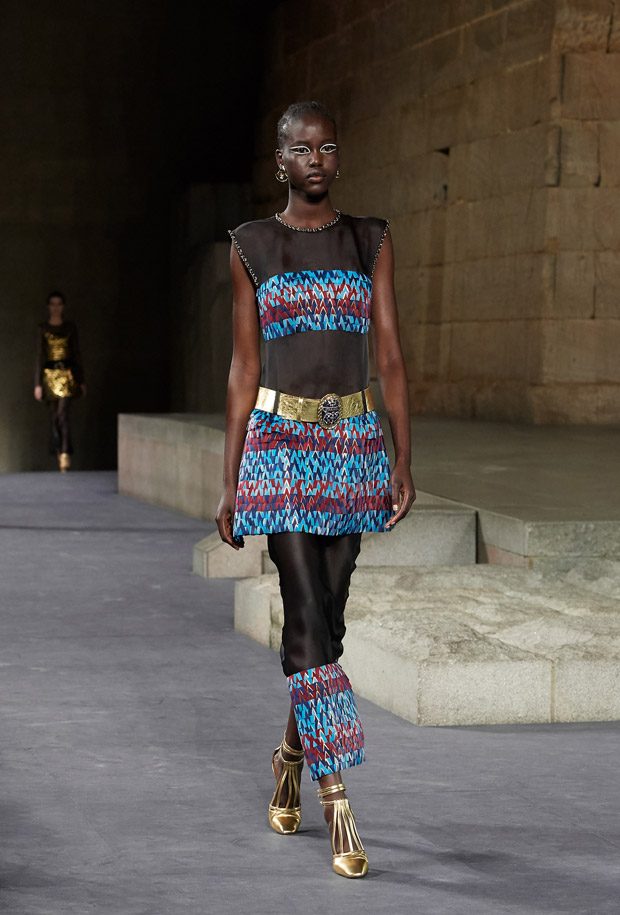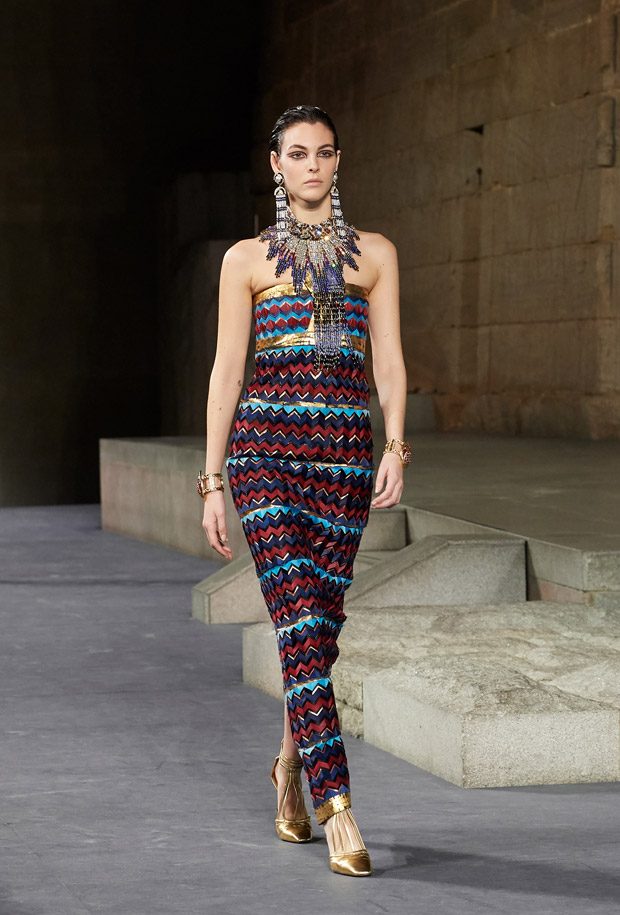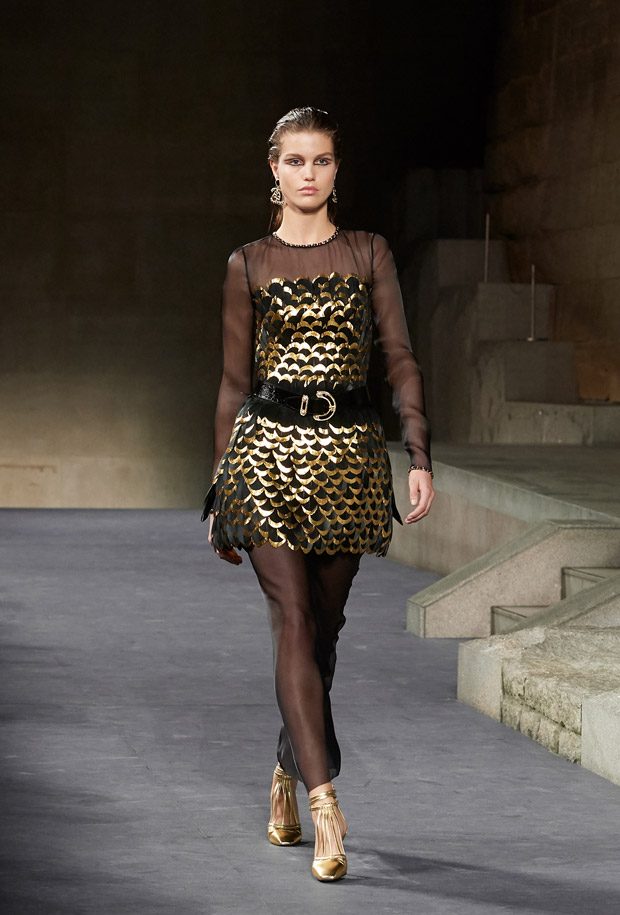 We love hearing from you, connect with us on Twitter, Instagram and Facebook.