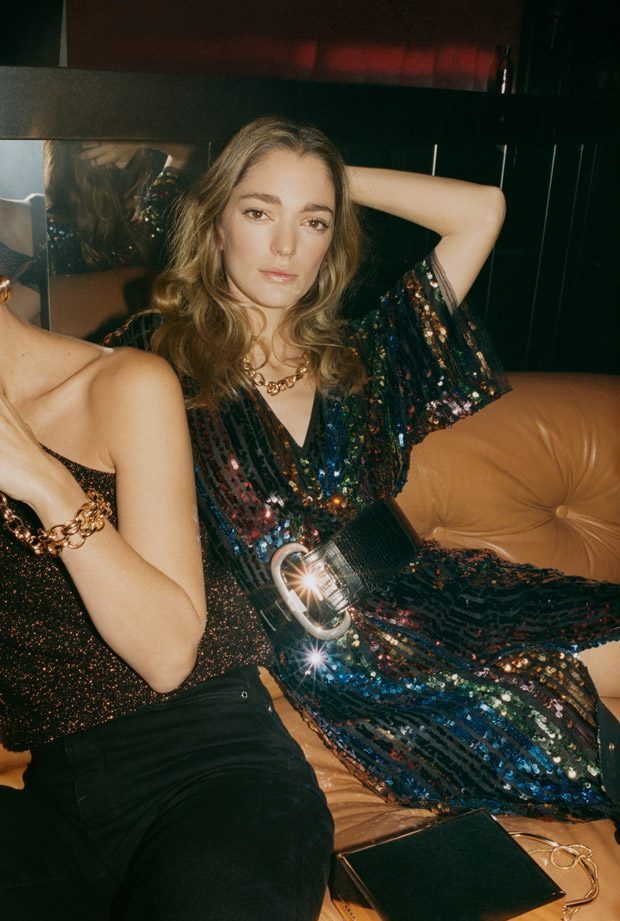 The holiday season is in full swing – company parties, family gatherings, and celebrations of the season are constant throughout December and January. The festive fashion is quite possibly the reason we feel such a sense of magic and playfulness during these winter months. Seriously – when else do you have an excuse to wear velvet, faux fur, and glitter in one outfit?
This year winter fashion is rich with glitz, glamour, and of course the revolution of ugly fashion still carries on.
Discover the latest in festive winter styles, and stand out no matter what event you're attending.
Glitter
Glitter, sequins, and jewels have always been an association for winter styles – but in 2018, and into the new year, we're really taking it up a notch. MANGO's holiday collection is practically a vintage jewelry shop, and we can't think of anything more dreamy. When rocking a glitter jumpsuit or sequin dress, we'd recommend toning down your accessories and pairing your look with a basic layer and simple accessories. If you're feeling bold and can't get enough shine this season, pair your jewels with a metallic boot for a casual-but-glamorous aesthetic.
The extravagant glitter season doesn't last long – so take advantage of it and pick up a sequined dress, and party your way into 2019 looking and feeling your best.
Festive Attire
The holidays just wouldn't feel right without funny Christmas sweaters to spice up the season. They're a crowd favorite whether you're stopping by the store to pick up some charcuterie for holiday festivities, or at your company's holiday party. Plus – they make an amazing and festive gift everyone on your list will love.
Every fashionista needs a holiday sweater to brighten their holiday season – but just because your sweater is "ugly" doesn't mean your get-up has to be. Outfit your passé pullover with some chic accessories like velvet socks to refine your festive look.
Velvet and Chenille
Speaking of velvet, you may as well just buy velvet everything because it has completely consumed holiday trends this season. Whether you go for velvet socks or a chenille sweatshirt, these dreamy materials need to be in your winter lineup.
Rich Colors
Jewel tones, deep tones, and metal are "sleighing" the runway this winter. Mixing timeless black, browns, and olive tones as your base with more whimsical colors like fuchsia and metallic textures is where you'll want to be this season.
Chic Layers
Winter is practically synonymous with layering as far as we're concerned. Whether you live in a climate where you actually need heavy layers to brave the chill temperatures, or you just layer for fashion, chic layers should be in your winter wardrobe.
Functionality isn't the only thing we're looking for in a winter coat this season. With so many winter coat trends we love, it's hard to choose a coat that will keep you warm and step up your outfit.
Some of our favorite coat looks this season include:
⦁ Patterned Trench Coats
⦁ Metallic Jackets
⦁ Vinyl Coats
⦁ Vintage-Inspired Shearling Jackets
Layering doesn't stop at a cozy coat – accessorize with hats and scarves this season to incorporate texture and help you survive the bitter cold throughout the season. A simple neutral-tone slouched beanie is a practical item to invest in this season, and can give you that final touch you need to complete your look. Plus, say goodbye to those less-than-ideal hair days.
Blanket scarves could be one of our favorite trends this season. Who wouldn't love to stay in their warm blanket all day long? With a textured wool blanket scarf you can accomplish your winter hibernation goals and stay on-trend at the same time. Blanket scarves are super simple so you can easily throw it on with any outfit as you rush out the door to your next holiday event.
Mixing Classic Looks with Winter Trends
This goes for every season, but it's always worth a mention in our book. Incorporating classic basics with the season's current trends is super important as you craft your wardrobe for the season. Never stray too far away from timelessness when you're out shopping as it can leave you stranded with a closet full of the season's trends and nothing to pair them with.
Indulging in seasonal trends is what makes fashion fun, but keep your personal style at heart when you're getting dressed this Christmas. Celebrate in style this winter, and we'll keep you posted on what's coming up in fashion for the new year.
Images from MANGO Holiday 2018 collection