Rolex's current name recognition as the "king of luxury watches" is a result of a long history of bold innovation and unparalleled workmanship in watch making. Maybe you're thinking of getting a new Rolex automatic watch, and you just can't wait to show it off to your girlfriend or boyfriend on date night? [Image: Tennis superstar Ana Ivanovic as the face of ©ROLEX]
But what will you do if he or she asks you some probing questions about that masterpiece wrapped around your wrist? What if you're put in a corner and need to come up with the answers to the question – what makes that Rolex tick?
OK, so no one is likely to ask you for that information, but at the same time, it's hard not to be curious about the "source of greatness" of your Rolex. And while the sleek, stylish shine of 18K gold and high-grade stainless steel and the intricate, classic design of the watch face, case, and wristband are certainly part of what drew you to your Rolex, the real difference largely lies on the inside.
Perpetual Movements
On the bezel of your Oyster is printed the iconic word "perpetual," but that's not just a brag or an advertising slogan – it's grounded in the mechanics of the heart of the watch and proved again and again through the long life of uninterrupted time keeping of thousands of Rolex timepieces the world over.
Only those specially certified to work on a Rolex watch possess the skills or the special tools needed to open up the Oyster and see what's inside. But in a word, it's "perpetual movements." The mechanisms are self-winding, high-performing, immensely efficient, easy to maintain, shockingly shock resistant, and able to keep up a level of precision and reliability that other brands of watches can only envy.
The Components Of Success
The kind of stuff we just described above are lofty and noble as mere goals, but with Rolex, they are all realities. How do they do it? We don't expect you to become a mechanical expert in a matter of minutes, but anyone can understand the basics of how a Rolex reaches so high a level of performance:
Balancing Wheel. The balance wheel on a Rolex is larger in size than in many other brands, and its size and design combine to give it precise regulating ability and "variable inertia" that lets it turn with ease in any direction as needed.
Inward Curled Hairspring. Suffice it to say, the hairspring contributes to keeping the balance wheel "in balance" and "in tune" with the watch's oscillations. The inward curl of a Rolex hairspring boosts balance and precision – regardless of whether the watch is upside down or rightside up. Also, the hairspring is made of paramagnetic alloy which means it is not affected by magnets and has ten times the shock resistance of most other metals.
Optimal Frequency Setting. Rolex perpetual movements are set at a frequency of 28,800 (oscillations per hour), which translates to eight oscillations per second. Rolex did meticulous research to discover that this is the optimal setting for prime precision – and now they set all their watches to that frequency.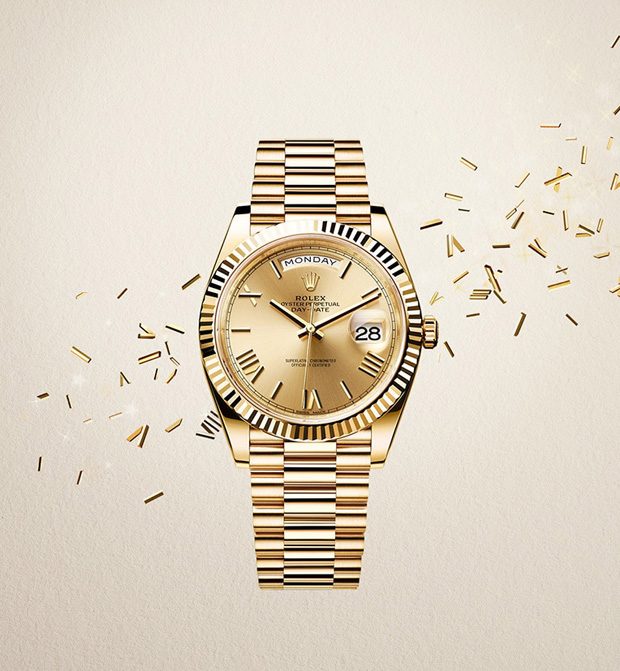 The Rolex Day Date Model is now more in fashion than ever, with gold coming back on the radar. 
Rigid Balance Bridge. The "traversing balance bridge" keeps the oscillator in perfect position. The great rigidity of Rolex's balancing bridges means that the watch has greater shock resistance without losing the correct time.
Perpetual Rotor. The perpetual performance of a Rolex is powered in part by the movements of the wearer's wrist. That's right, the rotor reacts to wrist motions to help keep up a constant source of energy and keep the watch fully self-winding and accurate.
Optimal Lubrication. Rolex has produced in-house watch lubricants that last longer and keep watch movements both freer and more stable/controlled than the lubricants other watchmakers use.
Paraflex. Paraflex is a patented shock-absorber invented by Rolex in 2005, which boosts the overall shock-absorption of their watches by 50% (on top of already off-the-charts-good shock absorption!
Refined Finish. Even the inner parts of a Rolex that are never seen except by watchmakers and are focused solely on functionality are done with style. Edges are curved, gold nuts hold together parts, satin buffed finishes shine in grandeur, and everything is perfection to the eye.
SOCTI Tested & Approved
In the past, Rolex just did all their inspections of their finished products in-house like all other watchmakers, but today, they do that PLUS get each watch certified by the Swiss Official Chronometer Testing Institute.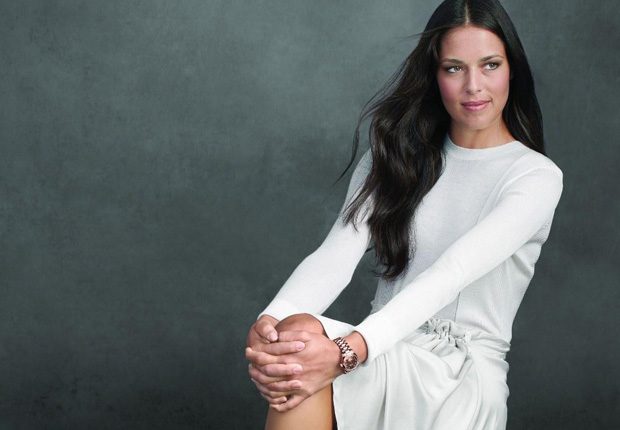 Tennis legend Ana Ivanovic as a long time face of Rolex.
This is why a Rolex is called a "superlative chronometer." Because it has the green seal of approval from the most stringent watch certification organization on the planet. Rolex meets or exceeds all standards set by SOCTI, and every Rolex comes with at least a 5-year guarantee.
Bottom Line
The bottom line is clear: Rolex is the most fashionable and immediately recognizable luxury watch in existence, and it is also the wristwatch with the highest performance and durability.
You don't have to remember all the details about what "makes it tick," but it would help to remember one or two tantalizing tidbits – since after all, a new Rolex is bound to be a conversation started as well as a never-go-out-of-style fashion statement.