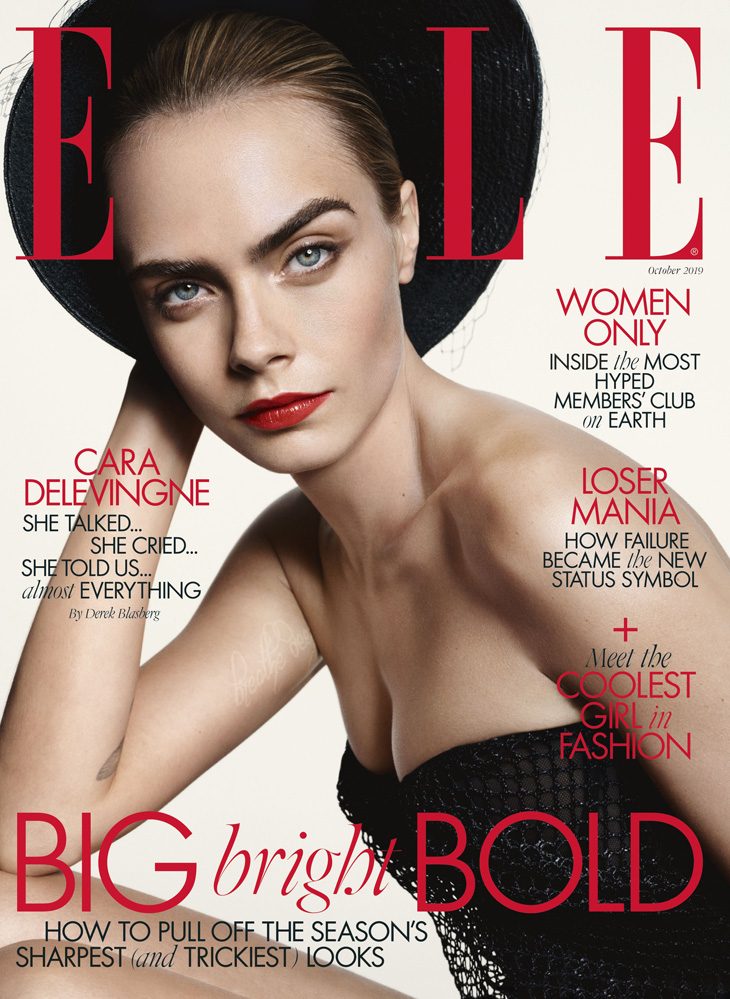 Supermodel turned actress Cara Delevingne takes the cover of British Elle Magazine's October 2019 edition captured by fashion photographer Liz Collins. In charge of styling was Sasa Thomann, who for the cover selected look from Dior. Creative direction by Tom Meredith.
"Honestly, fashion really f*cked me when it came to acting. When I did my first film – Anna Karenina, which I didn't have a speaking part in – every time I was on screen, the director (Joe Wright) would come up to me and say, 'Cara, you're modelling again. Stop trying to look pretty.' I was an extra with 60 other people on screen at the time. I was like, 'But what do you mean?' And he'd tell me, 'You're not in the moment, you're just trying to look hot.' I never thought I did that. Modelling makes you know where the camera is at all times, and you have to forget that when you're acting." – Delevingne on fashion / acting.
"It is a neo-Victorian-esque fantasy world and I play a bisexual fairy. It's a discussion about immigration and the refugee crisis set in a fantasy world. It's a lot of different storylines and a lot of different characters and creatures. It's made for geeks and fanatics and people who like to go into the depths of another world. To be honest, if I didn't have the script to read, I'm not sure I would have understood it all from the start. " – Delevingne on her new series, Carnival Row.
Watch the face of Dior beauty Cara Delevingne in the new series Carnival Row, out now on Amazon Prime.
Photography © Liz Collins for ELLE UK – www.elle.com