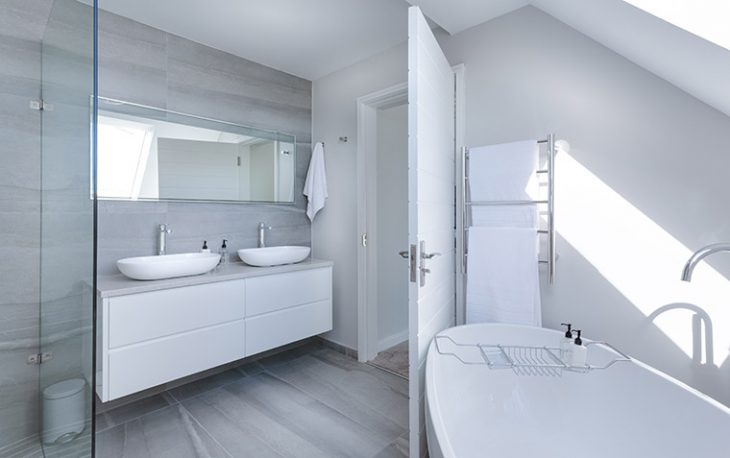 Solid surface materials are a man-made surfacing installation composed of acrylic, epoxy or polyester resins and pigments. The versatile material can easily be used in a variety of ways within the home — generally in the bathroom and kitchen areas. The material type is scratch resistant, heat resistant and quite durable.
Learning more about solid surface is beneficial for you next home remodeling project as the material is affordable as well as long-lasting.
Countertops
One of the most popular ways to use solid surface materials is with countertop installations. In the kitchen space, a solid surface material countertop can easily add beauty and convenience as well as durability.
An acrylic option is a great alternative to natural stone. With solid surface, your new countertop can be fabricated in almost any shape, color or design, which provides you with an ultra-customizable option for your next kitchen remodel. Choose from a variety of color and patterns to create the look you wish to achieve in the space. Because of the durability, the countertop will be resistant to stains from food and drink as well as hot pans during cooking.
Shower Installations
Another area where solid surface materials come in handy is in the bathroom. Shower installations are more commonly using solid surface because it holds up well in an area prone to high moisture. Solid surface shower walls have a seamless appearance and can easily protect your bathroom from mold and mildew for years to come. As a bonus, this material does not require sealing, so you do not have to reseal the installation over the years, creating a low-maintenance, worry-free solution for your home.
Solid surface shower walls are also highly customizable with several colors and patterns available. Easily create the look of natural stone like marble or granite without the added cost or lack of benefits. Find a solid color for your installation or a pattern, whatever you like!
Sinks
For a sleek, modern design, solid surface materials are being used more frequently for seam-free sink/countertop combos. The solid surface slab for this project includes the sink cut into the countertop with a seamless design, all in one style or color. Easily wipe down the sink for regular cleaning and enjoy the streamlined design.
Custom fabrication can create a solid surface sink that flows naturally with your overall bathroom design. Add new faucet fixtures and you have a brand new installation that completely changes the look of your bathroom.
Desk Areas
Solid surface materials can also be used to create office desks for the home. Instead of using traditional wood or metal, opt for the solid surface design. A custom desk can be created for your space, providing a furniture piece that will not require heavy cleaning, care, or maintenance. The acrylic material can easily be wiped down every once in a while to create a tidy work environment.
Floors
Epoxy coatings are very common in your well-kept warehouses, industrial facilities, or even auto body shop floors. It's also used in schools, shops, and restaurants because of its versatility and pleasant design.
This kind of flooring choice is durable, strong, and can last a lifetime if you hire the right epoxy flooring contractors.
Solid surface materials are the latest development in home design. When planning your next remodel, consider how you can use this material to your advantage. With a seemingly neverending list of design and customization options, you can easily find a way to integrate this innovative material into your home.
Matt Lee is the owner of the Innovative Construction and Building Materials blog and a content writer for the building materials industry. He is focused on helping fellow homeowners, contractors, and architects discover materials and methods of construction that save money, improve energy efficiency, and increase property value.