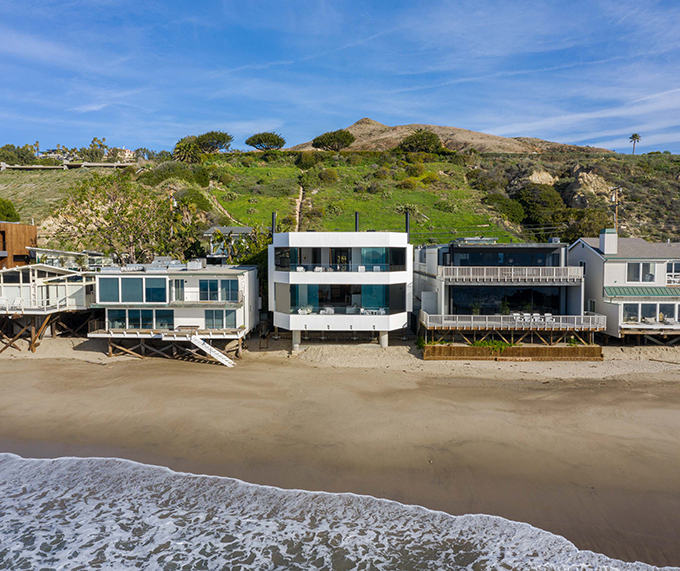 Ready to create the ultimate coastal home but not sure where to start? Check out the following design elements to transform the look and aesthetics of your home. Here are some trade secrets that professional interior designers employ to curate a modern coastal look, take a room to the next level and bring a unified theme to your home.
Read more tips from the team of architects working on our ARCHISCENE pages:
White Washed Walls and Wood Tiles Create an Airy Vibe
Want to add a refined shabby chic look or a rustic beach feel to your home? White washed wood panelling, cerused wood grains all reinforce the airy feel of the environment. Cerusing is a technique that enhances the patina and grain of wood. Ceruse is sometimes used to achieve a high contrast effect and is can be referred to as a "limed finish." It is an age old technique used by French polishers. Cerused and white washed woods have re-gained popularity over heavy shellacking and dark varnishes to create a modern coastal look that is approachable and fresh. Additionally ceramic wood tiles have seen an increase in popularity with top designers to create a modern take on coastal living. With improved graphics and additional texture, both ceramic and porcelain options can help reinforce an organic look in a coastal home without rainforest guilt.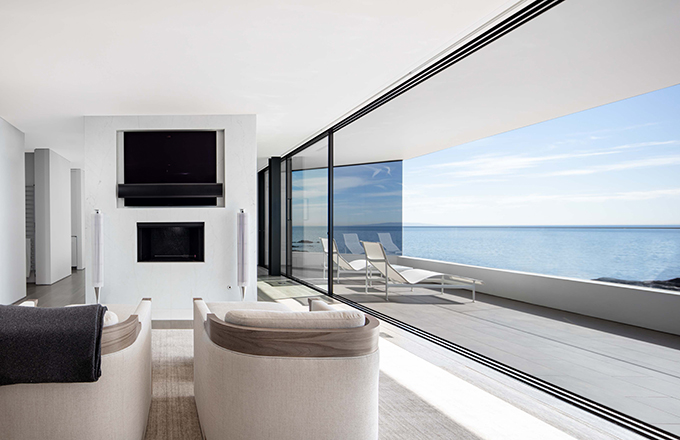 Sliding Glass Window Systems or White Plantation Shutters Frame the View
If your property has an ocean view, or opens out into a lanai, sliding glass windows help to accentuate and make the outdoors accessible. Some systems retract completely creating the ultimate in alfresco living and help bring the outdoors indoors. These modern frameless systems are the ultimate in modern outdoor living in Miami. If privacy is a concern or your design is skewed more towards Martha's Vineyard / Nantucket, Balboa Island, Kauai, white plantation shutters offer a refined beachy look. Both options frame one of the most important features of a beach home – the view. Minimal window treatments like Sliding Glass Window Systems and White Plantation Shutters are often part and parcel of what interior designers help specify to create the dream coastal home built around a room with a view.
Bubble Chandelier Anchors the Room
Good design in lighting fixtures are a key component of a coastal home. Recessed lighting and track lighting while functional sometimes create a look that is not organic or coastal and can be perceived as sterile. A signature lighting piece can anchor the design and become a conversation piece. While there are a myriad of bubble chandelier options – many of these are modern and are comprised of simple clear glass orbs that are exactly the same size. The bubble chandelier– The OLY Muriel Chandelier provides an alternative to a crystal chandelier and provides more character than most modern options. Each globe is handmade and artistically placed to form a perfect cluster. Bubbles of various sizes are symmetrically aligned to mimic nature's organic beauty. A designer and shelter magazine favourite, the bubble chandelier is synonymous with coastal elegance and California Transitional Living.
Natural Fibers Add Texture
Adding texture to a coastal environment is another way to reinforce a coastal story at home. Many natural materials including Raffia, Sisal, Seagrass, Coir, Jute and Abaca help to add organic texture and enhance a coastal living story at home. These materials can be used as wall paper or serve as an option for high traffic and durable floor coverings – rugs. Each fibber is derived from natural sources from coconut husks, to sea plants to the peal of renewal bamboo and can be woven into a variety of weaves. Because of the durability and the ability to dye fibber, interior designers use natural fibber products to create elements of beach living. Additionally linen upholstery – often reverse stitched and slip covered over a mix of down and feathers provide additional texture for the ultimate in casual beach living.
Discover the complete project from SPF: Architects on our Architecture page ARCHISCENE.